Coopers Hawk MultiFamily Project in Sonora, California chooses SIPs and wins multiple National awards.
Project: Coopers Hawk Terrace, Multifamily Duplex, Sonora, CA
Size: 2304 SF per Duplex or 1152 SF per Unit
Builder: Delillo Contracting
Designer: Zero-Energy Plans LLC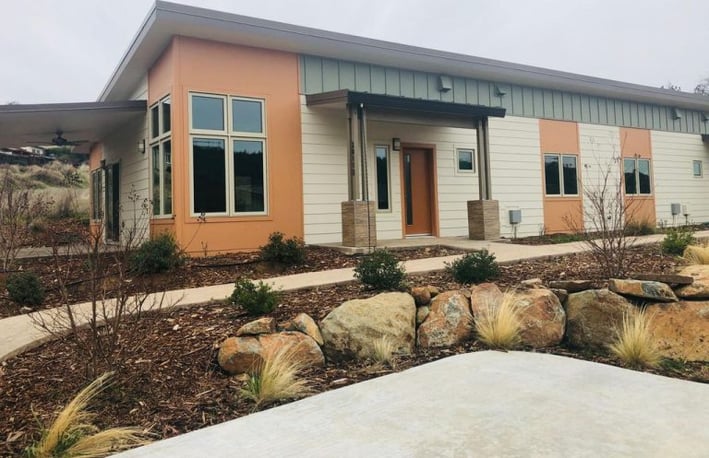 Awards & Accolades:
Due to the speed of construction, high performance requirements, zero-energy (Title 24) mandate for new construction in the region and wild lands-urban interface code, Premier SIPS were the panels of choice for the building envelope of this multi-family project. This 18 unit complex was designed with ZEH (Zero Energy Home) principles at work. It also showcases the ideal blend of renewable energy and high performance construction.
Coopers Hawk Terrace incorporates a multitude of impressive design and energy efficiency features. Perhaps the most impressive is that each of the 18 residential units generates their own energy. With solar panels on the garages only, these units completely power themselves and the owners' cars (two cars per unit at 10,00 miles per car per year). With the entire south-facing roofs clad with solar panels, these 18 residential units would power themselves, AND an additional 54 (average size) existing homes in the neighborhood. This renewable energy source is a remarkable feat and true testament to the impacts of pairing renewable energy with sustainable construction.
With 6" graphite core(GPS) Premier SIPs, the project achieved superior insulation and air-sealing while eliminating the need to vent the attic. For the Wildlands-Urban Interface Code, this was a big deal. The thermal characteristics of SIPs also enabled the project to easily meet the Net-Zero energy requirements.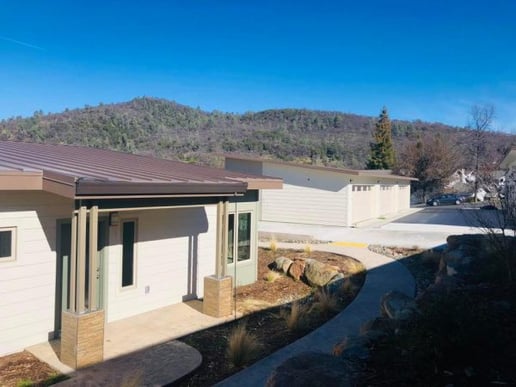 In addition to exceptional energy efficiency goals, construction time was also a factor as site labor was increasingly in short supply. Premier SIPS are pre-fabricated and engineered in a factory per the plans. This offsite construction allowed for delivery of panels ready to set and frame these structures in a matter of days rather than weeks.
Advantages of panelized construction include longer spans and created usable attic space for ductwork and fire suppression systems. In the roof the use of 6″ R-28 SIPs with R-15 batts on top chord of the truss area created an exceptionally well air-sealed R-43 assembly – with no thermal bridging. The SIP roof eliminated the need to vent the attic, which is a key in achieving the Wildlands-Urban Interface Code. Pre-cut gable end SIPs walls are pre-cut to fit at the bottom of the SIPs roof which provided necessary roof overhangs without requiring additional framing.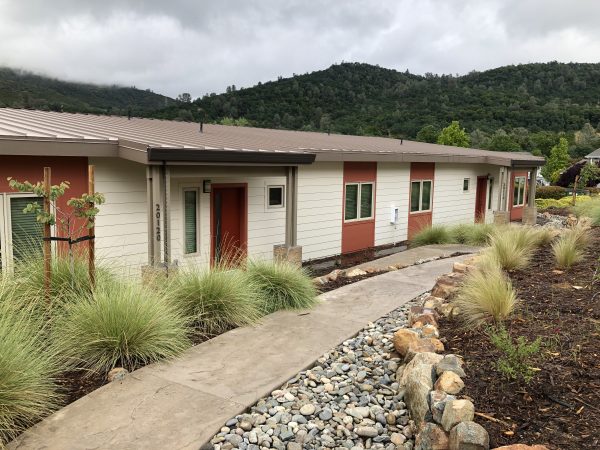 Tighter, well sealed, building envelopes mean better efficiency of heating and cooling resources. This also reduced the demand for HVAC (heating cooling and ventilation) systems, and allows these mechanical needs to be reduced. Each unit at Cooper's Hawk Terraces used a Chiltrix CX34 air-to-water heat pump to supply both the heat, cooling, and domestic hot water, and an energy efficiency C.O.P. of 3.92 for heating, and 5.92 for domestic hot water. Which is exceptional for performance.
Other energy-saving building materials included Vinyltek triple-pane windows, with low SHGU and a U-value of .16. A ductless Mitsubishi heat pump was installed for heating / cooling and featured a tier-3 heat pump/water heater for domestic hot water. Energy appliances representing the lowest-energy use in their respective categories, 100% LED lighting.
To further adhere with regional fire requirements, to best fire-proof the exterior, Hardie-plank was chosen for exterior siding panels and trim, along with steel standing-seam roofing and dyed concrete for finished floors.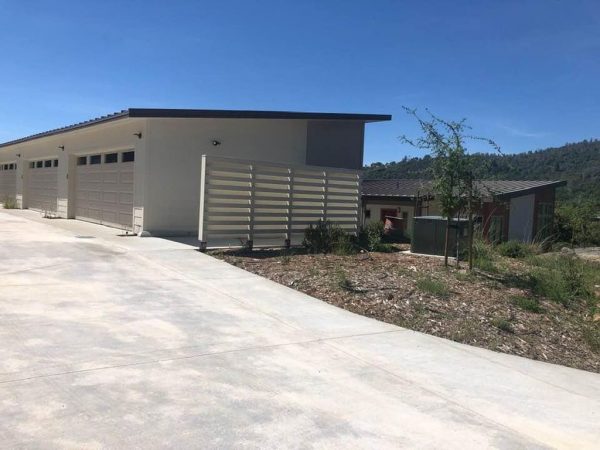 The homes were designed to receive maximum benefit from their passive design strategies. Passive design takes advantage of the orientation of the sun, shade with overhangs, daylighting opportunities, window locations and site orientation to achieve maximum energy efficiency for a finished structure.
SIPs Recognition As A Superior Building System:
The recognition by NAHB & SIPA comes in addition to being named Green Builder Media's Structural Brand of the year. Premier Building Systems strives to manufacture building systems and components that truly make a difference in our communities and is honored to contribute to highly acclaimed projects in the Construction Industry.
LEARN MORE
Related Articles
LEED-certified buildings save about 25% in energy consumption. SIPS buildings deliver turnkey LEED basic certification with..
Our SIP panels offer higher R-values, contributing to increased energy efficiency, lower heating and cooling costs, and..
Discover how Structural Insulated Panels (SIPs) align with California's Title 24 requirements, offering energy efficiency,..
Find Your Local Rep
As the oldest manufacturer in the SIPs industry, Premier's SIP system is the proven prefabricated building envelope framing system for your next commercial or residential structure. Faster, stronger, and greener than outdated lumber framing methods, SIPs are the future of framing. Join the other thousands of structures built with SIPs, and contact the expert in your local region to get started.