Originally published in GreenBuilder Magazine, pg 34
INSPIRED BY THE NOTION OF STREAMLINING SUSTAINABLE BUILDING, SEATTLE-BASED GREENPOD DEVELOPMENT CREATES ENERGY-EFFICIENT, LOW-MAINTENANCE MODULAR HOMES WITH HEALTHY INTERIORS.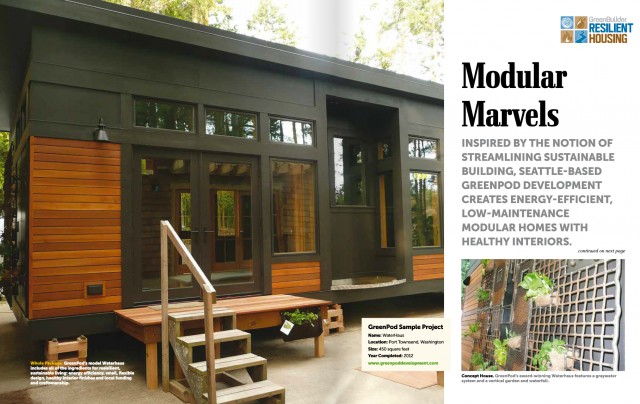 Green Builder Magazine, Resilient Housing
Seattle-based GreenPod offers factory- and site- built homes that are sustainable to the last detail. The WaterHaus, a 450-square-foot model home built in Port Townsend, Washington, exemplifies what the company is trying to accomplish with its compact, flexible homes. For starters, the floors, walls and roof of the home are made with structural insulated panels (SIPs).
"The homes are pre-cut when they come out of the factory, so they can go up in a day or two on the site," says Ann Raab, GreenPod's founder. "Everything about SIPs delivers what we are trying to create."
Raab says SIPs offer the "best bang for your buck." Although they are slightly more expensive than a conventional wood frame, SIPs have a short 2.7-year payback; they are stronger and straighter than wood, and pre-cutting them virtually eliminates job waste. Using SIPs also prevents gaps in the insulation and minimizes thermal transmission.
"Because we want the insulation to be continuous, we keep the penetrations to a minimum, which also ensures no mold and mildew," explains Raab. "GreenPod homes are all about saving energy."
GeenPod homes embody the beauty of downsizing and living simply and sustainably. They can feature movable walls, solar panel roof decks and natural lighting. High-transom windows provide privacy, and interior glass visually enlarges the living spaces.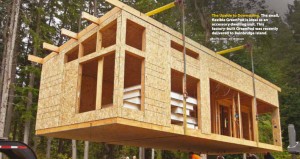 The Upside to Downsizing. The small, flexible GreenPod is ideal as an accessory dwelling unit. This factory-built GreenPod was recently delivered to Bainbridge Island. Photo Credit: Joe Reynolds
Most modern homes contain numerous electronic gadgets that drain energy and create electromagnetic fields that can impact health. GreenPod homes contain "kill switches" that cut power to specific outlets, thus reducing plug loads and creating healthy neutral zones. Clay wall finishes, all-organic textiles, a biofilter refrigerator and the absence of combustible products promote superior indoor air quality.
GreenPod Development offered interior furnishing packages, including furniture, maximizing the utility of these small homes and helping people to downsize – while maintaining a high standard of living. The company currently serves Washington State and California, but Raab says they are focusing on exporting concepts, rather than the actual GreenPods, so that other communities can develop networks to support sustainable, healthy homes.
GreenPod Modular Homes at a Glance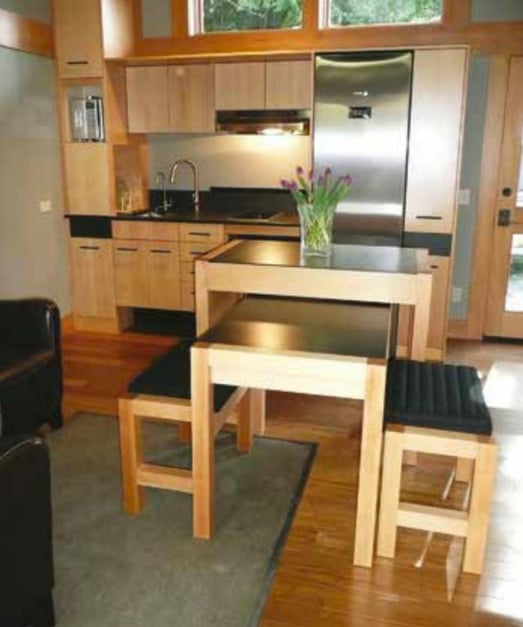 Finishing Details. The WaterHaus contains a collection of Art We Live In – local and sustainable products such as stacking tables, doors, lighting, ladders, beds and linens, to maximize the possibilities of this 450-square-foot space.
Pros:
Sustainable, chemical-free, socially responsible and traceably sourced materials are used for interior and exterior construction.
Efficiently designed homes have a small footprint.
The homes maximize natural daylighting.
Factory-built kits can be transported to the building site.
The homes offers flexibility and possible income potential as ADUs.
Minimal site disturbance and less grading are needed compared to conventional homes.
A custom passive solar design and orientation are created for each site.
GreenPod interiors contain organic fibers and safe dyes, benefiting indoor air quality.
Low-flow plumbing fixtures and other water-saving options are used.
The interior and exterior require little maintenance.
The homes are designed to fit a variety of budgets in a shopping-cart approach.
Cons:
The homes are ideal for simple living, but their small sizes may not appeal to all homeowners.
Current building codes require airtight construction; therefore, diligence regarding toxic finishes and furnishings is important.
Availability is currently limited.
LEARN MORE
Related Articles
LEED-certified buildings save about 25% in energy consumption. SIPS buildings deliver turnkey LEED basic certification with..
Premier SIPS are the first to test panels for structural loads in seismic zones per the ICC criteria and has achieved the..
Discover how Structural Insulated Panels (SIPs) align with California's Title 24 requirements, offering energy efficiency,..
Find Your Local Rep
As the oldest manufacturer in the SIPs industry, Premier's SIP system is the proven prefabricated building envelope framing system for your next commercial or residential structure. Faster, stronger, and greener than outdated lumber framing methods, SIPs are the future of framing. Join the other thousands of structures built with SIPs, and contact the expert in your local region to get started.