Written By: Troy Brown, Brandner Communications, Inc.

In the Cascade Mountains of Washington State, a vacation home tucked in the pines shows that green construction can be attractive, affordable and accessible.
The owners wanted to create a mountain retreat that could be enjoyed for generations to come, and more importantly, be environmentally friendly. It also needed to be wheelchair accessible.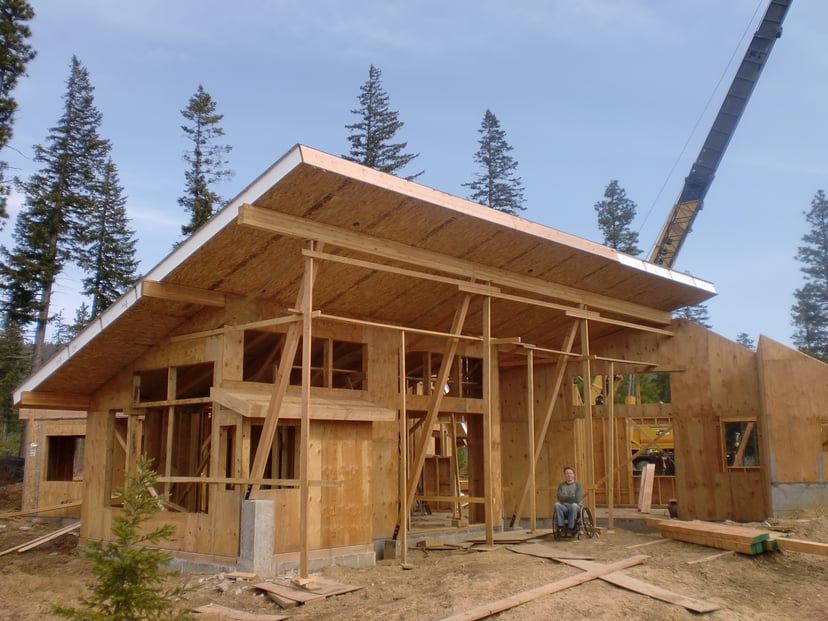 Suncadia Green Access Home, Cle Elum, WA
Rising to the challenge, the homeowners, Nine Pine Developments, 4D Architects and a range of other partners and sponsors worked to develop a home that met all of these needs. The result is the Green Access Home at Suncadia. In addition to providing a convenient get-away, the home is a demonstration project for other building professionals and homeowners wanting to build cost-effective green residences.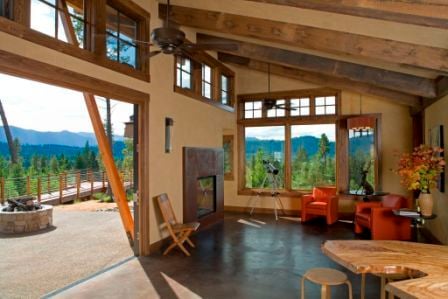 Suncadia Green Access Home, El Clum WA
One of the home's primary green attributes is its size. Whereas similar custom residences are often much larger, the development team firmly believed that limiting the total materials needed and the home's footprint was key to good environmental design. The goal was to take advantage of the sunshine, fresh air and views, and to have the home fit well with its natural surroundings – blurring the line between indoors and out.
The 2,000 square-foot, one-story home uses local, salvaged materials, where possible, and incorporates energy-saving features such as energy-efficient windows, Energy Star®-rated appliances, a six-inch concrete slab with specialized tube inserts to collect solar heat during the day, and burying one-third of the side walls in the earth for enhanced insulation.
To further boost energy cost savings and comfort, the roof is made of 12-inch-thick Premier Structural Insulated Panels (SIPs) by Insulfoam. The panels are made of insulating foam laminated between two sheets of structural oriented strand board (OSB). The result is a strong building material with higher insulation values than typical construction methods.
"I love the SIP system," said Ben Mulder, Principal with 4D Architects. "The home has a complex design with a lot of angles, and the SIPs fit together well to provide a tight, energy-efficient roof. Their strength also helped us create a wide-open, vaulted space despite frequent heavy snow loads."
The Green Access Home at Suncadia targets the "Five-Star" Built Green® certification of the Central Washington Built Green Association.
Project Summary
Project: Green Access Home at Suncadia, Cle Elum, Washington
Size: 2,000 sq. ft.
Completion: 2010
Architect: 4D Architects, Kirkland Washington
Builder: Nine Pine Developments, Cle Elum, Washington
SIP Manufacturer: Premier Sips , Puyallup, Washington
LEARN MORE
Related Articles
LEED-certified buildings save about 25% in energy consumption. SIPS buildings deliver turnkey LEED basic certification with..
Our SIP panels offer higher R-values, contributing to increased energy efficiency, lower heating and cooling costs, and..
Discover how Structural Insulated Panels (SIPs) align with California's Title 24 requirements, offering energy efficiency,..
Find Your Local Rep
As the oldest manufacturer in the SIPs industry, Premier's SIP system is the proven prefabricated building envelope framing system for your next commercial or residential structure. Faster, stronger, and greener than outdated lumber framing methods, SIPs are the future of framing. Join the other thousands of structures built with SIPs, and contact the expert in your local region to get started.