You've likely heard the Boy Scouts' motto, "be prepared." Preparation is important for everything in life, but is especially key when performing electrical work in structural insulated panels (SIPs). With traditional stick framing, the electrical plan can be modified (if it still meets code) after the framing is up and before the walls are finished. With SIP framing, there is less room for modification once the walls are up. Therefore, more planning is needed ahead of construction. Don't worry, though, the front-loaded planning actually simplifies electrical work!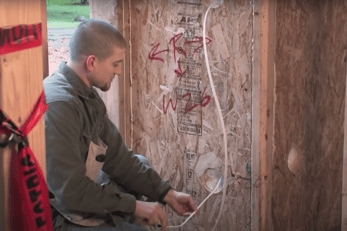 Get Ready
When you are planning on building with SIPs, an electrical plan will need to be decided upon, with the homeowner/building owner and SIP manufacturer, to ensure all the outlets, lighting, and power needs are met. This plan will need to include the number of outlets needed per room, and where light fixtures and switches will be located. Planning well before construction is especially important as the manufacturer will need to pre-cut the vertical and horizontal electrical chases in the SIP.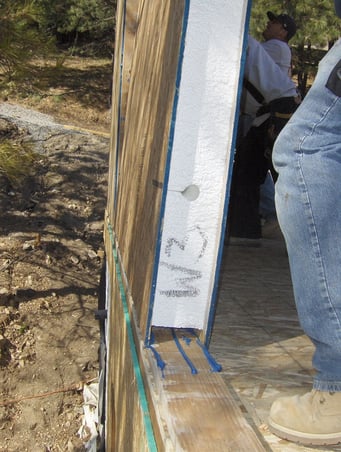 Get Set
The planning process of SIPs may seem daunting in the beginning, but the rewards of preparation are reaped at the job site. SIP manufacturers offering pre-cut electrical chases mark the panels to show where the chases are located. Contractors can then easily cut through the SIP's oriented strandboard (OSB) skin to install outlet and switch boxes anywhere along the pre-cut chase. The chases save crews time from drilling holes through dozens of studs.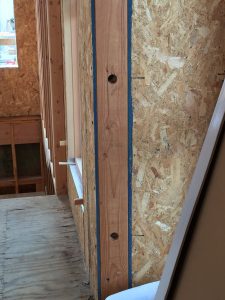 Install!
When you have found the electrical chase intersection, pull or push all of the necessary wires through the chase using a catch hook or fisher tool. If an additional chase is needed where it wasn't planned, it is still possible to create one; although creating a new electrical chase after installation can be a time consuming process. For the most accurate installation and chase-creation instructions, consult the Manufacturer's Installation Guide.
Putting it all Together
Pre-cut electrical chases, in SIPs, simplify electrical work by front-loading the preparation to minimize installation times. A good plan and communication, with the manufacturer, enables you to follow the Boy Scout motto "be prepared" for SIP electrical work.
Want to see it in action?
Several electrical solutions are demonstrated in video below from the Structural Insulated Panel Association.
See how to run wires from:
Stick frame wall to a SIP

SIP to a SIP
SIP outlet up to a switch
SIP first floor to SIP second floor
SIP wall to SIP outside corner
More info on SIPS & Electrical:
LEARN MORE
Related Articles
Explore how SIPs streamline construction, meet code requirements, improve energy efficiency, and more. Opt for a sustainable..
Learn the basics of structural insulated panels (SIPs) and discover how Premier Building Systems' award-winning panels can..
The Premier SIPS brand is the top Structural Brand in Green Builder Media's Sustainable Brand Awards 2023, and at the center..
Find Your Local Rep
As the oldest manufacturer in the SIPs industry, Premier's SIP system is the proven prefabricated building envelope framing system for your next commercial or residential structure. Faster, stronger, and greener than outdated lumber framing methods, SIPs are the future of framing. Join the other thousands of structures built with SIPs, and contact the expert in your local region to get started.