Written by: Jeff Beason, Premier Building Systems
Structural Insulated Panels Are Easy to Install. In fact, let me tell you a story about how easy structural insulated panels (SIPs) installs can be.
Having been in the SIP industry for over 20 years, I've worked with many contractors, framers, and even homeowners who have installed SIPs themselves.
A couple of years back, I went to a job site where a family was building a 1,300-square-foot home. They were doing all the SIP panel installation work with the help of their two teenage sons. The family was having a great time working together, taking breaks together every few hours, and grilling up food for all of us.
I stayed there for a day and a half, helping them build their home. They were nearly complete with their wall panels by the time I left.
Why Are SIPs So Easy to Install?
With SIP structures, you get the framing, sheathing, and insulation all in one. SIP panels can be sent to the site ready-to-assemble (RTA). They come pre-installed with lumber and headers to maximize on-site speed and efficiency.
Here are the key reasons why SIPs offer faster installation and substantial time and labor savings compared to traditional stick framing:
Prefabricated Panels
SIPs are manufactured in controlled factory environments, where precision panel cutting takes place on enormous CNC routers, which offer 99.9% accuracy. Doors and window openings are cut per each floor plan. This offsite fabrication process ensures the panels are accurately sized, eliminating the human error element we often experience with site framed measuring and cutting.
The finished panels are also delivered to the construction site ready for installation, reducing the time spent on material preparation.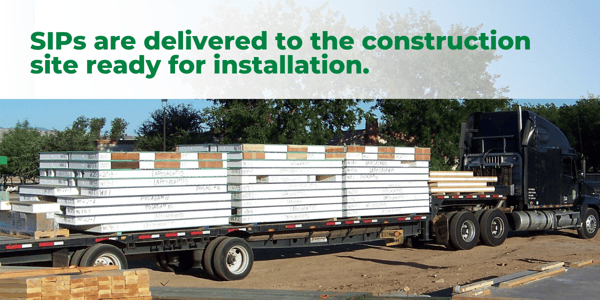 Easy On-Site Assembly Process
The installation of SIPs involves a straightforward and streamlined assembly process because of pre-planning. Before panels are manufactured, our drafters create SIP layout drawings which are reviewed by the purchaser of the SIPs, the builder, the engineer, and any other involved parties. After the completion and approval of the layout drawings, the SIPs are manufactured and delivered to the construction site for installation. Here is a handy checklist on how to review drawings.
When delivered to the jobsite, the panels are designed to interlock and fit together easily, like an enormous jigsaw puzzle, resulting in reduced labor and construction time. The connections between panels are called splines and are insulated to further add to a building's energy efficiency.
Since SIPs incorporate pre-cut openings for windows, doors, and other penetrations during the manufacturing process, the requirement for on-site cutting and framing is further eliminated, accelerating the installation of these elements.
Time and Labor Savings
The combination of prefabrication and simplified on-site assembly makes SIPs significantly faster to install compared to traditional stick framing. The reduced construction time translates into labor cost savings, as fewer hours are required for installation, as well as reduced project overhead costs.
What to Expect With SIPs Panel Installation
When you purchase a SIP package from Premier, your SIPs arrive with your finalized set of SIP layout drawings, which include the dimensions of each panel. These drawings will show you where every SIP goes, where they connect, and where the minimal amount of lumber is required.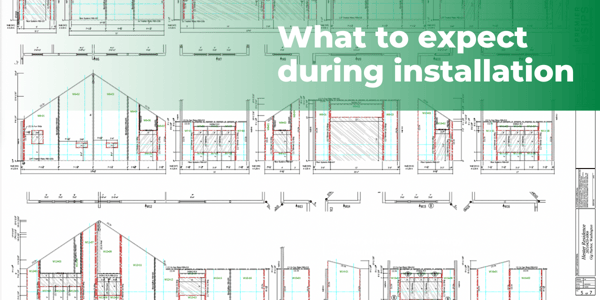 Any additional construction details are also included in your project's layout drawings. Including how and where to apply sealant, tape, and fasteners to ensure your SIPs building is built tight and strong.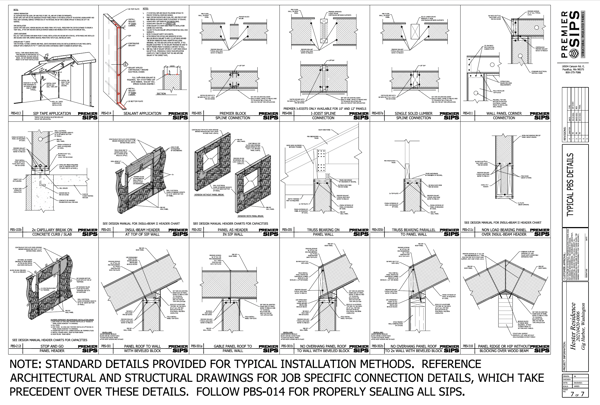 If you hire a crew to install your SIPs, typically, a five-person crew is optimal. With two people installing, two people preparing the next SIP for installation, and one person applying the sealant, cutting what little lumber is required, and helping lift the panels into place, the SIPs will be up in no time. This Installation Preparation document will help guide your team to be prepared for jobsite delivery, panel set up, tool needs, and more best practices.
How fast can they go up? Well, I know a crew that installed the exterior walls and roof panels on a 1,900-square-foot home in one day, and they took a video for us to share.
Structural Panels Are the Solution
When you want to build fast and efficiently, consider SIPs as your framing option. SIPs offer a streamlined process and faster construction compared to traditional stick framing, so say goodbye to the challenges associated with stick building (such as skilled labor shortages, imperfect bowed lumber, and errors in site framing) and embrace the benefits of SIPs for a smoother and more efficient construction experience.
All you have to do is follow the layout drawings and build your puzzle. Once the puzzle is complete, you will have a great, extremely energy-efficient building.
Want to dive in more? View our installation resources and videos.
Ready to get started? Find a Premier SIPS representative near you.
About the Author
Jeff Beason, MBA has been selling structural insulated panels for over 20 years and has regularly worked with developers, contractors, architects, engineers, and homeowners. For questions or more information, contact Jeff directly.
LEARN MORE
Related Articles
Our SIP panels offer higher R-values, contributing to increased energy efficiency, lower heating and cooling costs, and..
Watch a jobsite overview about SIPS vs Sticks to kick off our installation video series walking through a Premier SIP Panel..
Uncover the significance of proper ventilation and sealing for energy-efficient construction in SIP structures. Learn proper..
Find Your Local Rep
As the oldest manufacturer in the SIPs industry, Premier's SIP system is the proven prefabricated building envelope framing system for your next commercial or residential structure. Faster, stronger, and greener than outdated lumber framing methods, SIPs are the future of framing. Join the other thousands of structures built with SIPs, and contact the expert in your local region to get started.