Back in June, I wrote on a Seattle couple, Eric and Alexandra, who set out to build green on a budget: Building an Eco-Fabulous Home: does it cost more than the new townhome down the street? This Seattle couple had just set out on their adventure of building a zero-energy home. 5 months later, they just moved in…exactly one month ahead of schedule!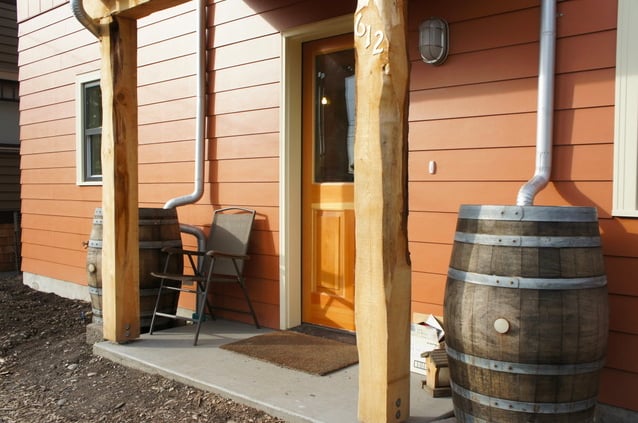 Photos courtesy of http://zerohouse.wordpress.com
So, through design to construction all the way to move in….what's the answer? To get straight to the point, I asked the new homeowners to answer this question themselves. Eric states, "Well, yes. The closest thing I could find was one about 400 square feet smaller, is listed at $25,000 more, doesn't have a private lot, has energy bills, and doesn't come with a $9,000 federal tax credit and a solar production rebate of about $1,000 a year for the next eight years. We will save about $200 a month by not paying any heating or electrical bills, which adds up to more than $70,000 over the course of our thirty-year mortgage if energy prices don't rise (which they are almost certain to do). "
House total for Eric and Alexandra's mortgage came to a grand total of $413,448.
$180,000 (Lot)
$233,448 (Construction, permits, utility hookups, street repair, solar panels/installation)
That's just the simple answer! There is so much more, due to the couple's builder, TC Legend Homes' ability to stay a little under contracted budget, Eric and Alexandra were able to upgrade a few things such as the upstairs flooring to reclaimed wide-plank fir, tile in the bathrooms (instead of fiberglass tubs) and upgraded appliances. The best part is that Eric and Alexandra have already 'banked' energy that they can draw from during the winter months. The house is doing just what the homeowners set out to do- produce all its own power!
Specific to their building envelope of choice, Structural Insulated Panels (SIPS), the homeowners made a last-minute decision to add a little extra fiberglass insulation between the floors and around all the interior of the walls due to a concern that sound carries through SIP panels. Is this a concern all new homeowners should have when building with SIPS? Our technical manager did a very good explaining how sound carries throughout and around a home in one of his Tech Tuesday blog entries, Speak Up I Can't Hear You! He goes on to explain SIPS, STC ratings and low-frequency sounds.
The new homeowners are currently waiting for the home appraisal to come back, but are confident that the house's value will be quite high! We thank Eric and Alexandra for documenting their zero-energy journey….and look forward to hearing more on how they save on bills, add to the house and enjoy green and zero-energy living!
LEARN MORE
Related Articles
Learn the basics of structural insulated panels (SIPs) and discover how Premier Building Systems' award-winning panels can..
Net Zero construction is simplified with offsite construction like SIPS and Canada's Step Code is targeting this energy..
Preparation is important for everything in life but is especially key when performing electrical work in structural..
Find Your Local Rep
As the oldest manufacturer in the SIPs industry, Premier's SIP system is the proven prefabricated building envelope framing system for your next commercial or residential structure. Faster, stronger, and greener than outdated lumber framing methods, SIPs are the future of framing. Join the other thousands of structures built with SIPs, and contact the expert in your local region to get started.