Project content & photos provided by Eric L Meyerowitz Architect
Visit Eric L Meyerowitz Architect for more: Model photos, house demolition, foundation work timeline and SIPS installation photos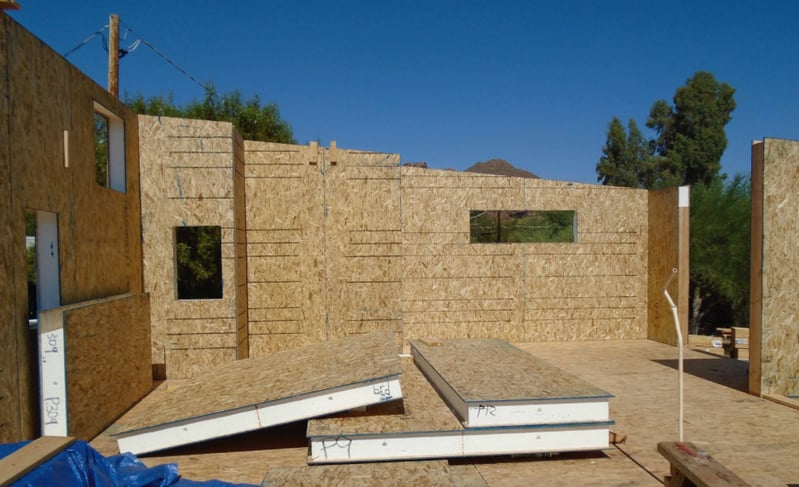 San Miguel Residence, SIPS floor, walls and roof install in 18 days
"As an architect with over 20 years of designing custom homes, the San Miguel project is the first to utilize SIP technology. In addition to designing the structure, I was actively involved in the installation of the panels, observing a framing crew that had never built a SIP structure. After some brief instruction by Phil Ligon of Premier SIPs, the floor, walls, and roof were assembled with little difficulty. Having a fully insulated structure for the remaining trades to work under, has been a big bonus during the Phoenix summer. Now that I have seen how SIPs work, I can't imagine building future projects utilizing "old school" methods. I would recommend SIPs to anyone building new structures today." – Eric L Meyerowitz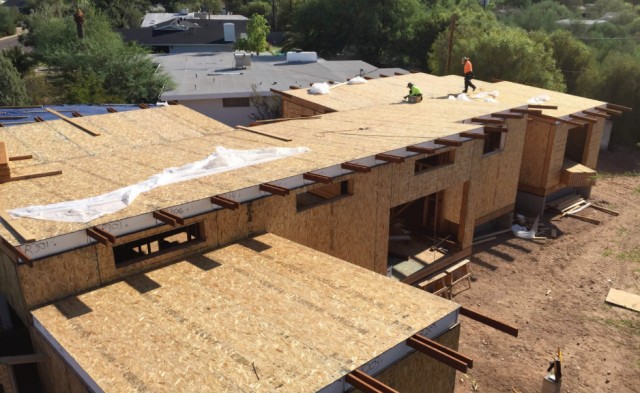 San Miguel Residence, SIPS floor, walls and roof install in 18 days
PROJECT OVERVIEW
Location: Phoenix, AZ
Size: 2,566 SF Residence, 230 SF Studio, 542 SF Garage
Premier SIPS used: 11,860 SqFt of Floor, Walls & Roof Panels
Framing crew ranging from 3-6 people with no prior experience with SIPS was able to construct the residence, studio and garage in 18 days (time lapse video below)
Home is oriented to take advantage of passive heating and cooling strategies, as well as distant mountain views.
Environmentally friendly materials and building systems are utilized.
Since the property lies in a FEMA controlled floodplain, the structure is raised off the desert floor to meet the federal requirements.
BUILDING WITH SIPS
Building systems with acceleration advantages is key these days for builders and developers. With weather constrictions, labor shortages and positive building economy… construction teams are wanting to get projects up easy and quick. Erection of SIP panels is estimated to be as much as 3 times faster than traditional framing with no special training for framing installation needed, and provides multiple building needs all in one step. More benefits include:
Unlimited design possibilities: SIPS can be used for virtually any building design
SIP structures have less interior noise, fewer drafts, and more consistent interior temperatures due to the continuous foam core inside every SIP
SIPS make inside finish work easier to complete
Due to their inherent air-tightness, SIPs make control of IAQ possible
Energy efficiency of SIPS reduces heating and cooling costs
SIPS are custom manufactured to meet specifications, reducing jobsite waste
Building with SIPS help earn LEED Points
PROJECT TEAM
Architect: Eric L Meyerowitz Architect
Location: Phoenix, AZ
Structural Engineer: Wright Engineer
Civil Engineer: Michael Hook, P.E.
Geotechnical Engineer: Hoque and Assoc
Mechanical Engineer: James Brown
Landscape Architect: Colwell Shelor
Visit Eric L Meyerowitz Architect for more: Model photos, house demolition, foundation work timeline and installation photos
QUESTIONS ON THIS PROJECT?
Contact: Phil Ligon, Southwest Regional Manager
Email: phil.ligon@premiersips.com
Direct: 602.369.9247
Ask Phil to Connect With You on LinkedIn | Follow Premier SIPS on LinkedIn
LEARN MORE
Related Articles
Learn the basics of structural insulated panels (SIPs) and discover how Premier Building Systems' award-winning panels can..
Net Zero construction is simplified with offsite construction like SIPS and Canada's Step Code is targeting this energy..
Preparation is important for everything in life but is especially key when performing electrical work in structural..
Find Your Local Rep
As the oldest manufacturer in the SIPs industry, Premier's SIP system is the proven prefabricated building envelope framing system for your next commercial or residential structure. Faster, stronger, and greener than outdated lumber framing methods, SIPs are the future of framing. Join the other thousands of structures built with SIPs, and contact the expert in your local region to get started.