Although construction and housing markets are recovering from the recession, finding and hiring workers continue to be a key challenge for builders. (see NAHB industry survey: Labor Shortages Are A Key Issue for Housing). As the labor shortages are becoming a major impact on the construction industry, many builders are seeking alternatives.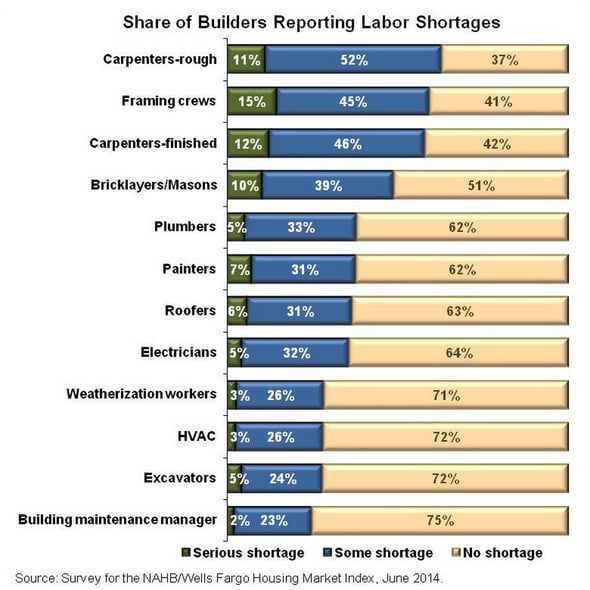 Streamlining project builds is the first step in reducing build times and costs. Advanced building methods are gaining traction as a practical solution for residential and commercial construction because they take a fraction of the time to put up and have enormous benefits in terms of strength, durability and energy efficiency.
Meet SIPs: Structural Insulated Panels. Perhaps the most advanced framing method, SIP panels come pre-fabricated, pre-cut, and pre-insulated per floor plans, and don't require special training for framing installation. SIPs have continuous, high-thermal insulation across their height, width and depth, and since they don't have studs that break up the insulation, they reduce thermal bridging.
With just one experienced foreman and a few less experienced laborers working together yield cost effective labor production rates due to how panels are assembled (much like a puzzle, slide the lightweight pieces together by a numbered installation guide specific to each project).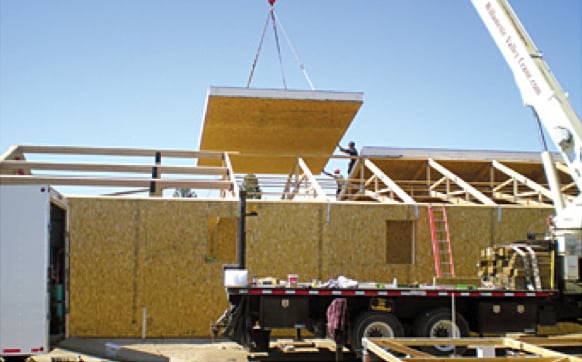 SIPs incorporate structure and insulation into one assembly, not only providing continuous insulation but also resulting in fewer gaps to seal.
SIPs can improve efficiency by meeting multiple building needs in one step. SIPs accomplish multiple goals, you can take care of five steps with this one product: framing, sheathing, insulation, vapor and sound control according to Frank McNeil, a builder with Vail associates. This removes the need for separate work and the labor that goes with it.
In addition to solving the labor shortage issues, builders who choose to frame with SIPs may also pocket more on their bottom line, both because of fewer framing hours on the job (speed of construction), reduced loan interest to pay, and for offering a better engineered product (think energy efficiency for the end owner).
Learn more about SIPs:
QUESTIONS:
LEARN MORE
Related Articles
Learn the basics of structural insulated panels (SIPs) and discover how Premier Building Systems' award-winning panels can..
Net Zero construction is simplified with offsite construction like SIPS and Canada's Step Code is targeting this energy..
Preparation is important for everything in life but is especially key when performing electrical work in structural..
Find Your Local Rep
As the oldest manufacturer in the SIPs industry, Premier's SIP system is the proven prefabricated building envelope framing system for your next commercial or residential structure. Faster, stronger, and greener than outdated lumber framing methods, SIPs are the future of framing. Join the other thousands of structures built with SIPs, and contact the expert in your local region to get started.