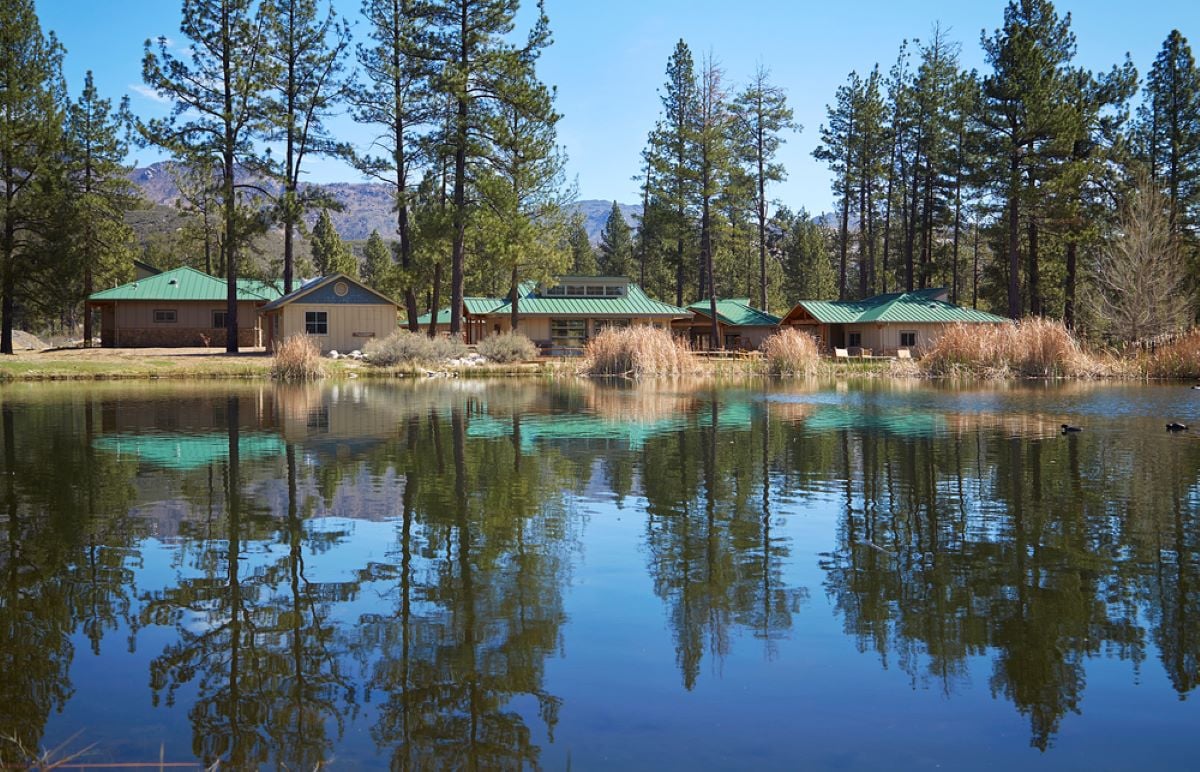 Camp Ronald McDonald
California
Project Type Commercial | Lodging
Year Completed 2015
Project Size 19283 sq ft
SIPS Used 6" Walls & 10" Roof
Sustainable Features Premier SIPS, low VOC paint, low VOIC glue, no VOC sealants
Architect Davy Architecture
Contractor The Hale Corporation
Project Overview
Camp Ronald McDonald Southern Cal
Located in the San Jacinto Mountains of Riverside County, this site offers a variety of overnight, recreational, and meeting accommodations for up to 200 people.
Camp Ronald McDonald (For the Good Times) wanted to build a structure that stood the test of time while being green-friendly, air-tight, energy efficient, and a place of comfort for all its visitors. This particular SIP build comes complete with a full-service, state-of-the-art kitchen that includes a service area, office, dry storage, walk-in cooler/freezer, two meeting rooms, restrooms, and an entry foyer. The main space includes a dining area, assembly area, and covered walkways strategically oriented tp maximize the views of the ponds and surrounding nature.
Why SIPS?:
SIP construction was a helpful aspect of the project due to the quick turnaround for the material and erection process. The SIP system was also helpful in minimizing construction time, due to the integral insulation value provided within the wall/ceiling system. Both of these aspects play a significant role in the extreme temperatures in the given environment.
Benefits of SIPS:
SIPs help save time, labor, construction costs, and energy and are the perfect precursor for NZE building.
Innovative Design Elements:
Dormer windows, clerestory windows, skylights, and an indoor fireplace, together with the value of SIPS, were essential in achieving energy efficiency throughout the building.
HVAC:
Gas-fired forced air furnace with cooled chiller unit.
Energy Saving/ Energy Efficient Materials:
U value for windows 0.34
R-value for walls R-26
U-factor for walls U-.030
R-value for roof R-41.9
U-factor for roof U-0.24
All energy-efficient appliances
Low E-glazing for exterior windows
Skylights
Client Comment(s):
"This is our third project using the Premier SIP system and the outcome is expressed through the user's comfort. Clients have been pleased with the durability and adaptability this material has to offer with the use of a variety of finishes evident in both of the recreation camp projects. "
Find Your Local Rep
As the oldest manufacturer in the SIPs industry, Premier's SIP system is the proven prefabricated building envelope framing system for your next commercial or residential structure. Faster, stronger, and greener than outdated lumber framing methods, SIPs are the future of framing. Join the other thousands of structures built with SIPs, and contact the expert in your local region to get started.