Premier SIPS Create Healthy "Certified Clean Air" Indoor Environments
Premier SIPS* Are Officially Clean Air GOLD Certified!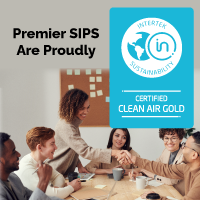 In a time where respiratory ailments (global respiratory pandemic!), asthma, allergies and other health concerns are affecting much of North America creating indoor environments that are healthy is a critical function for Architects, Specifiers and Builders as they are creating new construction structures. The move to create healthier, more sustainable structures isn't just a trend. Many states, counties and cities, are requiring that building materials used to construct commercial (private, public, state & federal) structures in their jurisdictions be third party certified as low VOC emitting materials. Whether in a work place, retail location, or community center, managing air quality and indoor environments is an essential task for building and facility owners. When structures are Clean Air Certified, (offered by only a few third party certification firms) occupants can be assured that the indoor air quality is in compliance with standards that help protect their indoor health.
Premier Building Systems is the first SIPs manufacturer to take a leadership role in bringing Structural Insulated Panel Systems (SIPs) and SIP accessories to the marketplace with Clean Air Certification compliance. Officially "Certified Clean Air Gold," Premier SIPS' structural assembly and select Premier Accessories have been third party tested to prove that they are indeed low VOC emitting (a large contributor to poor indoor air quality levels) and achieve this stringent compliance. Learn more about Clean Air Gold Certification here.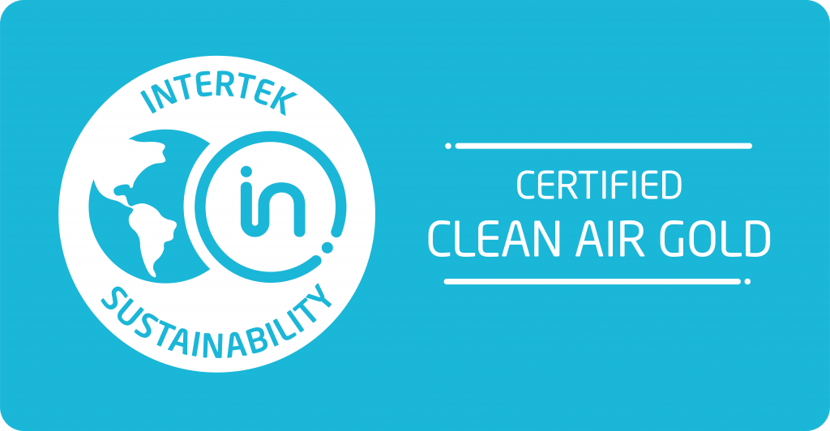 This Certified Clean Air Gold accreditation demonstrates compliance with several key standards, including California's Stringent Department of Public Health Standard Method. Which has been at the forefront of developing world-wide Clean Air Certification standards. The state of California started the demand that building product manufacturers provide proof that their materials do not excessively emit high levels of VOC's. California continued to enact a law and testing standard for building product manufacturers to follow – called the "California Department of Public Health (CDPH) Standard Method v1.2: Private Office." While California was the leader, several other states have enacted similar laws, and many states have deferred to the California Standard as the de facto industry low VOC certification for projects in their states.
Download Certification documents for specification or environmental purposes here.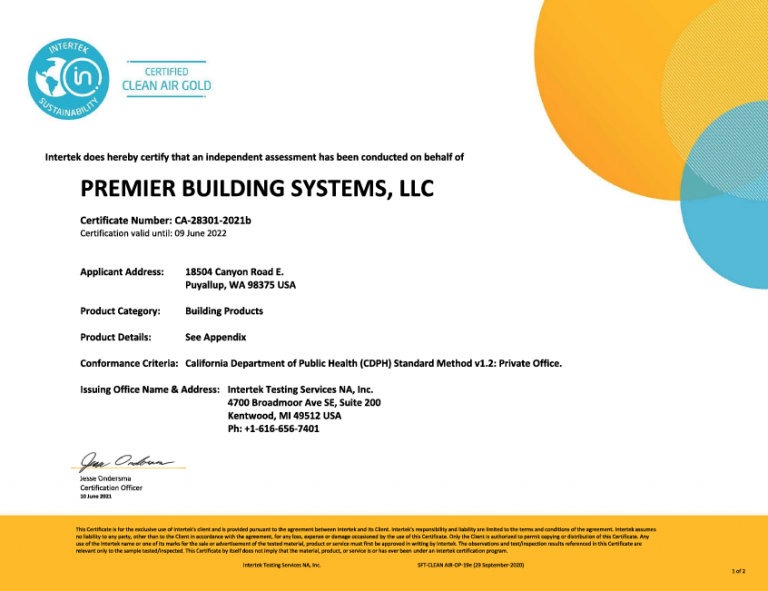 California's concern arose long before COVID, and was rooted in the desire to improve the indoor environments of enclosed spaces where several or more people would be exposed to high VOC emitting building products for long periods of time. Understanding this, the broader US and Canadian marketplace, (architects, commercial contractors and commercial building owners) are also asking for CDPH VOC Certification and it has become the de facto Low VOC standard for all buildings.
To achieve Clean Air Gold Certification, a sample of Premier SIPS was put into a closed chamber for several weeks, with the air in the chamber being continually tested for VOC's that may be emitting from the SIP sample. After these independent tests were conducted (by Intertek), Premier SIPS & Accessories* achieved the prestigious Clean Air Gold Certification which applies to the most numerous buildings built in the US – private and public commercial buildings.
Premier SIPS Do Not Contain VOCs or Harmful Chemicals
Many states, counties and cities are now requiring that building materials used to construct commercial structures in their jurisdictions be third party certified as low VOC emitting materials. Premier SIPs have been tested to prove that they are low VOC emitting (a critical attribute to achieve Clean Air Certification). SIPs do not contain any VOCs or other harmful chemicals that can affect occupant health. The components used to make SIPs (foam, oriented strand board, and adhesive) meet some of the most stringent standards for indoor air quality.
EPS uses pentane, a non-CFC blowing agent that dissipates shortly after production. EPS has no offgassing and many EPS manufacturers are GREENGUARD certified
SIP homes have qualified under the American Lung Association's Health House® indoor air quality standard
"Clean Air Gold Certified" that the adhesives used in SIP production do not contain any measurable amounts of volatile organic compounds (VOCs) that can be harmful to occupants
Oriented strand board (OSB) does not contain urea formaldehyde adhesives and meets the world's leading formaldehyde emissions standards, including the U.S. HUD Manufactured Housing Standard, the California Air Resources Board (CARB) Air Toxic Control Measure for Composite Wood Products and the European EN-300 Standard
Learn more about

OSB and formaldehyde

Learn more about

expanded polystyrene (EPS) and HBCD flame retardants

SIPs can be produced with safe treatments that prevent mold, fungal decay and termite infestation which can have a negative impact on indoor air and environmental quality.
Premier is proud to continue to create energy efficient structures, with High Performing Building Envelope SIP Systems. Adding the Clean Air Certification to Premier SIPS products, reassures occupants that the indoor environments they spend time in achieves the standards required for healthy, clean air.
*Made in WA with West Fraser/Norbord ZB OSB, Insulfoam EPS & Dupont Betafuse 657 Adhesive
LEARN MORE
Related Articles
LEED-certified buildings save about 25% in energy consumption. SIPS buildings deliver turnkey LEED basic certification with..
Our SIP panels offer higher R-values, contributing to increased energy efficiency, lower heating and cooling costs, and..
Premier SIPS are the first to test panels for structural loads in seismic zones per the ICC criteria and has achieved the..
Find Your Local Rep
As the oldest manufacturer in the SIPs industry, Premier's SIP system is the proven prefabricated building envelope framing system for your next commercial or residential structure. Faster, stronger, and greener than outdated lumber framing methods, SIPs are the future of framing. Join the other thousands of structures built with SIPs, and contact the expert in your local region to get started.