Looking for a sign?
By Jeff Beason, Southwest Regional Representative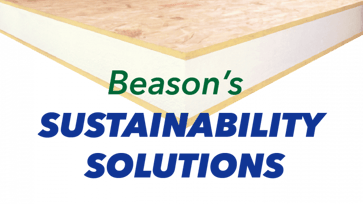 Blame it on the pandemic, supply-demand imbalance, inflation or a combination of all three, but in any case, housing costs are soaring. Many Americans are making changes – renting, remodeling, aging in place or seeking to purchase or build a new home. I see "home for sale" signs all over, but few can afford to purchase these homes.
Speaking of signs, I went to a Diamondback baseball game last summer and they had one of those huge televisions in the stadium. A Jumbotron. And this guy proposed to his girlfriend using the giant TV. He put her name up there, and said, "Will you marry me?" She said yes. The crowd went wild. They found the couple in the audience. I was sitting there thinking, "Wow, that is so romantic. That is so cool." And then I remembered thinking, you know, you could also use a screen like that if you are having trouble breaking up with somebody. Be like, "Hey, I'm going to grab a hot dog. But you should definitely look at that screen." That is a smooth way out of it. "It is over. You might need an Uber."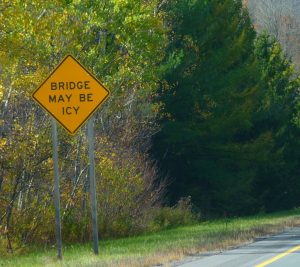 I think the favorite sign that I have seen is, "Bridge May Be Icy." Because it is so honest, you know? It is just like, "Bridge… may be, I do not know. I am… …a sign. I do not have a conscious mind. I am… …a tilted yellow square. What are these shapes on the front of me? I mean, bridge may be chocolate. Whatever you want. I do not care."
It may as well read, "Bridge may not be icy." After all, that implies the same thing as "Bridge may be icy." And it's an even better scenario, you know? More optimistic. That would be a better sign in my opinion. I like the attitude and sign. "Bridge probably not icy. Give it a shot." Even better! It is August, bridge probably not icy. You are right, thanks sign for the direction.
Anyways, I digress….
Blame it on the pandemic, supply-demand imbalance, inflation, or a combination of all three, but in any case, housing costs are soaring, whether Americans are renting, aging in place, or seeking to purchase a new home. According to real estate platform Zumper, rent prices surged 12 percent year-over-year in 2021 and continue to increase this year. The median price for a one-bedroom apartment rose 1.5 percent in February when compared with January. Here's a tip we shared with Redfin for their recent blog on build-to-rent homes:
"Energy efficiency and indoor air quality are huge benefits for build-to-rent homes; they can keep properties occupied and reduce turnover costs, among other positives. By selecting factory-fabricated structural insulated panels (SIPs) as your building envelope choice, your property can save 40-60% each month on heating and cooling costs over traditional stick framing."
We all know prices for homes are soaring. According to the S&P CoreLogic Case-Shiller U.S. National Home Price Index, home prices gained 18.8 percent during the 12 months (through December). According to the National Association of Realtors (NAR), in January the inventory of available homes stood at 860,000, which Gay Cororaton, a senior economist at NAR, said is the equivalent of 1.6 months of supply. The desirable level is five to six months of supply. With supply so low, many are considering building.
Before you design a new home or remodel an existing one, consider incorporating an investment in energy efficiency. You will save energy and money, and your home will be more comfortable, durable, and healthier. Advanced framing is a great way to go. If you are building a new house or adding on to an existing one, consider using advanced framing (also known as optimum value engineering), which reduces lumber use, and construction waste and improves energy efficiency in a house. Where do you start? You should build with Structural Insulated panels (SIPs).
Once installed, SIPs deliver unrivaled insulation and airtightness, which reduces energy costs over the building's lifetime. SIPs are known to be about 50% more energy-efficient than traditional lumber framing. A SIP building envelope has minimal thermal bridging and delivers excellent airtightness.
COVID you say? A SIP home or commercial building allows better control over indoor air quality because the airtight building envelope limits incoming air to controlled ventilation which filters out contaminants and allergens, including COVID.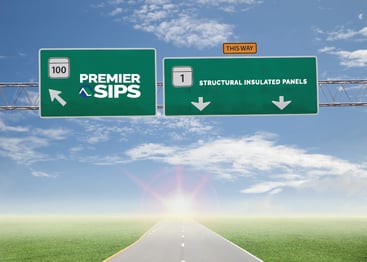 Here is your sign! I like Bill Engvall. He is funny. I have a jeep and one of my favorite Engvall quotes is, "I was traveling down the road with a buddy and there was a guy driving near us in a jeep with a dead deer strapped to the hood. My buddy (let's call him Phil) asked me, 'do you think he has been hunting?' I reply, 'Nope, they are probably giving them away with the purchase of every jeep. Here is your sign buy a jeep!"
Follow this sign… If you are going to build a new home or commercial project, or just add an addition, consider building energy efficiency. That starts with an energy-efficient envelope and can be achieved by building with SIPs.
Jeff Beason is Premier's SW Regional Representative. He holds a Master's Degree in Business and has more than 20 years of experience drafting, consulting, and working with Premier SIPS. His sense of humor, paired with his extensive industry expertise makes him a great resource for a large group of SIPs Designers and Builders throughout Southern California, Arizona, and Nevada. When he isn't pointing out signs, you can find him rooting on his three adult daughters, or with his Wife in the sand dunes in Arizona. Contact Jeff here.
LEARN MORE
Related Articles
Building envelope design, materials, and construction play a key role in determining the durability, energy efficiency, and..
Our SIP panels offer higher R-values, contributing to increased energy efficiency, lower heating and cooling costs, and..
For high-performance builders looking to create sustainable, efficient, and innovative structures, cost modeling takes on a..
Find Your Local Rep
As the oldest manufacturer in the SIPs industry, Premier's SIP system is the proven prefabricated building envelope framing system for your next commercial or residential structure. Faster, stronger, and greener than outdated lumber framing methods, SIPs are the future of framing. Join the other thousands of structures built with SIPs, and contact the expert in your local region to get started.