Premier SIPs was recognized during the Structural Insulated Panel Association's (SIPA) 13th Annual 2015 Building Excellence Awards ceremony, held at the SIPA Annual Meeting in Arizona. Building Excellence Awards highlight innovative projects using SIPs as the basis for energy-efficient, green buildings. Entries were evaluated on energy efficiency, design and structural engineering innovation, environmental sustainability, and creative use of SIP construction. There were a total of 9 awards from "Single Family < 3,000 sq. ft., to Commercial > 10,000 sq. ft. Premier SIPs brought home 3 out of those 9 awards and an honorable mention:
Best Overall Project: Cedarwood Zero Energy Home
Best Single Family Home under 3,000 sq. ft.: Cedarwood Zero Energy Home
Best Single Family Home over 3,000 sq. ft.: Evoke Quadrant Model Home
Honorable Mention, Commercial/Industrial Buildings over 10,000 sq. ft.: Woodinville Whiskey Distillery and Tasting Room
Visit SIPA to read more on the full list of Building Excellence Winners.
View past Premier SIPs projects that have been awarded Building Excellence Awards:
OVERAL COMPETITION WINNER AND WINNER OF THE SINGLE FAMILY HOME UNDER 3,000 SQ. FT. CATEGORY
Cedarwood Zero Energy Home: Bellingham, WA
Designer & Builder: TC Legend Homes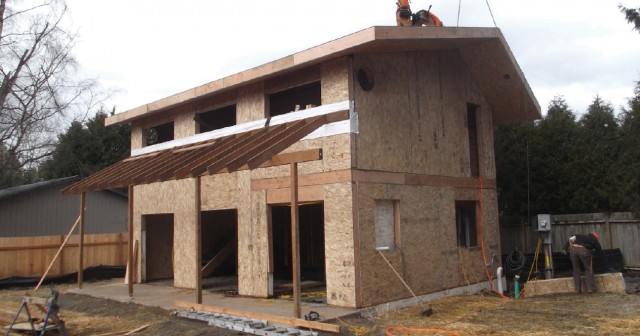 TC Legend Homes' Zero Energy House
Premier SIPs provides a highly insulated building envelope for this DOE Housing Innovation Award Winning project designed and built by TC Legend Homes. At $144 per square foot, this zero energy home used 6-inch-thick SIP walls (R-26) with pre-finished fiber cement siding and house wrap, and 10-inch-thick SIP roof panels (R-42) with a metal standing seam roof. Read more on the Housing Innovation Awards recognition of TC Legend Homes below and more project details through this DOE case study and past article
Features:
6-inch SIP walls, 10-inch SIP roof
Air leakage tested at 0.67 ACH50
HERS Index 13
ICF Foundation
ENERGY STAR certified version 3
Meets 2012 IECC levels
Exceeds EPA Indoor airPLUS and WaterSense
Meets EPA Renewable Energy Ready Home
2014 Department of Energy Housing Innovation Award Winner
TC Legend Homes is a full-service custom home building and design firm based in Bellingham, WA, that crafts legendary homes to last for generations. Guided by the belief that everyone should be able to enjoy the comfort and savings of a highly efficient home, the company's mission is to make positive-energy and net-zero energy building affordable. TC Legend has built more 100% solar-powered homes than any other builder in the area at a cost that is surprisingly affordable. TC Legend Homes is a pioneer of the positive-energy construction concept, building homes that not only produce enough renewable energy to eliminate heating and electrical bills but that can also power an electric car for thousands of miles per year.
BEST SINGLE FAMILY HOME OVER 3,000 SQ. FT. CATEGORY
Evoke Quadrant Model Home: Issaquah, WA
Designer & Builder: Quadrant Homes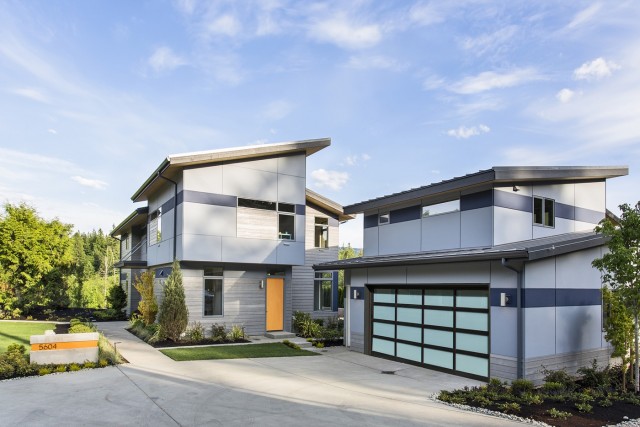 Quadrant Home's EVOKE
Quadrant Homes, one of Washington State's leading homebuilders, launched a contemporary luxury home design concept…. EVOKE Homes. The EVOKE showcase home features a 10-in SIP roof and is 33% more energy efficient than the average new home. Floor plans are customized by homeowners and are stocked high with premium features and ENERGY STAR rated appliances.
Features:
10-inch SIP roof
Energy-efficient ductless mini-split heat pump system
HERS Index 63
ENERGY STAR appliances
Low-flow plumbing fixtures and dual flush toilets for water conservation
For 44 years, Quadrant has built more homes than any other builder in Washington State. Quadrant's Built Your Way approach to homebuilding allows future homeowners to design and oversee just about every aspect of their new home: from layouts, features and fixtures, to locations of doors, sizes of windows, or even placement of a favorite couch. Or, if time is of the essence, a Quadrant's Showcase Home is move-in-ready.
HONORABLE MENTION, COMMERCIAL/INDUSTRIAL BUILDINGS OVER 10,000 SQ. FT.
Woodinville Whiskey Distillery and Tasting Room: Woodinville, WA
Designer: Graham Baba Architects
Building: MRJ Constructors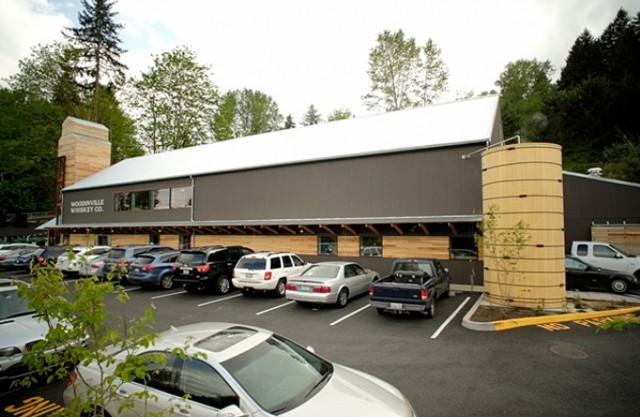 Woodinville Whiskey
Woodinville Whisky's new warehouse enabled the distillery to quadruple production capacity. The interior of the warehouse used reclaimed wood trusses and redwood siding, concrete and plywood in simple, straightforward ways, reinforcing the function of the building while creating an appealing space to sample the distillery's product. SIP roof panels were used to provide a natural finish to the ceiling, yet continuous insulation and strong roof decking for the gabled roof. A secondary lamination of plywood was applied to the bottom skin of the panels were used to enable an interior ceiling that didn't require any additional finishing products. The ceiling was later stained for a natural/barn look.
Features:
10 1/4-inch SIP roof panels
Consistent interior temperature from SIP building envelope helped with product regulation and quality control
SIPs help qualify for Washington State energy code requirements without excessive materials or labor
Plywood was laminated to the SIP roof panels to serve as the finished ceiling over reclaimed wood beams
Visit SIPA to read more on the full list of Building Excellence Winners.
LEARN MORE
Related Articles
Learn the basics of structural insulated panels (SIPs) and discover how Premier Building Systems' award-winning panels can..
The Premier SIPS brand is the top Structural Brand in Green Builder Media's Sustainable Brand Awards 2023, and at the center..
Net Zero construction is simplified with offsite construction like SIPS and Canada's Step Code is targeting this energy..
Find Your Local Rep
As the oldest manufacturer in the SIPs industry, Premier's SIP system is the proven prefabricated building envelope framing system for your next commercial or residential structure. Faster, stronger, and greener than outdated lumber framing methods, SIPs are the future of framing. Join the other thousands of structures built with SIPs, and contact the expert in your local region to get started.