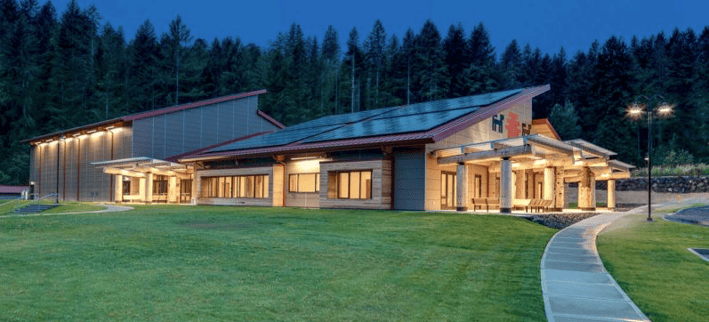 When it came time to design and build a new community center, The Skokomish Tribe new that energy efficiency was critical. The Skokomish Tribe wanted to be environmentally responsible with the creation of this new large gathering space. And the Structural Insulated Panel industry noticed. This project won the best overall Commercial Project in 2018 for Building Excellence from the Structural Insulated Panel Association.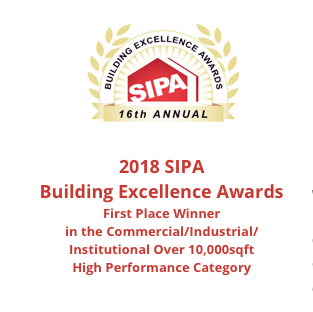 Not only did they want the structure to generate renewable energy with significant solar panel systems, they also required a building that was efficient and conserved energy use. This criteria was the primary reason for selecting SIPs. Speed of installation, reduction of job site waste sent to landfills & disposal fees, use of tribal labor crews (not previously trained on SIPs), and SIPs recyclability were additional considerations that led to the selection of SIPs. SIPs large spans made it simple for architects to design a large gymnasium to pair with local timber elements for a large soaring space.
The building is designed to promote community wellness, and it will bring together the tribe's youth and elder programs including holiday parties, general council meetings, funerals, basketball tournaments, cultural classes and big events. During a major disaster, it can serve as an emergency shelter.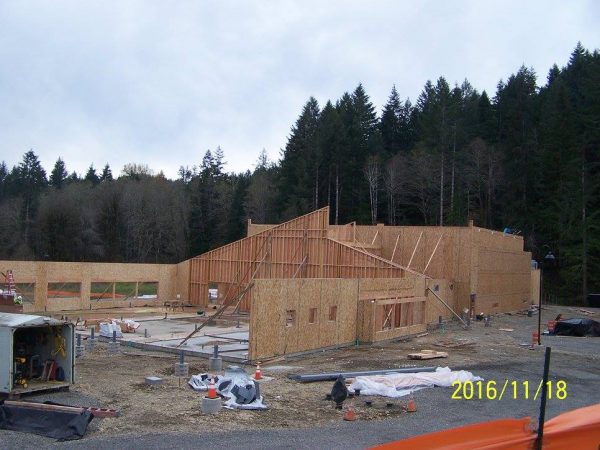 Skokomish Tribe's long-awaited community center's goal was to achieve Net-Zero Energy. Performance wise the structure needed use net zero energy (0 kBtu/sf/yr) after a solar panels is included. The solar system features more than 400 solar panels on the roof — enough that it is indeed expected to produce more energy than it uses. "We are probably one of the largest solar projects in the state, if not the West Coast," said Yvonne Oberly, the tribe's chief executive officer. "The technology was available and … we believe in being as energy efficient as possible as well as being environmentalists."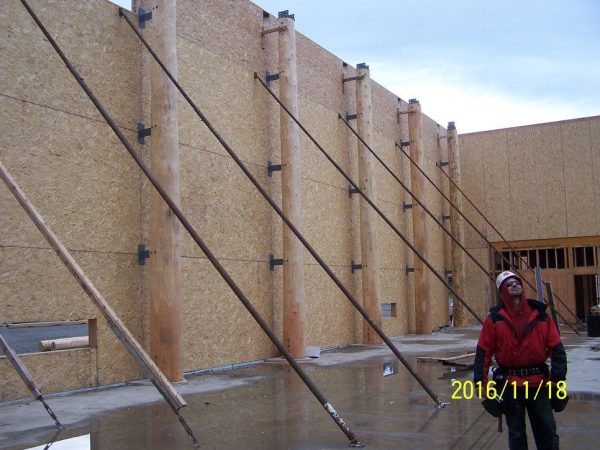 The HVAC system was also designed with efficiency in mind, as it is a critical component of any building system. The Center's HVAC configuration is a combination of Variable Refrigerant Flow (VRF) Heat Pumps for space heating and cooling and a dedicated outside air system (DOAS) for ventilation. The indoor units of the VRF system are all ductless and cycle with the load in the space to minimize fan energy. The DOAS system includes super high performance air to air energy recovery ventilators. High volume low velocity (HVLV) ceiling fans are used to de-stratify the space during the heating season and provide comfort cooling in the summer. High clear-story windows allow for stack-driven natural ventilation during mild weather.
Beyond the solar power, and an extremely efficient HVAC system, the community center was built with energy efficiency in mind and includes LED lighting, air and heat exchanges. The good news is, projections show that this building alone (as compared to a comparable traditionally built structure) expects to reduce greenhouse gas emissions by 2,079 tons of carbon dioxide during a 25-year period.
The Center has a gymnasium, meeting hall, commercial kitchen, dining room, fitness center, computer lab and space for culture and art classes for the Skokomish Tribal community.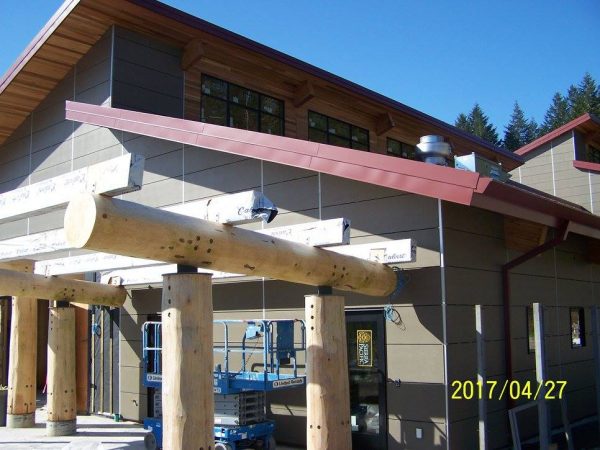 Project information: The Skokomish Community Center
Total sq. ft. of conditioned space: 22,000 sq ft
SIP wall thickness and core material: 8″ wall (19,728 sqft)
SIP roof thickness and core material: 12″ roof (28,280 sqft)
Built By: Pease Construction Lakewood, WA 98496
Contact the Rep near you to learn how to use SIPs in your next commercial or residential project.
LEARN MORE
Related Articles
Learn the basics of structural insulated panels (SIPs) and discover how Premier Building Systems' award-winning panels can..
The Premier SIPS brand is the top Structural Brand in Green Builder Media's Sustainable Brand Awards 2023, and at the center..
Net Zero construction is simplified with offsite construction like SIPS and Canada's Step Code is targeting this energy..
Find Your Local Rep
As the oldest manufacturer in the SIPs industry, Premier's SIP system is the proven prefabricated building envelope framing system for your next commercial or residential structure. Faster, stronger, and greener than outdated lumber framing methods, SIPs are the future of framing. Join the other thousands of structures built with SIPs, and contact the expert in your local region to get started.