Ease of Construction, or more simply stated, the "Constructability" of a High Performance Building Envelope (HPBE) is the third attribute we'll discuss in our series of articles, learning about the perfect HPBE.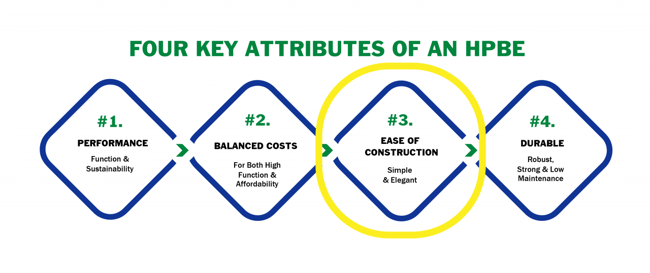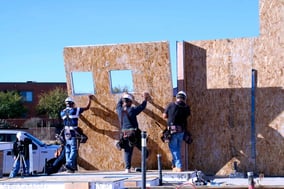 Arguably, all building materials and systems, with the proper planning and with a knowledgeable contractor involved can be constructed to form a building envelope. That said, this is not what we mean by the term "Constructability" when it must also include the qualifiers of "Simple and Elegant", as well as "Affordable."
There are numerous HPBE assemblies that are difficult to assemble, the oppositeof simple and elegant….. and there are HPBE's that are easier to install, but have very high material costs and are not affordable for the majority of structures built in the USA. We discussed many of these HPBE options in our earlier article, which you can revisit here. Many choices, but as we concluded SIPs are the best HPBE when a constructable, simple and elegant solution is required and must also provide energy performance, comfort, strength and long term durability.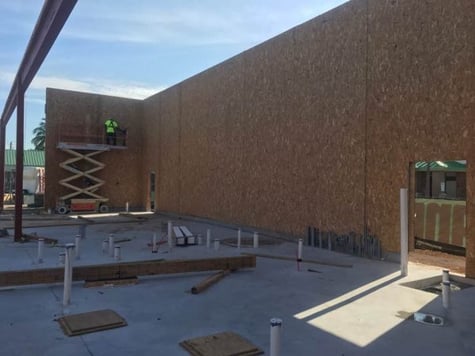 The Benihana restaurant group chose Premier SIPS for ease of construction and high performance.
Together these offered construction savings and reduced operating costs.
Let's focus on the attributes that make SIPs the most constructable, simple, and elegant HPBE that can be used to build residential and light commercial structures:
SIPs are large (up to 8' x 24'), engineered simple wall and roof components….factory laminated with only 3 structural components.
SIPs are a structural composite standing on their own….they eliminate most of the load-bearing framing normally used in structures.
SIPs are supported by a sales and project mangers team that provides detailed installation shop drawings, details and learning videos to designers and contractor/installers….no guessing, no cutting or waste of each fabricated SIP.
SIPs are factory fabricated to size and dimensions of the structure and are sent to the project site ready to install….no guessing, no cutting, no waste.
SIPs large component size and factory fabrication speed up on-site labor install, reducing labor costs 40 to 50%….the use of modern lifting, placing and nailing equipment speed the SIP construction process.
SIPs fabrication and fit eliminate job site waste….saving labor clean up and tipping costs.
In summary, this list of SIPs attributes defines the terms constructability, simplicity and elegance for a HighPerformance Building Envelope. When looking at other HPBE options, none provide the combination of constructability, affordability and performance that are inherent in a SIPs solution. SIPs are also the HPBE that can be used on the broadest types of structures built in the USA. From single family and multi-family residential to commercial office, retail, educational, institutional, community structures built as Type 5 construction. All can benefit from the many attributes of SIPs.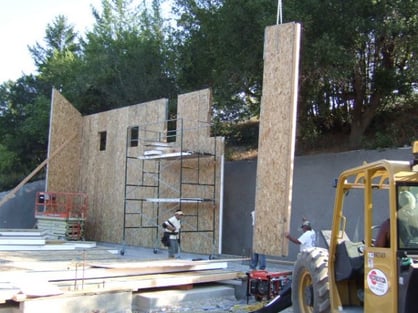 Large SIPs sections also help create consistent indoor environments – ideal for efficient temperature control needs like the Bravante Winery in California.
In our next installment, we'll be discussing the Durability and Resilience of SIP structures. SIP structures stand fast against weather events and we'll tell you why.
Mike Tobin,
Premier Technical Director
LEARN MORE
Related Articles
Our SIP panels offer higher R-values, contributing to increased energy efficiency, lower heating and cooling costs, and..
Watch a jobsite overview about SIPS vs Sticks to kick off our installation video series walking through a Premier SIP Panel..
Uncover the significance of proper ventilation and sealing for energy-efficient construction in SIP structures. Learn proper..
Find Your Local Rep
As the oldest manufacturer in the SIPs industry, Premier's SIP system is the proven prefabricated building envelope framing system for your next commercial or residential structure. Faster, stronger, and greener than outdated lumber framing methods, SIPs are the future of framing. Join the other thousands of structures built with SIPs, and contact the expert in your local region to get started.