The Only Track-Side Private Club & Auto Storage in the U.S. Chooses Premier SIPS for Luxury Track Side Garage-Condominiums
APEX Motor Club is an exclusive club in the Phoenix, AZ metro featuring two race tracks, a clubhouse and 96 private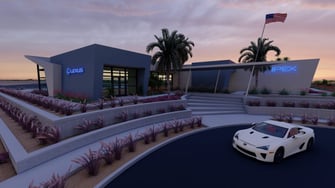 track-side luxury car garages-condominiums for race/luxury car storage. Combined, the two tracks will offer 4.2 miles of race track including a 3,400 ft (.65-mile) straightaway for the race car aficionado. Phase 1 (now complete) includes 2.27 miles of race grade track asphalt – and a .65 mile straightaway.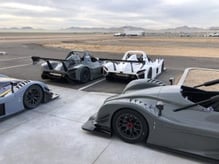 Members of APEX Motor Club are enjoying world class racing circuits, country club-style amenities, and race tracks designed by the award winning designers from Motorsports Service International. Needless to say, this isn't your "Grandfather's racetrack."
Membership at the club offers access to purchase and personalize track-side, high end car garage-condominiums. The garages are ideal for both entertaining and storage of modern sports cars, track cars, and vintage cars. In line with the high end experience, the track-side facilities also had to be high performance, so the developers looked to Premier SIPS to fit their needs.
The garages begin as what APEX refers to as a "shell." At Premier, we refer to this shell as the "ultimate high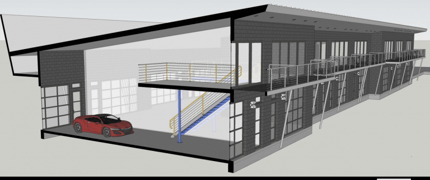 performance building envelope." The roof and walls of these structures are made with Premier SIPS. Factory fabricated for extreme precision, panels are manufactured in a controlled environment, engineered for extreme strength, and straight and plumb for fast predictable construction. The Premier Structural Insulated Panels are delivered to the APEX motor club and installed to form the garage structure in days, rather than weeks (a key benefit for owners anxious to personalize their garages). The speed of construction from SIPs also helped developers combat the construction industry's current skilled labor shortages.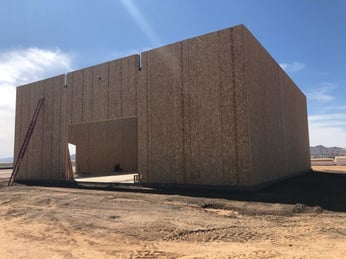 The finished shell is comprised of large pre-insulated, structurally laminated panels manufactured per APEX's exact floor plans. The SIPs join together in very few joints (as compared to outdated site framing methods), and the finished panelized building envelope is extremely energy efficient, exceptionally comfortable and offers healthy indoor environments (IAQ) for occupants. The rigid insulation core is solid, has long-term thermal values, and is resistant to insects and decay – a massive upgrade from typical batt insulation. The structural facings on either side of the insulation create the sheathing and the exceptionally strong (think seismic and natural disaster approved). Exterior and interior finishes are installed directly on these facings.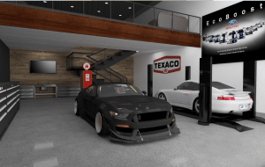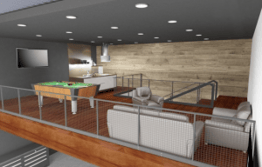 When we say these aren't typical storage garages you expect, we aren't kidding. APEX has developed the Club to be a place to truly hang out, and these garage-condominiums pull out all the smart design options to make this a reality for members. In addition to main floor garage space, with enough room for multiple lifts, each unit includes 2nd floor mezzanines for hanging out and a half bathroom (shower option).
Designed to be multi-configurable, the garages each measure 25×50 feet for a total square footage of 1,250. If a member needs more space, two garages can be join them together for a larger footprint. Club members are lining up and some amazing automobiles are already calling this incredible facility home.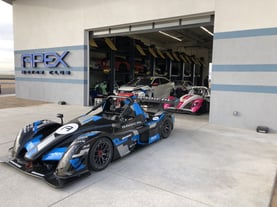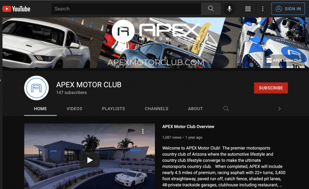 Take a video tour and see some of the action at APEX's YouTube Channel here.
Phase 1: Now underway, 48 trackside garage condominiums | 1,250 square feet each
Phase 2: An additional, 48 trackside garage condominiums | 1,250 square feet each
Get more specific details and tour the Club & impressive race tracks here.
LEARN MORE
Related Articles
Premier SIPS home, showcases sustainable construction and wins multiple national awards for the next generation of net-zero..
Premier SIPs took home quite a few awards at the 2022 National Building Excellence Award Event. Keep reading to see our..
Arizona's Case Monterosa chose Premier SIPs and won a national award! Read more to learn about their choice and how they..
Find Your Local Rep
As the oldest manufacturer in the SIPs industry, Premier's SIP system is the proven prefabricated building envelope framing system for your next commercial or residential structure. Faster, stronger, and greener than outdated lumber framing methods, SIPs are the future of framing. Join the other thousands of structures built with SIPs, and contact the expert in your local region to get started.