There are many paths to energy efficiency. Some are easier than others. Especially when it comes to choosing the framing for the building envelope – which is the key foundation for conserving and using energy wisely. The Los Angeles Times has written about the benefits of choosing SIPS (Structural Insulated Panels) for the roofs walls and floors of a structure. Read on, for the full article.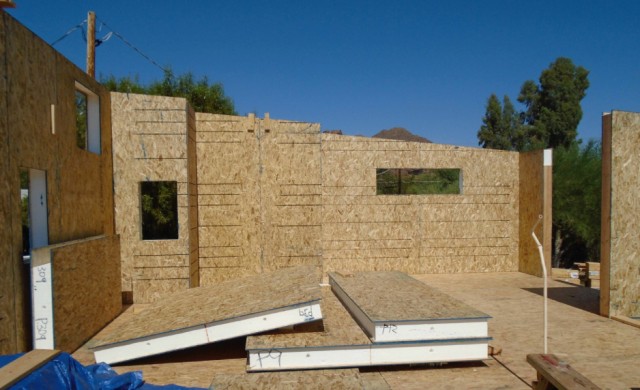 San Miguel Residence, SIPS floor, walls and roof installs fast… and large panels reduce air leakage for a tight building envelope and future conservation of energy resources.
Do you cringe each month when your utility bill arrives in the mail? If high energy costs are getting you down, don't blame your electronic devices. Heating and cooling are the largest energy expense for most homes, reports the U.S. Department of Energy.
If you dream of building a new, custom home, you must make some fundamental decisions about how the home will be built in order to avoid thousands of dollars in wasted energy costs each year.
When you picture your dream home under construction, you likely think of hundreds of wall studs (the skeleton of a building) creating the frame of your home, as that is how many U.S. homes are built — from tract homes to custom-built mansions. So-called "stick framing" has been the standard practice in home building since the 1800s. Yet, this method is notoriously difficult and expensive to make energy efficient, leading to high heating and cooling bills.
More custom home builders have discovered an advanced method of building that can help reduce a home's heating and cooling energy consumption up to 60 percent compared to stick framing. The system is structural insulated panels (SIPs), which can be used to form walls, roofs and floors in big sections (24 ft. each) that install quickly and easily. SIPs panels are made when structural wood sheathing is laminated to a rigid foam core for superior strength and insulation. Compared to traditional two-by-four stud walls, SIPs have thicker and more continuous insulation for exceptional insulating power, and have far fewer gaps where heated indoor air can leak out.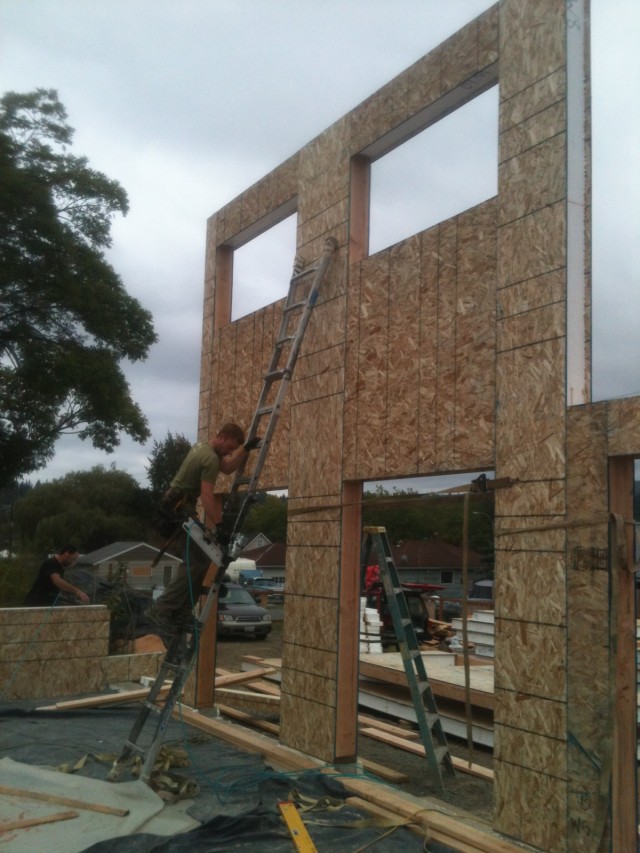 Large panels are precut with window and door openings, but still reduce the opportunities for air infiltration and energy escape in a structure.
"Making a home airtight is the most critical thing you can do for high energy efficiency," says Garrett Strong, president of Tall Pines Construction, Inc., in Park City, Utah. In one custom home Strong built for the O'Meara family in the snowy foothills of the Wasatch Mountains, the large SIP panels leave few spaces for gaps and help super-insulate the home. This high efficiency allowed the home to supply 90 percent of its heating and cooling needs through passive solar energy.
Likewise, when it came time to design her own home, Montana architect Becki D. Miller, AIA, used SIPs to help create a structure that she estimates is about 30 times more airtight than a conventional home. In addition to being energy efficient, Miller notes that SIPs help simplify and speed construction. "In one step, you can have the walls up and they're insulated and sheathed," says Miller. "With SIPs, we had the walls up in only two days."
"While SIPs are an advanced building method, they're not new," says James Hodgson, general manager of Premier SIPs, a manufacturer based near Tacoma, Washington. "SIP homes have been built in the U.S. since the 1960s, but with new interest in energy-efficient construction, more people are asking for SIPs." Hodgson notes that manufacturers continue to innovate with SIPs, including new types of insulating cores. Premier's GPS product, for example, use a new type of insulation that increases the panels' insulating power by more than 20 percent.
Scott Bergford, another custom home builder, based in Olympia, Washington, focuses almost exclusively on SIP construction. "Everyone is so amazed by the energy efficiency SIPs provide," says Bergford. "It only costs an average of $200 to $300 a year to heat one of my homes. That's anywhere from one-fifth to one-sixth the typical costs for this region, so the savings are pretty significant, and the homeowners love that."
SaveSave
LEARN MORE
Related Articles
New construction energy efficient tax incentives (IRA Tax Credits or Deductions) are simplified with high performing Premier..
The vast majority of builders in the U.S. now face demanding energy codes. Learn more about those energy codes on our blog..
Does it cost more to build green? Only in the short term! Read our blog to discover the cost benefits of building green..
Find Your Local Rep
As the oldest manufacturer in the SIPs industry, Premier's SIP system is the proven prefabricated building envelope framing system for your next commercial or residential structure. Faster, stronger, and greener than outdated lumber framing methods, SIPs are the future of framing. Join the other thousands of structures built with SIPs, and contact the expert in your local region to get started.