In our last installment, we talked about the key elements of what High-Performance Building Envelopes (HPBE) must possess. Revisit that Tech Talk here.
In review, an HPBE must:
Provide performance, and be sustainable.
Have high function and be affordable.
Be simple and elegant to construct.
Easy to maintain, be strong and durable
Component Assemblies
To achieve these goals, an HPBE needs to be made with component materials, that when assembled, act as a functioning building envelope. That said, let's consider what High-Performance Building Envelopes could be made of. We'll first look at various component assemblies that are widely used to construct wall envelopes.
Wood & Cavity-Filled Insulation Component Assemblies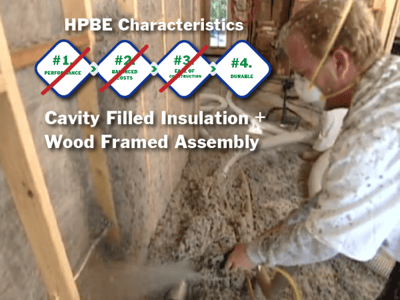 Wood and metal stud framing, having mineral fiber or spray foam cavity fill, with additional continuous rigid insulation applied to the exterior face of the wall are used to build insulated envelope walls. At first glance, this assembly looks to be a reasonably high-performance envelope but they do not fully satisfy the key elements of #'s 1, 2, and 3 as noted above. Field and factory framed assemblies have many components that need expert installation, which is not always achieved and when poorly constructed, energy performance will suffer. The industry is seeing massive price increases for lumber and steel (as well as other components) so these framed assemblies can be expensive.
Insulating Concrete Forms (ICFs) Assemblies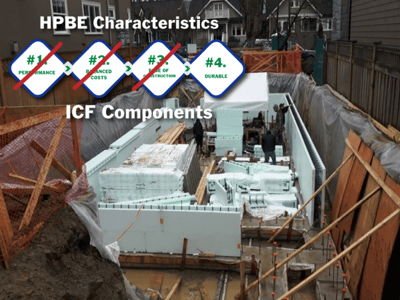 A second example would be Insulating Concrete Forms (ICFs). They are extremely strong, durable and provide low maintenance and good insulating qualities, but have high material costs, are more difficult to construct as an infield build and use concrete. They currently have a limited acceptance in the marketplace. Therefore, ICFs do not score well in meeting the key elements of #'s 1, 2 and 3 as noted above. To explore this further read this article, "Why Building with Concrete is Not Sustainable."
Metal Faced Facade Panels + Insulation Core Assemblies
Metal-faced factory façade panels with various core materials, including EPS, Polyurethane, Polyisocyanurate and Rock Wool have become popular within the commercial building community. These factory produced cladding panels are attractive, have high insulating value and are very constructable. However, they are mainly limited in their use as wall cladding on buildings, because they do not provide axial load capabilities, e.g., floor on top of a floor and/or roof on top of a wall. Therefore, they must be attached to steel frames that provide the building's axial load capacities. They are costly and are used primarily on multi-story buildings located in intense urban settings or on climate controlled industrial buildings. For the reasons mentioned previously, metal faced cladding panels fall short of being suitable for general building construction, are costly and therefore don't score well when considering the key elements of #'s 2 and 3 as noted above.
Glass Cladding & Metal Framed Assemblies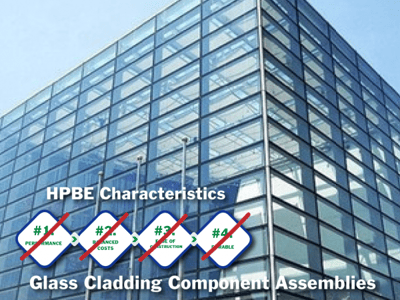 Urban city center landscapes are filled with buildings clad with shining glass cladded structures reaching to the sky. Attractive yes, but energy efficient, not so much. These glass wall façade systems have limited structural capacity, are expensive, have low energy performance, and are used mainly on multi-story high-rise buildings in intense urban settings. Due to their cost, energy inefficiency, and complexity of installation, glass façade-clad skyscrapers comprise a very small fraction of all buildings built in the US and fall well short of all four of the key elements presented above for a High-Performance Building Envelope.
Component Assemblies Represent Many Steps, Often With Many Short Comings
In summary, all of the envelope assemblies we've discussed have numerous short comings. They're either too costly, difficult to construct, less efficient and not as sustainable as they could be. Also, several of these envelop systems are used primarily on high rise urban buildings and therefore are not being specified for the majority of buildings constructed in the US – those being mid to low rise commercial and residential structures.
The Perfect HPBE Isn't An "Assembly" It Is A System
With all this said, what would be the perfect High-Performance Building Envelope? I strongly believe that Structural Insulated Panels (SIPs) are the perfect building envelope choice and here's why: SIPs are constructed of high-performance materials, brought together as a factory-manufactured and engineered composite, that provide the benefits of insulation, air tightness, and exceptional structural durability.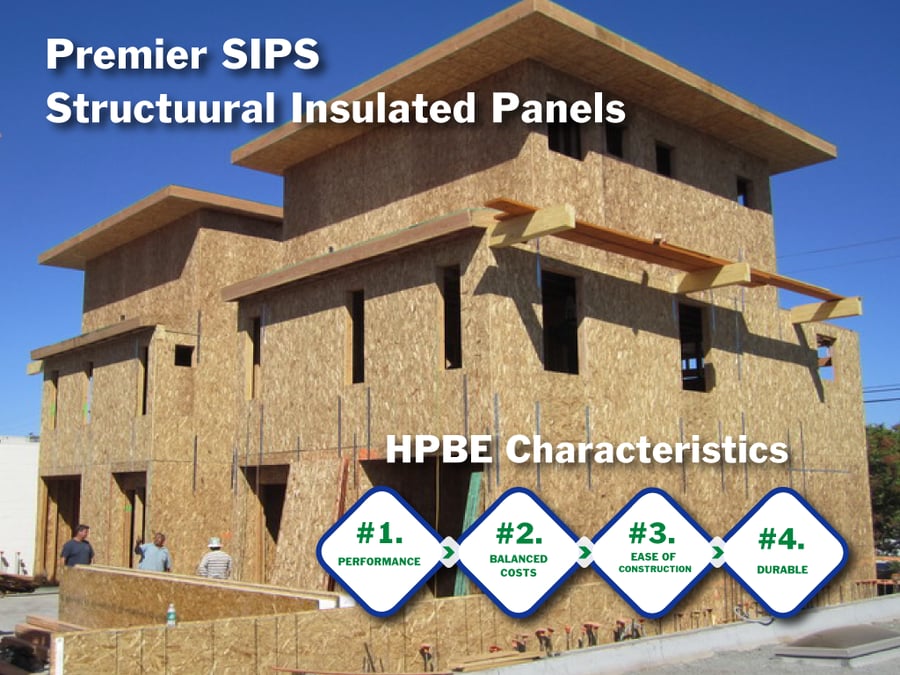 SIPs are very constructible because they are sent to the project site as large wall, roof, or floor sections fully fabricated to length, and width, having window, door, and edge treatments ready for field installation. SIP HPBEs are highly sustainable because they are made with an Oriented Strand Board (OSB) as their inner and outer structural skins. The strand nature of OSB allows it to be produced from small-diameter trees which are harvested earlier in the growing cycle, allowing for faster cycles of sustainable tree replenishment. SIPs have a core of Molded Polystyrene (MPS) or Graphite Polystyrene (GPS) insulation manufactured using heated steam and both use a blowing agent with very low global warming potential and no ozone depletion. Both MPS and GPS are moisture resistant, have stable R-value, are inert —and are both 100% recyclable.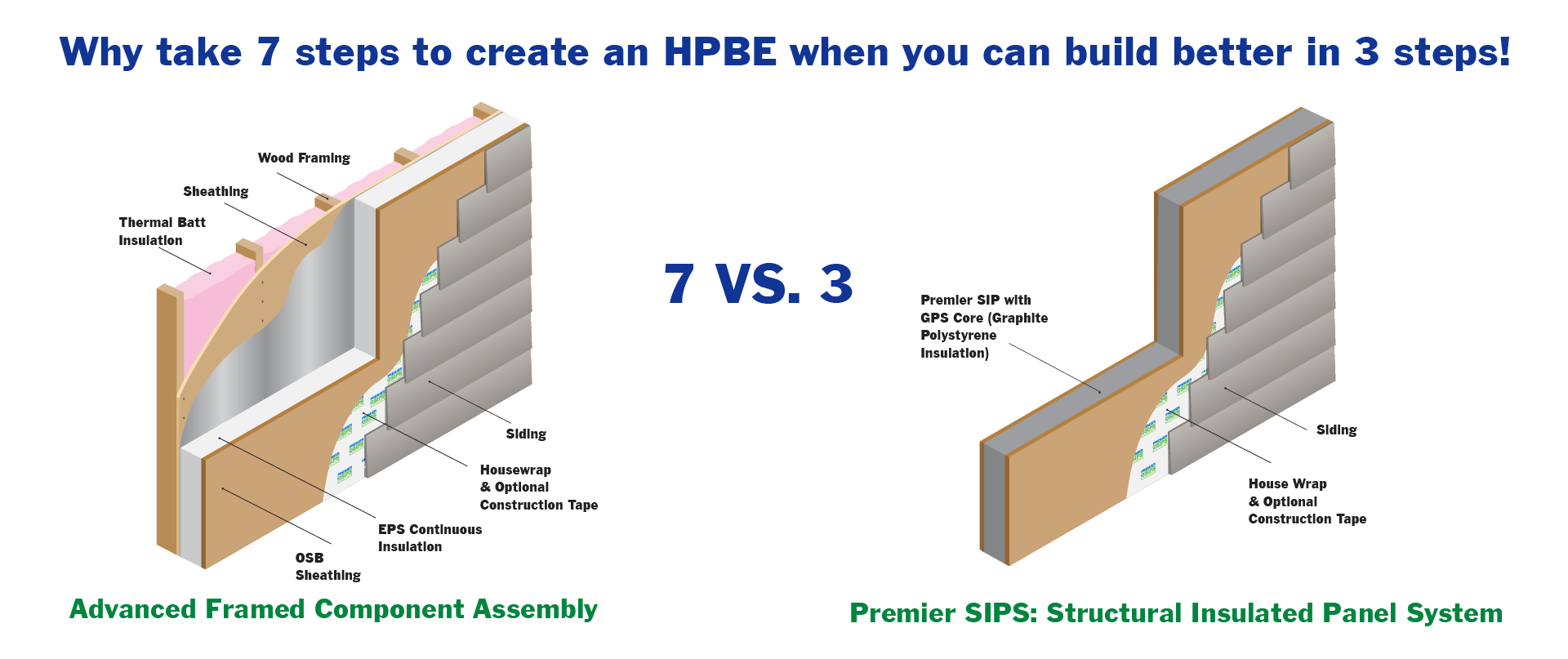 Finally, SIPs can be the "every man's" building system for mid to low-rise commercial and residential buildings based on National Building Code definitions for buildings constructed in all regions of the US.
Stay Tuned!
In our next "Tech Talk" installment we will talk about the specific performance qualities of SIPs as the perfect HPBE to build mid to low-rise commercial and residential buildings. In addition, we will include the use of SIP roof/ceiling assemblies as part of our HPBE advanced master discussions.
LEARN MORE
Related Articles
Learn the basics of structural insulated panels (SIPs) and discover how Premier Building Systems' award-winning panels can..
The Premier SIPS brand is the top Structural Brand in Green Builder Media's Sustainable Brand Awards 2023, and at the center..
Net Zero construction is simplified with offsite construction like SIPS and Canada's Step Code is targeting this energy..
Find Your Local Rep
As the oldest manufacturer in the SIPs industry, Premier's SIP system is the proven prefabricated building envelope framing system for your next commercial or residential structure. Faster, stronger, and greener than outdated lumber framing methods, SIPs are the future of framing. Join the other thousands of structures built with SIPs, and contact the expert in your local region to get started.