SIPs = Improved Indoor Air Quality = Healthier Buildings
On average, Americans spend nearly 90 percent of their time indoors, "where the concentrations of some pollutants are often 2 to 5 times higher than typical outdoor concentrations." On top of this, "an estimated 24.6 million people in the US, including 6.1 million children, have asthma." With these statistics in mind, architects and builders strive to create structures that center on the occupant, ensuring safe spaces to work, play, and live.
Indoor air quality (IAQ) is a critical component of safer, healthier buildings. Dangerous pollutants such as carbon monoxide, lead, volatile organic compound (VOCs), offputs from heating units, and others can accumulate within spaces that have poor air ventilation, causing immediate and long-term health issues. To dramatically improve IAQ, while still maintaining a healthy and energy-efficient building envelope, professionals are turning to tried and true structural insulated panels (SIPs).
How do structural insulated panels impact IAQ?
As touched on in What are SIPs? The Basics of Structural Insulated Panels, SIP buildings are 15 times more airtight than stick-framed structures, thanks to the panels' air-impermeable expanded polystyrene (EPS) rigid foam insulation core and oriented strand board (OSB) composition.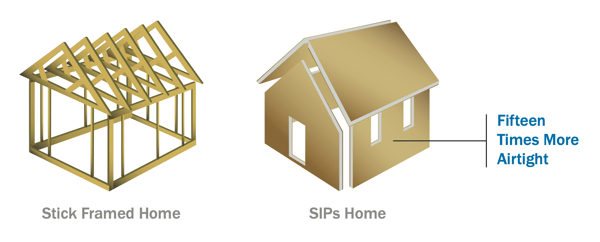 Airtight innately means that there are fewer gaps in the envelope, and far fewer places for pollutants to enter or exit a structure. A SIP envelope is so tight that proper mechanical ventilation has to be considered. Rather than merely opening windows, a well-built home (like a tight SIP structure) should be managed by mechanical ventilation for optimum energy efficiency and maximum IAQ.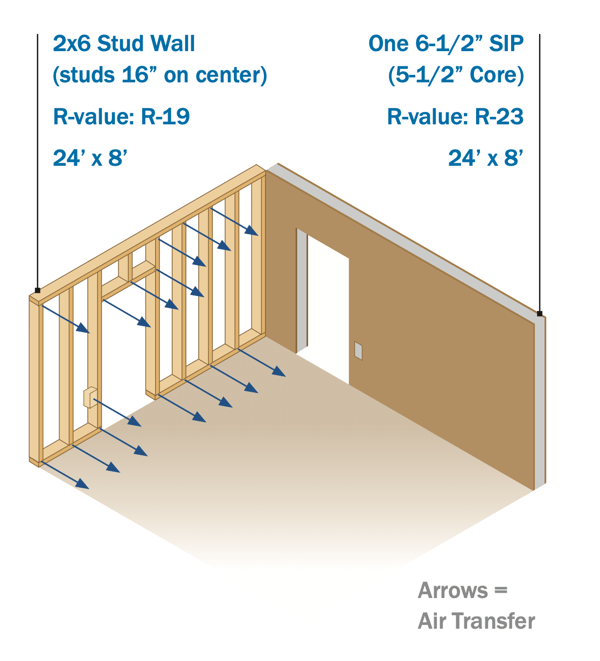 By entirely relying on HVACs, SIP homes and commercial buildings can filter and bring in far fewer air pollutants from the outside. Airflow and air quality are much easier to control, and the atmosphere is as fresh as possible, benefiting occupant health and general well-being. Also, those who suffer from allergies can rest assured that the de-humidification process further curbs mold, dust mites, and other allergens. As a supplementary benefit, room temperatures remain consistent across SIP structures, creating comfortable environments no matter the number of floors, nor the temperature outside.
Premier SIPS have proven performance in the field for exceptional indoor air quality and have been certified Indoor Air Gold in many applications. Learn more about the importance of this certification for the health of building occupants here.
Proud to build with SIPs
Builders should take great pride in what they make and the products they use to turn architectural drawings into life-size realities. Since the 1970s, Premier Building Systems has been crafting structural insulated panels with quantifiable, high-performance results. As the most recognized and most awarded SIPs manufacturer, contractors can be confident that a Premier framing system can help them build healthier schools, offices, and homes. Build tighter, safer, and healthier by reaching out to an expert Premier Rep today.
LEARN MORE
Related Articles
For high-performance builders looking to create sustainable, efficient, and innovative structures, cost modeling takes on a..
LEED-certified buildings save about 25% in energy consumption. SIPS buildings deliver turnkey LEED basic certification with..
Our SIP panels offer higher R-values, contributing to increased energy efficiency, lower heating and cooling costs, and..
Find Your Local Rep
As the oldest manufacturer in the SIPs industry, Premier's SIP system is the proven prefabricated building envelope framing system for your next commercial or residential structure. Faster, stronger, and greener than outdated lumber framing methods, SIPs are the future of framing. Join the other thousands of structures built with SIPs, and contact the expert in your local region to get started.