Building Green Home Sees ROI in 14 Years
Looking through project photos for a presentation, we came across a house designed and built by Scott Homes. Every time we see pictures of this house, even though it was built back in 2009, our team stops and looks at them as this is one of our FAVORITE SIP-built homes … a craftsman ranch style home featuring exquisite craftsmanship throughout, inside and out. The large open floor plan is stunning, yet not too big a space/house.
"Our goal was to build a beautiful, finely crafted home that reflects our buyer's individuality while still achieving a high level of energy efficiency and indoor air quality due to our buyer's health needs." –Scott Bergford, Scott Homes
Craftsman Ranch Project Facts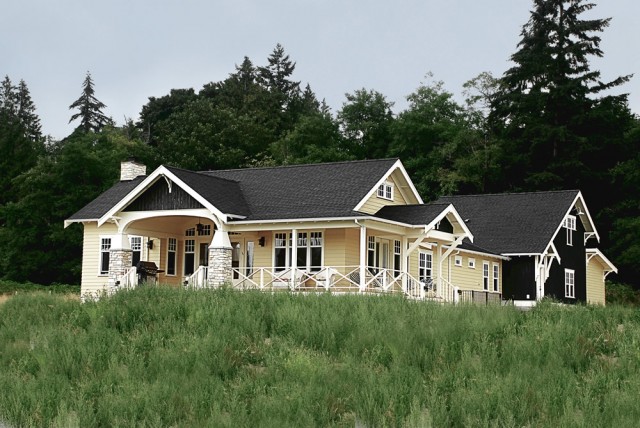 The homeowners selected Scott Homes as the builder because they use SIPs, hydronic radiant heat, and HRVs as their standard high-performance energy-efficient construction system. The homeowners also knew their home would be Energy Star certified and qualify for tax incentives with this recognized program.
Using SIPs in this home created a better building envelope and helped to reduce heat loss from the well-insulated SIPs shell. Premier SIPS' solid insulation core also offers higher, warranted, insulation value, significantly reducing thermal bridging, while helping to make the building airtight. All features that are simply not easy to achieve with traditional stick frame construction.
Green features of this build include:
Premier SIPS used in walls and roofing made with renewable OSB resources and 100% recyclable EPS insulation, manufactured with less job site waste, and resulting in an air-tight, high-performance building envelope

Radiant Heat System offering extremely efficient indoor comfort

HRV System regulating ventilation and filtering of the air

Geothermal heat pump installed for hot water production, creating extreme efficiency with a coefficient performance of 3.3

HERS rating of 59

Energy Star Certified

WSU-conducted energy modeling for a geothermal system
The expected payback of the construction of this home was only 14 years because of these extreme efficiencies! The homeowner also had health issues, so the efficiency and air tightness of SIPs paired with the HRV & Radiant Heat Systems helped to combat allergens and irritants, creating a healthier indoor living environment.
Building Green Does Not Have to Come with A High Price Tag
Another favorite Scott Home's SIP project is their Inspiration Home, a demonstration home to help people understand that a green home does not have to come with an enormous price tag, but instead offers an innovative, sustainable home with exceptionally clean indoor air and extremely low energy bills. The Inspiration Home was created to raise awareness that everyone can own a distinctive and stunning home that is energy efficient, healthy, low maintenance, and most importantly, affordable. You can watch this home being built, from frame to finish in this timelapse video.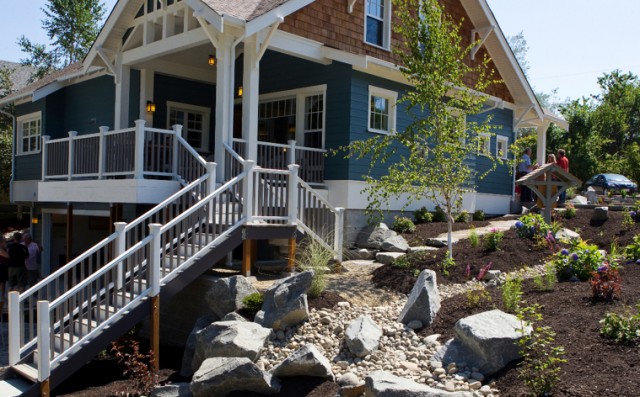 But what about cost? While building green may cost slightly more upfront, you'll gain it back over time with energy savings …
"For about $1000 more total on a typical $400,000 home, you can build with SIP (structural insulated panels). This product alone will get you the 50% savings on energy because it addresses all important issues in building sciences for attaining energy efficiency, air tightness, no thermal bridging, and higher R values for the insulation." –Scott Homes
It's important to note that this cost differential refers to primarily to materials, which are factory fabricated and require much less labor and their associated jobsite framing costs. SIPs also enable other cost savings such as downsizing HVAC systems systems (Scott Homes has mastered the use of radiant floor heating for most), major reduction in jobsite construction waste. Panels arriving pre-cut and ready to assemble means buildings are installed about 55% faster for trades to start their interior work, often carving weeks off a construction schedule - which saves construction loan carrying costs and interest. New tax incentives from the Federal IRA also offer builders and others significant credits or deductions for building high performance structures with Premier SIPS. At the end of the day, the actual cost comparison must consider many more factors than simply comparing material costs.
Explore more insights from Scott Homes on the ROI of building green. And learn more about Scott Home's product selections - selected with both building and future energy costs in mind - in this Architect Magazine article.
For more SIPs-built homes, check out some of our other projects, like this beatutiful Montana Residence that tackles extreme winters with ease. Or view our Premier SIPS project gallery.
Have questions or comments? Feel free to contact us.

LEARN MORE
Related Articles
For high-performance builders looking to create sustainable, efficient, and innovative structures, cost modeling takes on a..
LEED-certified buildings save about 25% in energy consumption. SIPS buildings deliver turnkey LEED basic certification with..
Our SIP panels offer higher R-values, contributing to increased energy efficiency, lower heating and cooling costs, and..
Find Your Local Rep
As the oldest manufacturer in the SIPs industry, Premier's SIP system is the proven prefabricated building envelope framing system for your next commercial or residential structure. Faster, stronger, and greener than outdated lumber framing methods, SIPs are the future of framing. Join the other thousands of structures built with SIPs, and contact the expert in your local region to get started.