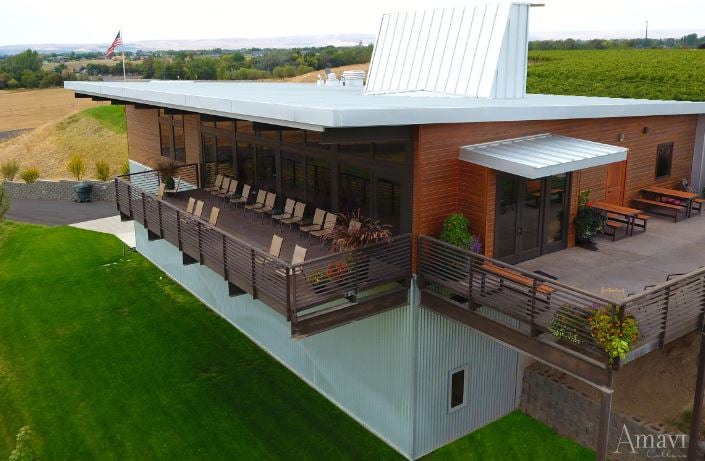 Award winner
Amavi Cellars Walla Walla
Washington
Project Type Commercial | Restaurant
Year Completed 2010
SIPS Used 10" EPS Floor & 10" EPS Roof
Sustainable Features Premier SIPS for Floor & Roof
Awards 2011 BEA Honor Mention Commercial
Architect Clinkston Brunner Architects
Contractor Ketelsen Construction
Project Overview
Amavi Cellars Walla Walla
Build Type: Winery/Commercial
Why SIPS: Easily spans 10-20 ft lengths & built-in insulation, provides stable subfloor for finished wood floor, & will have no humidity issues with case goods in storage.
Design Elements: The nature of Premier SIPS enabled the space to easily provide a climate-controlled environment critical for wine and case goods.
Energy Efficient Products: Build to Washington Green Standards
Other:
The building tucks neatly into a hillside, with clean lines and an expressed steel frame. Perched on a knoll, the tasting room features wall-to-wall windows with a sweeping view of the Blue Mountains. The adjoining conference room provides expansion space for banquets. The lower floor is cased goods storage and also includes a full commercial kitchen for catered events.
Amavi Cellars has sweeping decks on both the east and north sides of the facility are ideal places to sit, sip, and get lost in the awe of Walla Walla wine country. They are also proud to be certified as sustainable. The wood, steel, and glass building contrasts with the rolling hills and surrounding agriculture.
Visible from a distance in the rolling hills, the light monitor is functional, admitting indirect daylight over the tasting bar. At times, it is the only feature of the winery that is visible above a vineyard or hill to travelers on a country road.
Architects
Clinkston Architects
Structural Engineer
Quantum Consulting Engineers
Mechanical Engineering
Greenbusch Group
Electrical Engineering
Cierra Electrical Engineers
General Contractor
Ketelsen Construction
Find Your Local Rep
As the oldest manufacturer in the SIPs industry, Premier's SIP system is the proven prefabricated building envelope framing system for your next commercial or residential structure. Faster, stronger, and greener than outdated lumber framing methods, SIPs are the future of framing. Join the other thousands of structures built with SIPs, and contact the expert in your local region to get started.