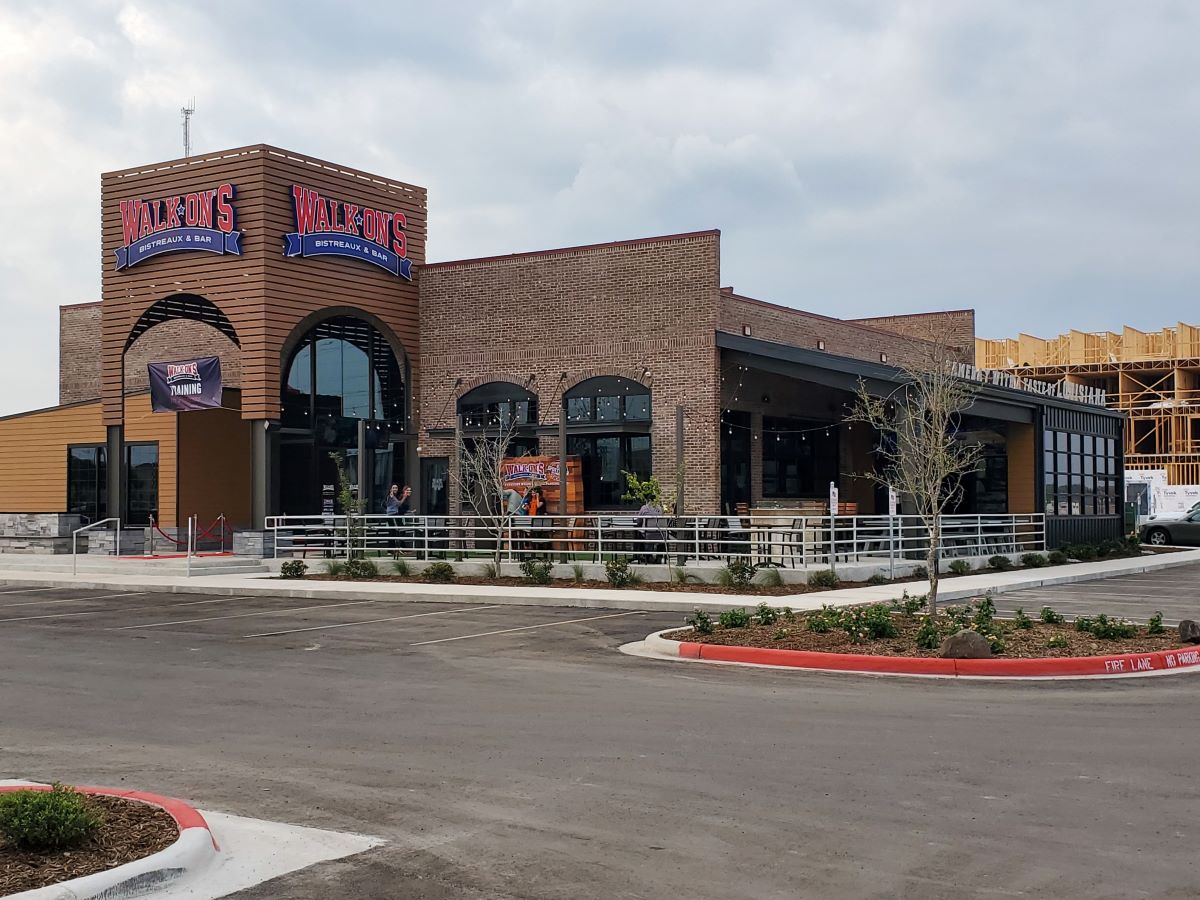 Award winner
Walk-Ons Sports Bar & Bistro
Texas
Project Type Commercial | Restaurant
Year Completed 2019
Project Size 7826 sq ft
SIPS Used 6" EPS Walls & 10" EPS Roof
Sustainable Features Premier SIPS
Awards 2020 BEA Winner Commercial Under 10K S/F
Architect IDA Architecture
Structural Engineer Wright Engineering, Brian Von Allworden
Contractor WW Smith Construction
Project Overview
Walk-Ons Restaurant
End Use: Restaurant in Edinburg, Texas a city in the Rio Grande Valley region of Texas.
Walk-On's founders Brandon Landry and Jack Warner became fast friends as a pair of walk-ons (unrecruited and unsigned athletes who are unwilling to give up on their dream of being college athletes) on the Louisiana State University basketball team. Both worked hard and practiced even harder to earn and keep their spots on the team. Without a lot of true playing time, though, Brandon and Jack were able to discover that their shared interests and hopes went beyond the basketball court.
The most significant year in Walk-On's growth followed two years of preparations focused on expanding the concept across the country through franchising. At the same time, NFL All-Pro Quarterback Drew Brees expressed an interest in the business and ultimately joined the Walk-On's team as a co-owner. Success in sports and success in life often come from similar paths. Brandon Landry has turned the traits he learned as a college basketball walk-on into virtues that he shares freely with everyone on the Walk-On's team as part of his life's calling. Today, with over 100 locations in the works across 15 states, the sky is the limit. Walk-On's operates with a mission of delivering a memorable game day experience with a taste of Louisiana created by an All-American team. Brandon regularly and proudly shares his goal with everyone on his team – To Win!
Why SIPs for Construction?: SIPs were selected for the speed of construction, energy-efficiency and were highly recommended by the architect.
Benefits of SIPs:
SIPs allowed the building to be erected in 4 weeks rather than 2 months.
The shell was dried in 9 work days by a 5 man SIP crew. Premier SIPS delivered for the first time SIPs general contractor who said they were able to be in the back of the house working 6 weeks faster than stick framing schedules.
HVAC: Conventional but less tonnage than with stick framing
From The Customer: "The corporate desire to reduce operating costs and be environmentally responsible (philanthropy/community is a large part of their business model), speed of construction, and the skilled labor shortages throughout the Southern States were three critical components in the company's decision to move the envelope to SIPs."
Find Your Local Rep
As the oldest manufacturer in the SIPs industry, Premier's SIP system is the proven prefabricated building envelope framing system for your next commercial or residential structure. Faster, stronger, and greener than outdated lumber framing methods, SIPs are the future of framing. Join the other thousands of structures built with SIPs, and contact the expert in your local region to get started.