In today's article we continue our series on evaluating the key attributes of a High Performance Building Envelope (HPBE).
Read on as we examine how understanding and choosing construction assemblies with high "Function and Affordability" allow contractors and designers to best Balance Costs – and deliver an exceptional performing structure. If you'd like to revisit our "Tech Talks" about how to best identify our first key attribute of a HBPE, "Performance" click here.

Balanced Costs: Achieving High Function Structures
Let's first look at the technical definition of Function: a relation from a set of inputs to a set of possible outputs where each input is related to exactly one output. Sounds a bit complicated, but this definition accurately describes how the assembly of an HPBE comes together using disparate materials (set of inputs) that come together to function as a holistic building envelope system (to exactly one output). This said, there can be numerous inputs when considering the make up of an HPBE. In our opinion, selecting fewer inputs (materials and the labor steps to assemble them) brings both function and simplicity. It is a known fact, that when more material elements are used and multiple hands are needed to assemble them in a field setting, complexity increases and optimum function is not achieved.
An example of a complex building envelope would be the way many walls and roofs are commonly assembled: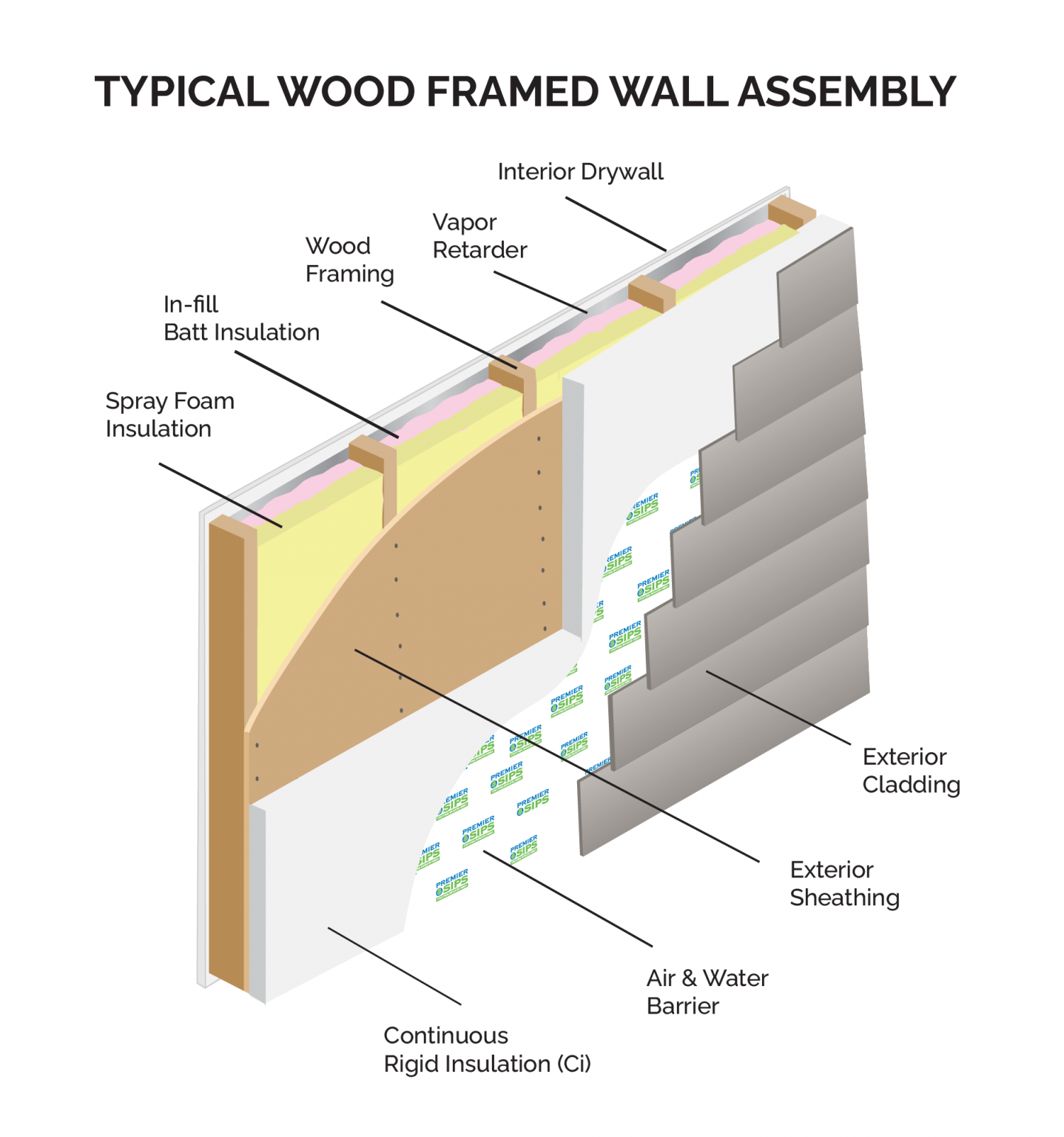 It will take at least four different contracting trades to assemble all of these components. Further, additional trades like electricians and plumbers will present opportunities for punctures and breaches in this field assembled envelope. Many inputs, many hands, many steps of assembly in a non-controlled field setting, most often do noy result in a truly high functioning HPBE.
Structural Insulated Panels (SIPs) on the other hand have both Function and Simplicity. Here's why: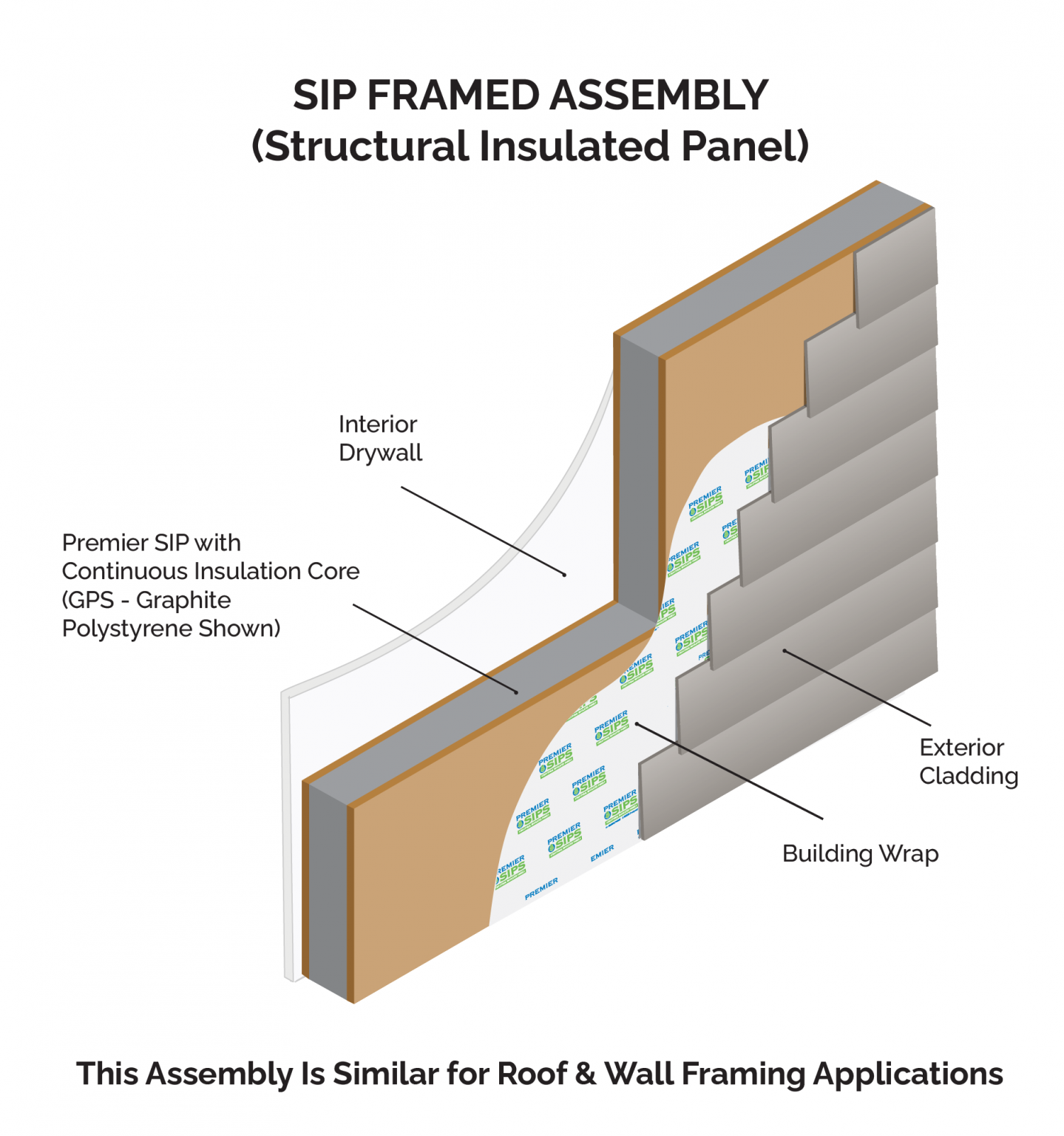 SIPs are a factory produced large section composite that arrive at the building site with window, door openings and electrical chases pre-cut. Because SIPs are fully sheathed on both sides of rigid insulation they are air-tight, have uninterrupted insulation and can be installed as a single component. One installer sets the SIPs at the project site. Once they are properly installed, their air-tight and insulation integrity is not compromised by the follow-on installation of interior and exterior claddings, and electrical and mechanical systems. For all of these reasons, SIPs are the very definition of a high-performing, functional and simple HPBE.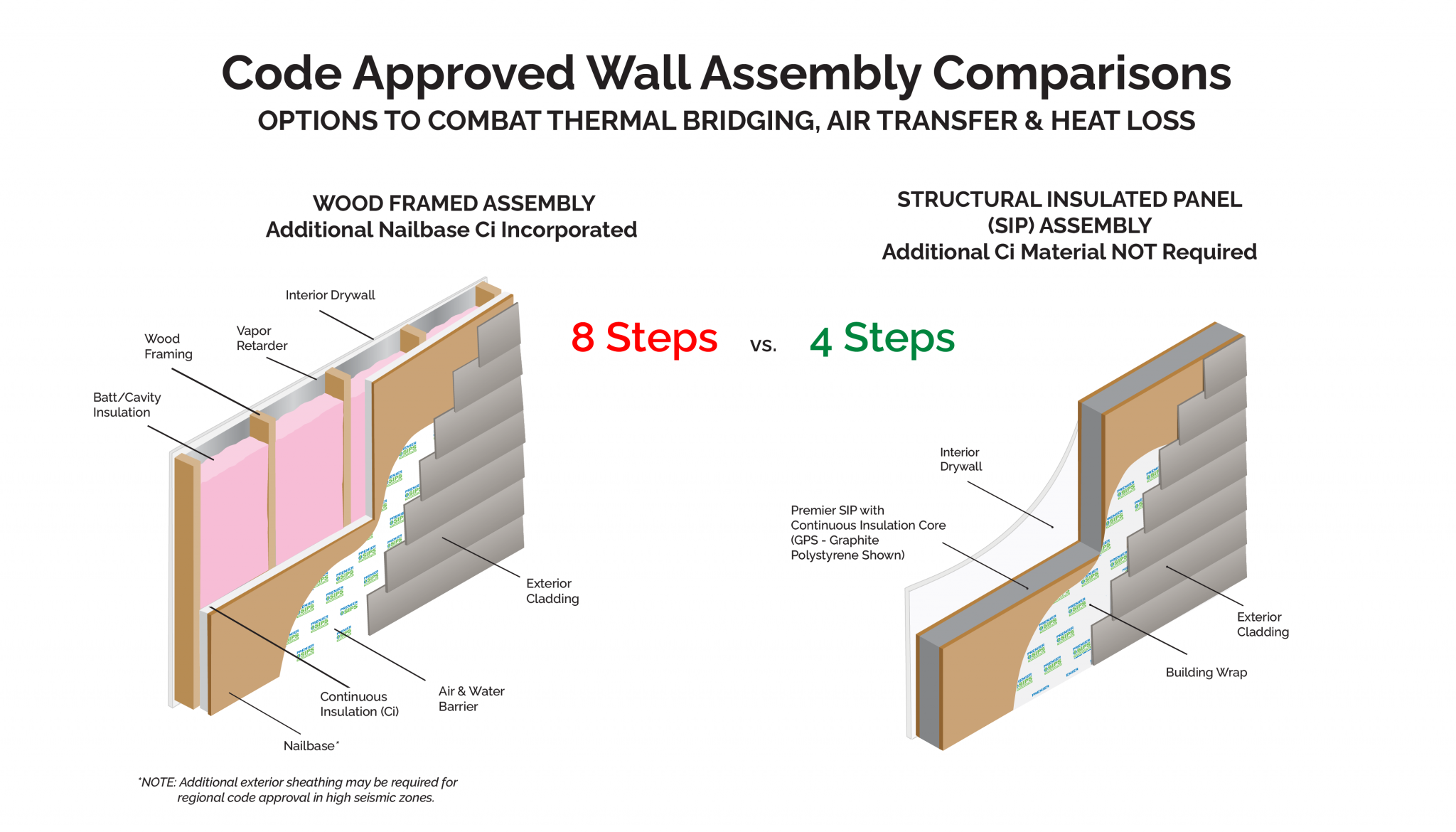 Balanced Costs: Affordability (Deliver Better Projects – on Budget!)
Now let's look at the Affordability of an HPBE. Looking at our first example of a framed wall, with multiple added component layers and the higher labor cost to apply them, will in many cases meet current building code minimums for exterior building envelopes.
Our research has shown that in the current market situation, exterior framed walls and roofs assemble in this manner can represent a cost as high as $30 per square foot of a finished structure for framing materials alone and when you add continuous insulation, another $1.50 to $2.00 cost per square foot of exterior wall surface area is additional. SIPs comparatively have an associated cost of between $25 to $32 per square foot of the finished structure. In both examples, the upper cost limits are associated with more complex structure designs. Numerous studies have been conducted to compare the labor costs of stick framing versus constructing with SIPs. In case after case, SIPs demonstrate 40 to 50% savings in labor costs. Stick framing and SIPs have comparable material costs, but when you add the cost of labor for installation, SIPs are the clear "affordability" winner.
The costs of a framed assembly properly insulated versus a SIP HPBE are comparable, but our affordability example does not stop here. SIPs, due to their many performance features, that measurably exceed insulated framed walls and roofs, being: Air-tightness, stable high R-value insulation, reduction of thermal breaks, elimination of air convection looping in walls and roofs, the use of low VOC emitting materials resulting in healthier interior air, allow for SIP structures to be equipped with properly sized HVAC equipment, at a lower initial cost that achieve maximum comfort for the occupants of SIP structures. These SIP performance features then lead to lower operational costs for heating, cooling and ventilation of the SIP structure. SIP structure owners report hundreds of dollars in annual energy cost savings that will remain in place for decades during the life of the SIP structure.
Exceptional Value Goes Far Beyond Material Costs
There are elements not incorporated in price which must be considered, including faster dry-in, 30-40% less job site waste costs, reduced construction loan costs, smaller HVAC systems, 40-60% reduction in end user heating and cooling costs, and more. We dive deeper into these comparisons here. We also share real-life regional examples of Premier SIPs in commercial and residential applications, to illustrate how balanced costs also easily achieve net-zero energy and even positive-energy structures – the ultimate in high performance building envelopes!
Perhaps the most important element of balancing project costs is factoring in the VALUE you're offering your clients. And how you'll educate stakeholders to better communicate the extreme benefits of how higher efficiency structures, and healthier indoor environments are building attributes are what the market is demanding. Keep in mind, these high value building envelopes are hard to offer with other building envelopes.
In summary, when we do a deep and honest comparison of various building envelopes for Function and Affordability, SIPs are the clear technical winner as the preferred HPBE.
In our next installment we'll consider the ease of construction (AKA: constructability) of SIPs.
Mike Tobin, Premier Technical Director
---
Read earlier "Tech Talks" exploring The High-Performance Building Envelope:
---
LEARN MORE
Related Articles
Learn the basics of structural insulated panels (SIPs) and discover how Premier Building Systems' award-winning panels can..
Net Zero construction is simplified with offsite construction like SIPS and Canada's Step Code is targeting this energy..
Preparation is important for everything in life but is especially key when performing electrical work in structural..
Find Your Local Rep
As the oldest manufacturer in the SIPs industry, Premier's SIP system is the proven prefabricated building envelope framing system for your next commercial or residential structure. Faster, stronger, and greener than outdated lumber framing methods, SIPs are the future of framing. Join the other thousands of structures built with SIPs, and contact the expert in your local region to get started.