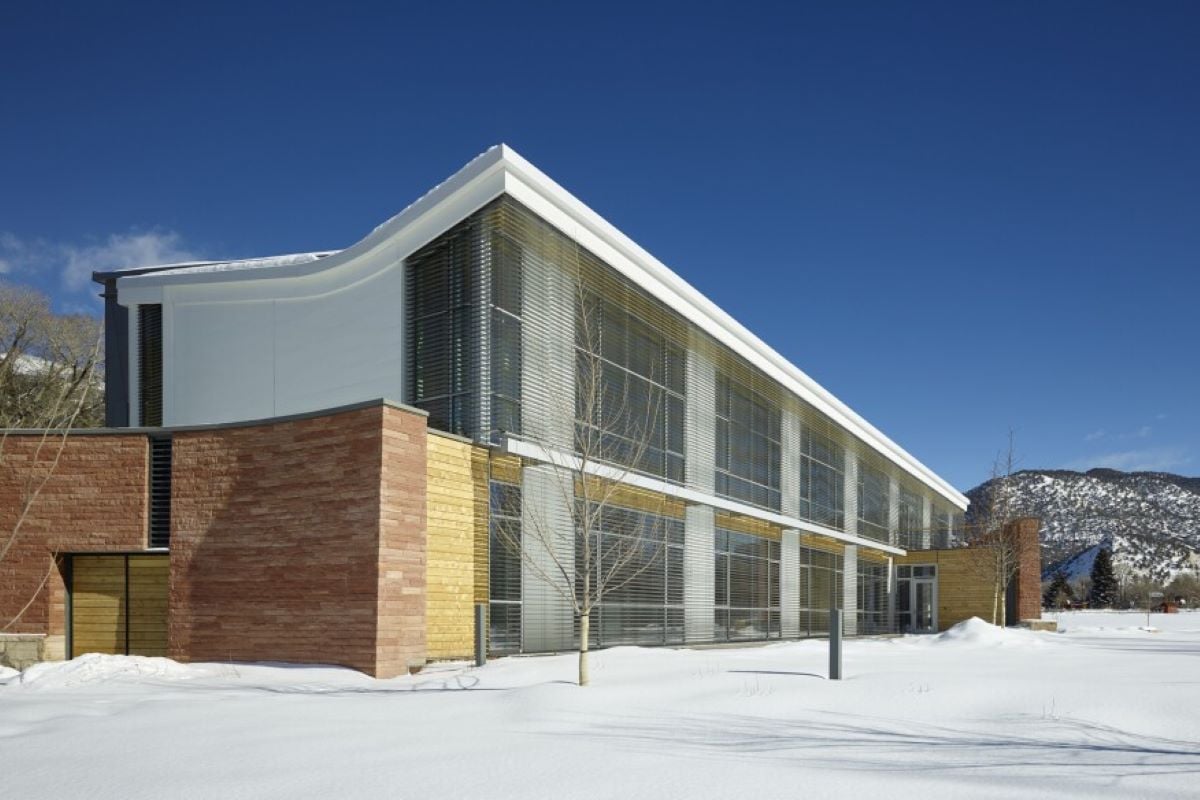 Rocky Mountain Institute, CO
Colorado
Project Type Commercial | Office
Year Completed 2016
Project Size 15600 sq ft
SIPS Used Roof & Walls
Environmental Certifications Net Zero/Zero Energy Ready
Awards Fast Company Innovation by Design Award, Engineering News Record Mountain States Award: Winner Best Green Project and Safety Project of the Year, 2016 Architect Magazine Award, 2016 PHIUS Award Winner Best Overall Project and Best in Office/Institutional Category, 2016 Associated General Contractors of Colorado Award Winner Best Building Project ($10–40m), 2016 World Architectural News Commended Project Sustainable Building Award, 2017 Chicago Athenaeum Museum of Architecture & Design: Green Good Design Award - Green Architecture, 2017 Structural Insulated Panel Association Building Excellence Award, 2016 CoreNet Global: Sustainable Leadership Award, 2017 Center for the Built Environment: Livable Buildings Award, 2018 International Interior Design Association, Oregon Chapter: Design Excellence Award – Best in the Maker Category, 2016 AIA Portland 2030 Challenge Award Winner
Architect ZGF Architects
Project Overview
The Rocky Mountain Institute Innovation Center: A Model of Sustainability and Innovation
When an institute (with more than 500 experts working globally), whose mission is to help deliver a carbon free future, chooses structural insulated panels for their new headquarters, people take notice. Located in the picturesque town of Basalt, Colorado, the Rocky Mountain Institute (RMI) Innovation Center stands out as an environmentally sustainable building, designed to showcase the institute's commitment to creating a better world for all.

The Innovation building is similar in size and use to 90% of U.S. commercial offices. RMI's experience can serves as a practical model for owners of hundreds, perhaps thousands, of buildings that would otherwise contribute significantly to the climate crisis. The Institute used the entire project to determine the best practices and lessons learned for zero carbon commercial building design, construction & long-term occupancy.
The end resulted in a building that is 74% more efficient than the average office building, and when completed, the Rocky Mountain Innovation Center was recognized as the highest-performing building in the coldest climate zone in the U.S., producing more clean energy than it uses on an annual basis plus enough to power six electric vehicles. It is one of only 200 net-zero commercial buildings in the U.S. (as of 2016), and provides a leading example of buildings that can solve the climate crisis. For the energy aficionados, RMI operates with an EUI of 15.9 kbtu/sf. RMI projected that the NZE premiums in construction expenses would be offset in less than three years due to the energy savings and reduction in operating costs, leading this project to be a near perfect example of how maximizing energy efficiency dramatically reduces our carbon footprint.
Designed to be a 100 year building, the finished project is certified by top environmental certification agencies, and won an incredible amount of project awards (see below). Recognition is well deserved because the project team delivered a commercial RMI building that is beyond net-zero energy, emits no carbon footprint and produces more energy than it consumes. Hear directly from the design and planning team on their approach to this spectacular facility in the video here.
This award-winning building is a testament to the environment, boasting a plethora of sustainable features such as a super-insulated envelope using Premier SIPS for the roof and walls creating an airtight building shell, and an appropriately sized, extremely energy-efficient HVAC system (a no cooling system and a small, distributed heating system with equivalent capacity of 1 mid sized home).
Because the RMI Innovation Center serves as a hub for innovation and collaboration for this global non-profit, the building includes open spaces, green roofs, and ample natural light that imbues the space with an inspiring and interactive atmosphere.
Environmental Certifications:
LEED Platinum

Certified (NC v2009)

International Living Futures Institute Zero Energy Certification

Certified

PHIUS+ Source Net Zero

Certified

Architecture 2030 Challenge

Target Exceeded

Energy Star

Targeting score of 100

International Living Futures Institute

Petal Certified
Awards:
Fast Company Innovation by Design Award
Engineering News Record Mountain States Award:

Winner, Best Green Project and Safety Project of the Year, 2016

Architect Magazine Award

ZGF named Top Firm Overall in Sustainability, 2016

PHIUS Award:

Winner, Best Overall Project and Best in Office/Institutional Category, 2016

Associated General Contractors of Colorado Award:

Winner, Best Building Project ($10–40m), 2016

World Architectural News:

Commended Project, Sustainable Building Award, 2017

Chicago Athenaeum Museum of Architecture & Design:

Green Good Design Award - Green Architecture, 2017

Structural Insulated Panel Association:

Building Excellence Award, 2016

CoreNet Global:

Sustainable Leadership Award, 2017

Center for the Built Environment:

Livable Buildings Award, 2018

International Interior Design Association, Oregon Chapter:

Design Excellence Award – Best in the Maker Category, 2016

AIA Portland 2030 Challenge Award Winner 2016
Building Features:
Insulation: The Innovation Center has more than triple the code required levels of insulation. This is due to R-50 walls, achieved with structural insulating panels, and R-67 roof, R-20 below slab, and R-5.6 windows (with frame) overall (with a range of 4.8–7.1).
Air Tightness: One of the most airtight office buildings measured, with 0.36 air changes per hour, and 97% more airtight than the conventional commercial building, the Innovation Center uses advanced materials combined with strict construction details to avoid leakage and make the building's incredible air tightness possible. SIPs panel walls covered with two coats of air tape and air barrier applied outside the SIPs ensure tight seals among the panels.
Daylighting: The building's window area, narrow floor plate, southern orientation, and 'butterfly' roof design allow the building to be entirely daylit, reducing the need for energy-intensive internal lighting. The daylighting also increases productivity and reduces stress. Along the south façade, three-foot-deep interior light shelves bounce sunlight into ceiling surfaces deeper in the space, reducing interior lighting needs and controlling glare.
Cooling and Natural Ventilation: Cooling and natural ventilation are achieved in several ways. First, opening and closing windows with automated controls that open low-south and high-north windows creates cooling air currents. The night before particularly hot days, a night flush brings in Colorado's cool night air to cool the mass and interior surfaces of the building, and thermal mass reduces interior temperature swings. Concrete floors serve as thermal mass that reduces interior temperature swings by absorbing cold from night air and releasing it during the daytime. Ultraefficient air-to-air heat exchangers maintain indoor air quality and temperature by passively transferring 90% of heat or cold from the outgoing air to the incoming air. This is one-quarter the size of a normal office ventilation system. Large, energy-efficient ceiling fans help move air throughout the open floor plan. Finally, exterior automated sunshades control heat gain by opening to allow sun in when it's cold and closing to prevent overheating.
Windows: The Innovation Center window-to-wall ratio is 29% overall (52% on the south, 18% on the north, 23% on the east and 13% on the west). This is a good ratio for our cold climate since it maximizes southern gain while minimizing heat loss on the north. This design feature was heavily studied and finely tuned per facade as part of our passive design approach
One of the most impressive features of the RMI Innovation Center is the data visualization panel. A massive, touch-sensitive screen that displays data related to energy usage and emissions, among other things. The screen showcases the importance of data in attaining environmentally sustainable goals, which is a core part of the RMI's work.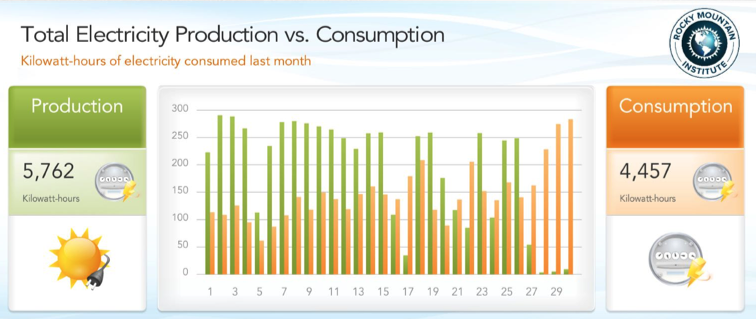 The building exhibits the research and development of green technologies, from solar to geothermal and digital building systems. It also serves as a hub for facilitating Global RMI teams in their research and testing of advanced green innovations, practices and technologies. Learn more about the work and research of the institute here.

The RMI Innovation Center is a symbol of hope for those who seek to move towards sustainable carbon free living. It manifests Rocky Mountain Institute's commitment to innovation, environmental conservation, and sustainability, inspiring everyone who learns and works in the building to be more conscious of their impact on the environment. This center is here to pave the way for a brighter and greener future, showing that sustainability can be combined with functionality.
Case Studies & Profiles:
The Rocky Mountain Institute Innovation Center Design Team:
ZGF Architects, JE Dunn, Architectural Applications, PAE Consulting Engineer, David Nelson & Associates, True North Management, Graybeal Architects, TG Malloy, Sopris Engineering, KPFF Consulting Engineers, DHM Design, Resource Engineering Group, Collective Sun, SunPower
Find Your Local Rep
As the oldest manufacturer in the SIPs industry, Premier's SIP system is the proven prefabricated building envelope framing system for your next commercial or residential structure. Faster, stronger, and greener than outdated lumber framing methods, SIPs are the future of framing. Join the other thousands of structures built with SIPs, and contact the expert in your local region to get started.