With origins dating back to the early 1930s, structural insulated panels (SIPs) have long stood the test of time.
Forest Products Laboratory invented the high-performance building technology toward the beginning of the 20th century. But it wasn't until the 1930s and 40s that renowned architect Frank Lloyd Wright popularized SIPs with his Usonian houses, many of which still stand today.
Still, it would be another couple of decades before SIPs really took off, largely propelled by the green building movement and a desire for faster, stronger, greener design and construction.
So what exactly is this building system alternative, and why are architects and home builders increasingly turning to SIPs for their commercial and residential timber framing needs?
What Are SIPs?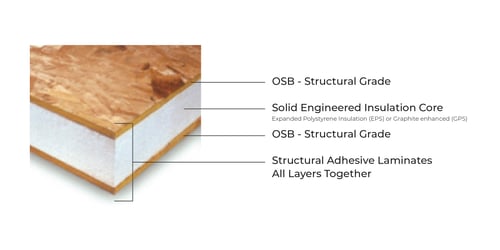 Most SIPs consist entirely of engineered products. Expanded polystyrene (EPS) [or higher R-value grey graphite polystyrene (GPS)] rigid insulation is sandwiched between two facings of structural grade oriented strand boards (OSB). The OSB and rigid insulation is structurally together using a structural adhesive. The result is an exceptionally strong engineered panel used for roof, wall, and floors to create a full building envelope system that boasts superior insulating capabilities.
Sustainable from the Start: The Components in a Structural Insulated Panel
The Insulation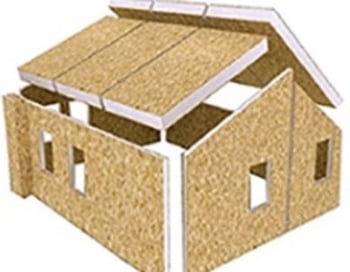 EPS insulation is expanded in a process using steam and 95% air rather than chemicals. As a result, the insulation is made up of 98% air and does not off-gas or release harmful chemicals during its lifespan. The solid core insulation in Premier SIPS is 100% free of CFC, HVC, HCFC and formaldehyde.
In contrast, other rigid insulations are expanded or manufactured using blowing agents or chemicals that diffuse out over time (also referred to as off-gassing), diminishing the material's ability to resist the flow of heat or cold. Without off-gassing, EPS offers long-term, stable thermal resistance. In fact, many SIP products (like Premier SIPS) offer a 50-year thermal warranty on the insulation R-values.
Graphite polystyrene (GPS) is an upgraded insulation core option offering 20% higher thermal values than standard EPS. It offers the same foundation and characteristics as EPS, however, the original material is impregnated with graphite, enabling it to reflect hot and cold air with greater efficiency. This higher thermal resistance allows for thinner walls and roofs, which can also result in a reduction of other finished building costs.
The most sustainable insulation option, EPS & GPS rigid insulation is 100% recyclable, can be made with up to 50% recycled material, and is able to be reused in a multitude of applications rather than sent to landfills. Polystyrene has low global warming potential, low embodied energy, and reduces CO2 emissions and related heating and cooling carbon consumption.
EPS & GPS is also extremely durable, naturally insect resistant, and maintains its dimensional stability and thermal values even when exposed to moisture for extended periods of time. It is also used as Geofoam, a product so strong, and free of leachates that millions of cubic feet have been used under freeways, bridges, and cities like Chicago, Boston, Seattle, and Los Angeles since the 1950's.
The Structural OSB
OSB also affords a higher insulating value when compared with standard stud framing lumber, wood, or metal. This is because it is an engineered product where the wood fibers are manufactured and compressed into a strong solid structural board.
Made from fast-growing species as opposed to slow or old-growth forests, the material used for OSB is specifically grown and harvested for the production of structural-grade OSB panels. It's considered a renewable resource where the net growth of the wood species used in OSB manufacturing has exceeded net removal since 1952.
The mills that manufacture OSB also produce the material mainly through bioenergy sources (bark, sawdust) — not using fossil fuels — and the structural grade OSB used in SIPs has been declared TSCA (Toxic Substance Control Act) Title VI and CARB (California Air Resources Board) exempt.
The Structural Adhesive
The strong bonding material used in the lamination process is a moisture-cured urethane, which is 100% solid and has no VOCs. The structural adhesive is similar to the adhesive and lamination process used in glullam beams, LVLs, CLT and other engineered wood products.
These adhesives become solid waste if disposed of and are not considered hazardous, which is another advantage for indoor air quality and the environments of finished buildings. Take a look at the advantages and strength delivered by the structural lamination process in this video.
Benefits of SIPs
SIPs offer several benefits over traditional construction materials and methods, including energy efficiency, durability, and ease of installation.
Energy Efficiency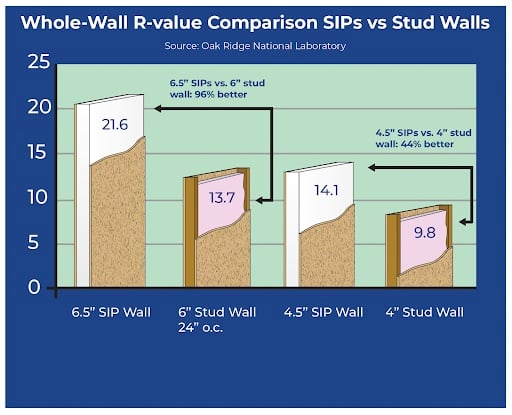 In addition to their insulating capabilities, SIP panels further contribute to energy efficiency by creating a very tight building envelope.
Both EPS' and OSB's physical attributes include air impermeability, helping eliminate the possibility of air leaks. The panels themselves can be very large, up to 8'X24', covering a greater surface area, and reducing the number of gaps where air can escape.
SIP panels are also easy to install and fit together like giant puzzle pieces, resulting in fewer joints between each panel and further helping to increase a building's efficiency.
In fact, in a side-by-side comparison with a stick-framed structure, a USDOE Oak Ridge National Laboratory (ORNL) Independent Study found that a SIP structure is 15 times more airtight, a key component to improving indoor air quality and energy efficiency. The side-by-side real-life construction study also determined that SIP panels are "up to 60% more energy efficient than 2×6 R19 construction."
Thanks to this ultra-tight construction solution, SIP Systems meet new 2021 stringent green building and energy efficiency code standards without requiring additional continuous insulation. This offers architects and builders huge savings of material and time in the field.
With Premier SIPS framed building envelopes, operational savings are immediately realized, saving homeowners and business owners up to 60% in heating and cooling costs.
Durability
SIPs are known for high durability due to their unique construction. The foam insulation core is naturally resistant to moisture, insects, mold growth, and decay. The structural panels are strong (approved in seismic and hurricane regions) and resistant to warping, splitting, and cracking.
When the panels are assembled, they create a strong and stable monolithic building envelope that can withstand a range of environmental conditions. As stated above, they're often used in areas with high winds, earthquakes, and other natural disasters because of their ability to resist extreme forces. Our Missile Test Video is a great watch:
In addition, SIPs have a long lifespan compared to traditional building materials, which can extend the life of the building and reduce maintenance costs over time. The airtight construction of SIPs further reduces the risk of damage from interior moisture, mold, and other indoor pollutants.
Ease of Installation
SIPs are manufactured off-site to precise dimensions, which means they can be easily transported to the construction site and assembled quickly and efficiently.
There is very little skilled labor required on site, as panels are numbered and installed according to provided SIP Layout Drawings. This can reduce the amount of time and labor required for installation, as well as minimize the potential for errors during construction.
Training of new installation crews is part of the process for most manufacturers. A typical new home can be installed with a crew of 5 in just 2-3 days.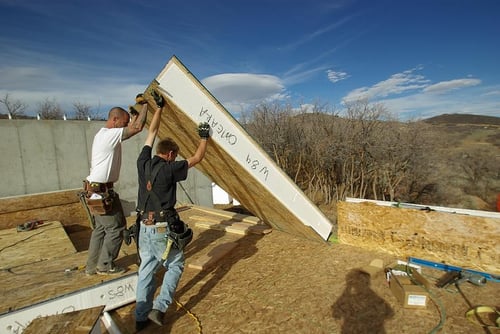 The panels are typically designed to interlock with one another, using tongue-and-groove joints. Joints are sealed and taped with manufacturer-provided materials, which creates an important and exceptionally strong airtight seal between panels.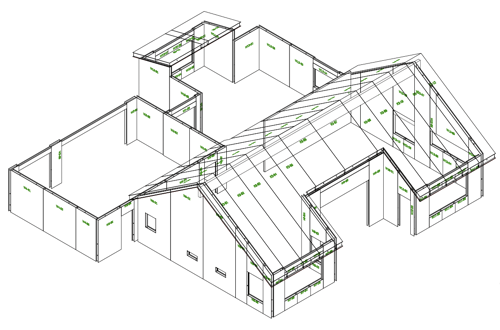 SIPs also can be used for a range of building applications, including walls, roofs, and floors. This versatility can simplify the construction process by reducing the number of different materials and construction techniques needed for a project.
Another advantage of SIPs is that they are lightweight compared to traditional building materials, which can make them easier to handle and install. Each panel weighs only 4 pounds per square foot. This can be especially beneficial for projects that involve working at heights or in tight spaces where maneuvering heavy materials can be difficult.
Overall, the ease of installation of SIPs can help reduce construction time and labor costs, as well as minimize the potential for errors and delays during the building process. This can make SIPs an attractive option for architects and builders looking for an efficient and cost-effective construction solution.
Your Go-To SIPs Manufacturer
If you're interested in building with SIPs, look no further than Premier Building Systems. As the most recognized and most awarded SIPs manufacturer in North America, Premier's expertise in residential, commercial, and industrial building spaces is unparalleled.
Premier SIPs are also the most decorated structural insulated panels in the industry, having received Green Builder Magazine's #1 Structural Brand recognition, as well as projects spanning from the 1970s until now that have won U.S. Department of Energy's Housing Innovation Awards, SIPA Building Excellence Awards, and much more.
Connect with a regional Premier rep today to meet your stronger, straighter, greener building needs.
LEARN MORE
Related Articles
LEED-certified buildings save about 25% in energy consumption. SIPS buildings deliver turnkey LEED basic certification with..
Our SIP panels offer higher R-values, contributing to increased energy efficiency, lower heating and cooling costs, and..
Premier SIPS are the first to test panels for structural loads in seismic zones per the ICC criteria and has achieved the..
Find Your Local Rep
As the oldest manufacturer in the SIPs industry, Premier's SIP system is the proven prefabricated building envelope framing system for your next commercial or residential structure. Faster, stronger, and greener than outdated lumber framing methods, SIPs are the future of framing. Join the other thousands of structures built with SIPs, and contact the expert in your local region to get started.