Graphite Enhanced Structural Insulated Panels
Premier SIPS MAX are truly the epitome of high-performance offsite framing systems. Made with GPS (graphite rigid insulation polystyrene) rigid insulation cores, Premier SIPS MAX offer 41% higher (warranted) R-values over stick-framed construction.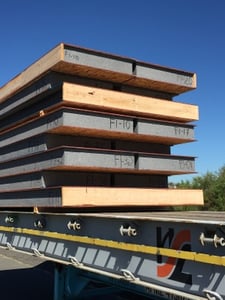 Premier SIPS MAX Power Up Design, Construction & Energy Efficiency
The Science Behind Graphite
Premier's MAX SIPS are made with graphite polystyrene (GPS) cores which increase R-values through the graphite's ability to reflect radiant heat like a mirror. The result is a cost-effective way to increase R-values by an average 30%. Ultimately Premier SIPS are able to increase energy efficiency without significant cost increases.
Higher Insulating Values: Graphite-insulated cores drive an increase in R-values even further the colder the temperature gets. In fact, GPS SIPS MAX R-values actually increase in colder weather.
Higher Warranted R-values:
Premier's SIP systems create tight building envelopes, which reduce heating and cooling (operating) costs regularly by up to 60%, and increase R-values an average of 41% over stick framing. Additionally, the energy efficient envelope Graphite MAX SIPS create enable a reduction in mechanical (HVAC) equipment needs - often up to 1/3 in system sizes.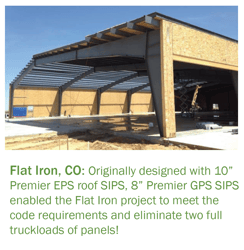 Fast Installation: Large, pre-cut structural panels assemble like a jig saw puzzle, and allow a building envelope to be erected up to 55% faster. SIPs structures require less skilled framing labor, enable businesses to open sooner and allow homeowners to move in faster.
Thinner Framing: In many conditions, higher R-values allow for thinner panels, which in turn can reduce accessories (shorter fasteners, thinner connection pieces) and transportation costs tied to the shipment of SIPS from the factory to the job site.
Environmentally Responsible: Made from rapidly renewable wood species (structural grade OSB facings), solid core rigid insulation that is manufactured in a steam (rather than chemicals) expansion process, Premier SIPS MAX contain no HBCDs or other harmful contaminants. Premier SIPS MAX are recyclable, starting with the GPS insulation core, extending to the outer OSB facings. The nature of factory fabrication, and optimizing raw materials enables SIPs projects to save 30% on jobsite construction waste over traditional construction further helping to reduce the burden on our natural resources.
Code Approved: Premier SIPS MAX are recognized by key code approval agencies, easily meet energy code requirements, and notably are the only non-cement-based enclosure approved for California's Title 24 new construction requirements. SIPS MAX Graphite (GPS) cores are made with BASF's Neopor which has earned GREENGUARD GOLD Certification.
Whole Wall Tested R-value Comparison Premier GPS SIPS vs Stick Framing

LEARN MORE
Related Articles
New construction energy efficient tax incentives (IRA Tax Credits or Deductions) are simplified with high performing Premier..
The vast majority of builders in the U.S. now face demanding energy codes. Learn more about those energy codes on our blog..
The U-Factor Method is the most accurate for determining performance values. This Premier Tech Talk explains the U-Factor..
Find Your Local Rep
As the oldest manufacturer in the SIPs industry, Premier's SIP system is the proven prefabricated building envelope framing system for your next commercial or residential structure. Faster, stronger, and greener than outdated lumber framing methods, SIPs are the future of framing. Join the other thousands of structures built with SIPs, and contact the expert in your local region to get started.