As building materials, skilled labor, and building codes are in a state of constant flux, designers and contractors are evaluating their building strategies and systems to find the best, most stable, whole-building formula. One of the first things to look at is the building envelope assembly. This leads to the question … what's in your walls, and roofs, and floors?
In the early years of construction a wall or roof cavity didn't have insulation at all. A few years later, dust from the mills was used for insulation. Flash forward a century and there are seemingly endless combinations of materials and options for building envelope (roof, wall and floor) assemblies. Each assembly comes with different benefits and costs.
Today new 2021 energy codes are significantly limiting building envelope assembly options. However, this can be a good thing, as building science advancements have delivered systems and assemblies much more advanced than piecing together dozens of components to create a wood or steel framed structure. No matter how many options exist, when it comes to choosing the right assembly/system, total costs will continue to be the driving factor.
Comparing Traditional Construction Costs With SIPs Costs
When people ask, "How do we compare traditional construction costs with SIPs costs?" One of the first things we like to ask is, "What does your current wall assembly look like?"
This comparison isn't black and white. The material components in structural insulated panels (SIPs) aren't an apples-to-apples comparison when it comes to 2"x6" wood, steel framed, or tilt-up concrete style building envelope assemblies, especially when it comes to ancillary trade and time considerations. Now, 2021 building code additions also must be factored into budgets.
To even up the playing field, let's look at some scenarios of what it would take to achieve similar code-approved assemblies to SIPs.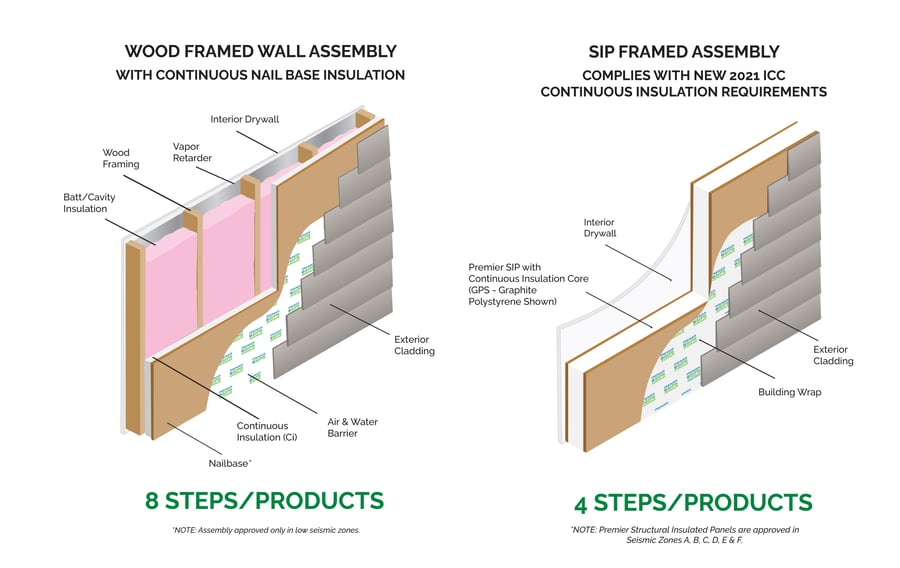 Because SIPs have incorporated structural sheathing on both sides, the sheathing, all insulation, vapor barrier, and structure are integrated into one product. This allows you to condense three to four vendors and four budget line items into one. Additionally Premier SIPS are approved for use in all seismic zones, where as this typical wood framed assembly is only approved in low seismic zones. To comply with other building codes, the wood assembly on the left will most likely require additional sheathing, hold downs, and more - which will further add to the cost of the assembly.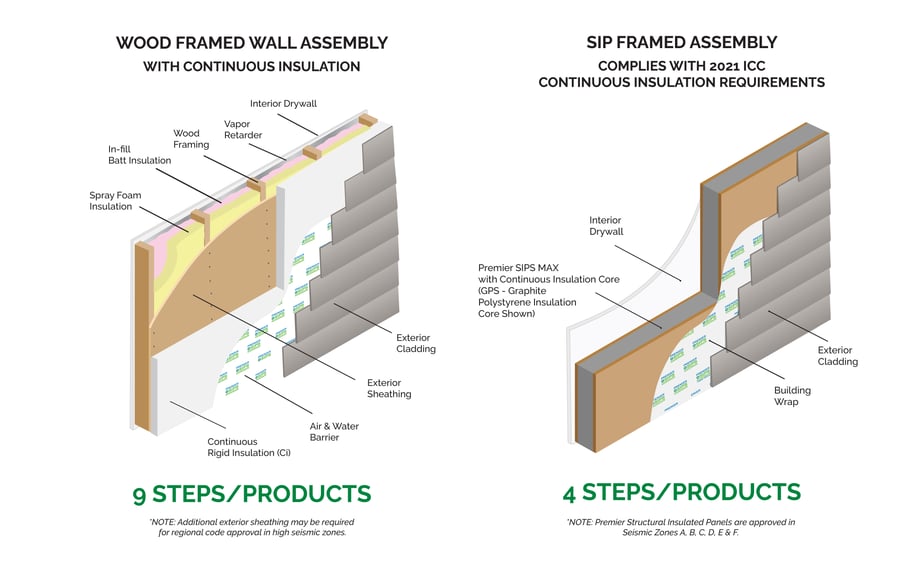 The same scenario applies to a typical commercial wood-framed assembly or areas adopting the new 2021 building codes that require higher R-value structures without thermal bridging in the walls.
In this case (as with using U-Factors and the performance path of energy calculations) the SIPS qualify as continuous insulation, and SIPs with graphite polystyrene (GPS) insulation cores already reach the required R-values — often with a thinner end-wall product.
The wood assembly on the left can be assembled in nine steps, and does comply with most seismic requirements. Notably the cost of many of the elements, particularly the spray foam insulation, are at record highs and make this assembly significantly higher priced than factory fabricated SIP wall.
How SIPs Help Reduce Trades and Ancillary Costs
Beyond straight material and labor cost comparisons, there are trades and construction costs that are reduced with SIPs.

Faster with overall construction cycle time is shortened, which can result in less interest/carrying costs paid. [SEE HOW]
Airtight assembly delivers extreme energy efficiency

(40-60% more sustainable

than the stick frame assemblies above) enables downsizing of HVAC systems (a 3-ton system can often go to a 2-ton, mini-splits are more than adequate, etc.).
Pre-drilled

electrical chases

enable electricians to pull wire throughout the building envelope and minimize the requirements for excessive drilling and the potential to compromise the structural integrity of a 2"x6" wood-framed structure.
Jobsite framing waste is minimized, as materials are optimized during factory fabrication. Typical residential job site construction waste is 50 cubic yards or 8,000 lbs.
Large perfectly straight panels are easy to finish work installation. Sub-contractors don't need to accommodate for the imperfections of bowed lumber or walls that may be out of square or slightly off.
Solid core insulation manages moisture and air far better than cavity insulation options. This results in less potential for mold, mildew, and airborne contaminants to grow. In fact, in many applications Premier SIPS offer peace of mind with

indoor air gold certifications

(a challenge to achieve with stick framing).
Building owners and homeowners have 40% to 60% (and beyond if paired with solar, etc.) lower heating and energy bills, and occupy a more consistently comfortable building.
Products are pre-treated for fungal decay and termite resistance, and additional factory-installed, warranted options are available.
Warranted, something you won't find with 2x6, site framed wood/fiberglass batt insulation assemblies! The finished SIP System carries a 20-year structural warranty, and the solid-core engineered expanded polystyrene (EPS) or GPS MAX (graphite) insulation carries a 50-year thermal warranty.
When all these different factors are considered, only then can the true comparison and savings of a high-performing SIP system be quantified.
Real Life Cost Savings
In Bellingham, Wash., TC Legend Homes has won annual Builder Magazine, DOE and other awards. As noted in a Builder Magazine interview costs drive the company's building assembly decisions. "With us, it comes down to money," says TC Legend owner Ted Clifton Jr. "When the goal is net zero, there are so many different strategies. We started doing energy analysis, and then we overlapped that with a cost analysis. SIPs was by far the cheapest way to build net zero, and so we got good at it and started doing it on all our houses. SIPs are 20% cheaper than any other system we've been able to come up with to get to a net-zero wall assembly."
Their proven assembly is R-29 SIP wall system with low-e triple-pane argon-filled windows, topped with an R-59 SIP roof. Without PV, their most recent DOE Housing Innovation Award Winning house scored a HERS index of 33; with a 10.56-kW solar array, the score dropped to minus 23.
Other considerations added to cost advantages, says Clifton. "In the city, wall thickness is a big deal, because you're up against setbacks on all sides, and if you have a 12-inch-thick wall, that squeezes the inside of the house."
There's a definite learning curve with SIPs, Clifton acknowledges. "That's probably most people's resistance to SIPs, is you stick frame a hundred houses, and you're going to go do one SIPs house, and you want to be to the skill level you were at with that hundredth [stick-framed] house. You don't want to start at square one again. All those little tips and tricks you learned are just gone when you do your first SIPs house." Clifton says, "If you get people past that first two- or three-house learning curve, it could really revolutionize the industry."
Choose SIPs and Save
In conclusion, when evaluating building strategies, it's crucial to consider the composition of your walls, roofs, and floors. SIPs offer a cost-effective solution that integrates multiple components into one product, streamlining construction and reducing ancillary costs.
SIPs meet code requirements for higher R-value structures without thermal bridging, often with a thinner end-wall product. They also shorten construction time, improve energy efficiency, minimize waste, and provide long-term durability.
By opting for SIPs, you can achieve savings, efficiency, and a sustainable building solution. Ready to start saving? Find a Premier SIPs representative in your region now.
LEARN MORE
Related Articles
LEED-certified buildings save about 25% in energy consumption. SIPS buildings deliver turnkey LEED basic certification with..
Our SIP panels offer higher R-values, contributing to increased energy efficiency, lower heating and cooling costs, and..
Premier SIPS are the first to test panels for structural loads in seismic zones per the ICC criteria and has achieved the..
Find Your Local Rep
As the oldest manufacturer in the SIPs industry, Premier's SIP system is the proven prefabricated building envelope framing system for your next commercial or residential structure. Faster, stronger, and greener than outdated lumber framing methods, SIPs are the future of framing. Join the other thousands of structures built with SIPs, and contact the expert in your local region to get started.