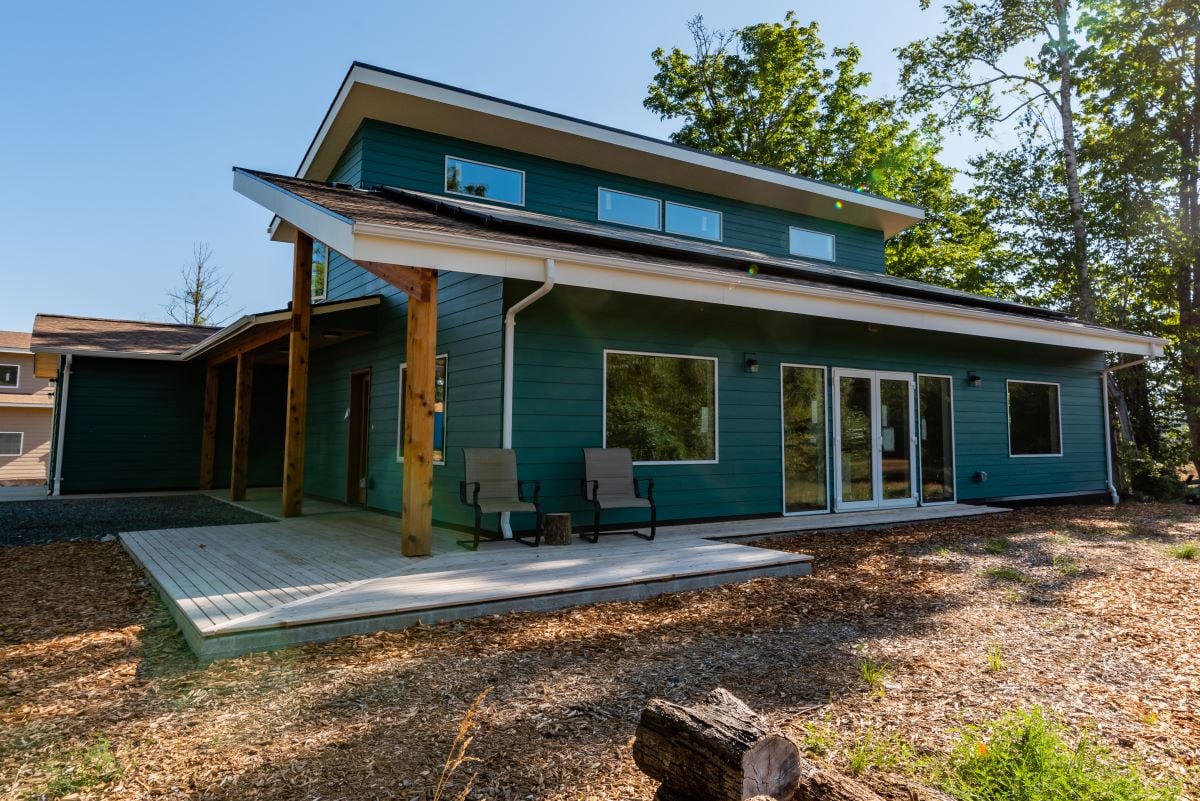 Award winner
House in a Hollow Positive Energy Grand Award Winner DOE 2022
Washington
Project Type Residential | Single Family < 3000 sf
Year Completed 2021
Project Size 1935 sq ft
SIPS Used 10" GPS Roof & 6" GPS Walls
Sustainable Features Net-Zero, Positive Energy
Environmental Certifications Net Zero/Zero Energy Ready
Awards 2022 DOE Housing Innovation Award Winner
Contractor TC Legend Homes
Project Overview
The Grand Award winner for the 2022 DOE Housing Innovations Award goes to this spectacular Positive Energy home in Bellingham, WA. Built by TC Legend the home is so energy efficient that the energy is uses, is generated by the solar in excess. So much so there is enough energy to power two electric cars and still have a supply of energy to share with the grid as needed.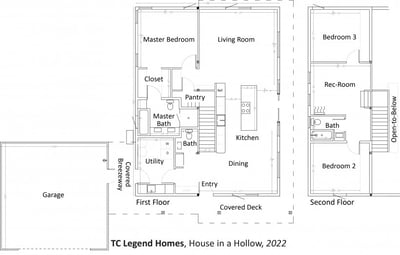 "A net-zero house is appealing because of the money factor, and environmentally it's a good thing, too. An energy-efficient house makes a lot of sense. Not being dependent on propane, natural gas, oil. The house itself has been fabulous, oriented in a way that gives a lot of natural light. The clerestory is terrific for daylight."
– Homeowners
The home impressively features the following key building elements:
Walls:

SIPs, R-29: 6.5" graphite EPS SIPs; house wrap; fiber cement lap siding

Roof:

SIP gable and shed roof: 10.25" R-49 (north) and 12.25" R-59 (south) graphite EPS

SIPs, asphalt underlayment and asphalt composite roofing

Attic:

No attic, vaulted ceilings

Foundation:

Slab on grade: 4" R-20 EPS under slab; ICF stem walls 11.25" R-23.6

Windows:

Triple-pane, argon-filled, low-e3, vinyl, U=0.15-0.18, SHGC=0.46-0.34

Air Sealing:

0.54 ACH50, all SIP joints sealed with double bead of mastic and tape. Windows have a double gasket. Whole-house aerosolized acrylic sealant.

Ventilation:

HRV to HVAC; timer, CO2 and humidity sensors for boost setting

HVAC:

Air-to-water heat pump with 50% central air handler, 50% radiant, 6.75 COP for

cooling, 3.92 COP for heating. Passive heating design with exposed concrete floors

Hot Water:

Combo air-to-water heat pump for space and water heating, 50-gal, 3.92 COP; electric tankless back-up water heater.

Lighting:

100% LED, passive and shaded vertical glazing


Appliances:

ENERGY STAR washing machine, dishwasher, refrigerator, exhaust fan

Solar:

10.56-kW, 33 rooftop panels, micro inverters

Water Conservation:

EPA WaterSense-rated fixtures. Central manifold with PEX piping

•

Energy Management System:

CO2 sensors, programmable HVAC system.

Other:

Low-VOC and recycled-content products. Aging-in-place design. EV charger installed
Download the full project profile here.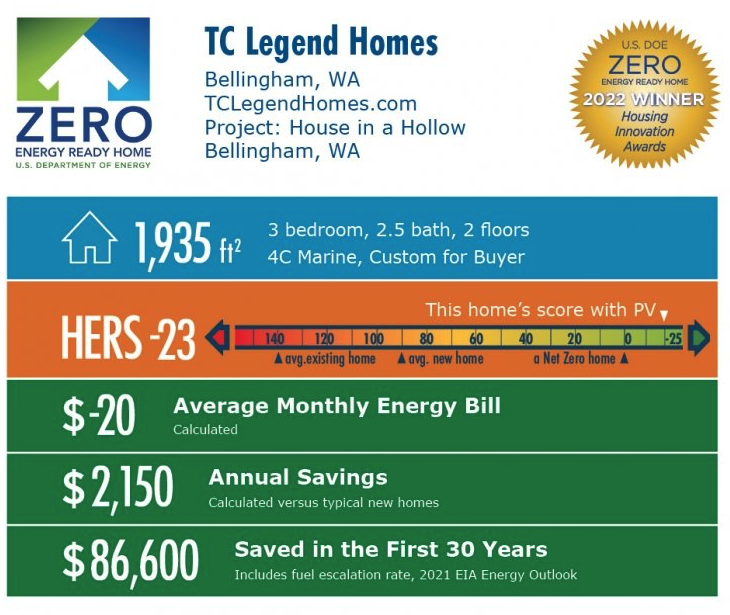 MODELED PERFORMANCE DATA:
HERS Index:

without PV 33; with PV -23

Annual Energy Costs:

without PV $600; with PV $-280

Annual Energy Cost Savings:

(vs typical new homes) without PV $1,200; with PV $2,150

Annual Energy Savings:

without PV 8,400 kWh; with PV 20,350 kWh

Savings in the First 30 Years:

without PV $48,930; with PV $86,550
Find Your Local Rep
As the oldest manufacturer in the SIPs industry, Premier's SIP system is the proven prefabricated building envelope framing system for your next commercial or residential structure. Faster, stronger, and greener than outdated lumber framing methods, SIPs are the future of framing. Join the other thousands of structures built with SIPs, and contact the expert in your local region to get started.