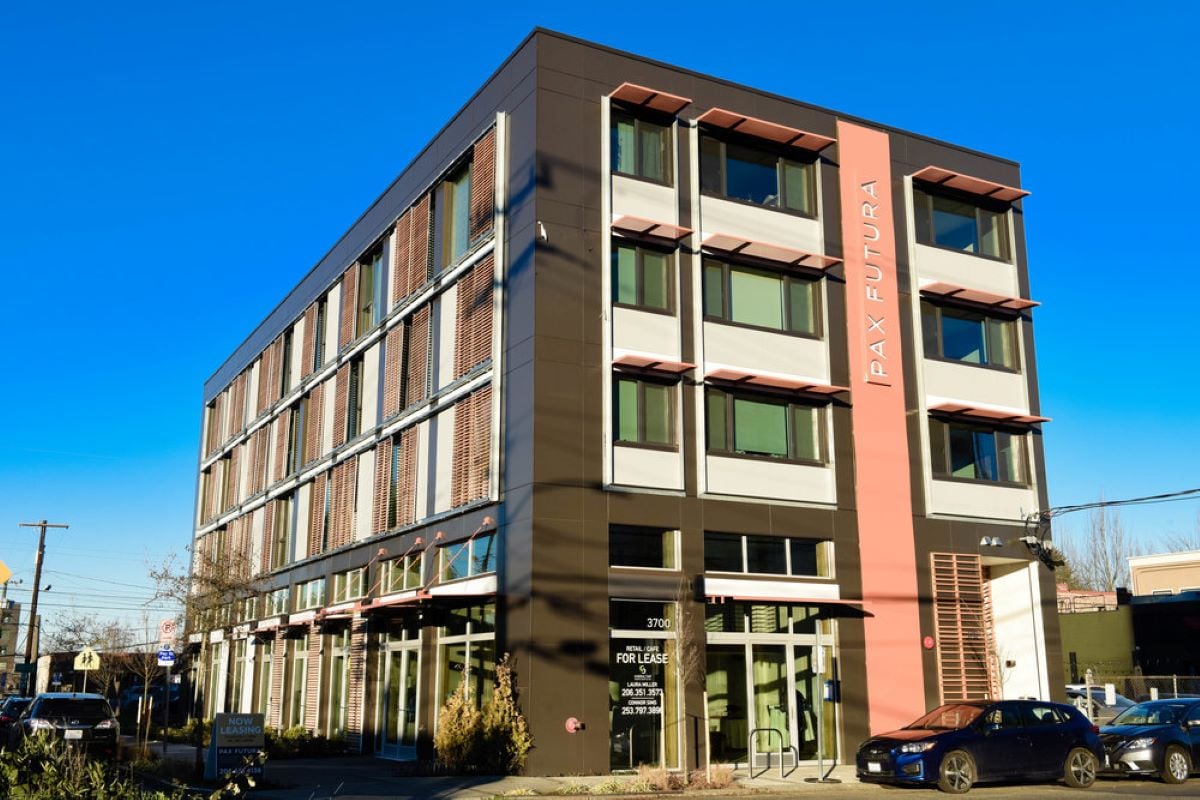 Award winner
Pax Futura Passive Apartments Seattle, WA
Washington
Project Type Commercial | Multi-Family
Year Completed 2018
SIPS Used Roof & Walls
Sustainable Features Passive Certified
Environmental Certifications Passive/PHIUS
Awards 2018 SIPA Building Excellence High Performance Multi-Family Runner Up
Architect NK Architects
Contractor Cascade Built
Project Overview
Pax Futura was the 2018 SIPA Building Excellence Awards National Runner Up for High Performance MultiFamily.
Seattle is often recognized as a leader when it comes to sustainability efforts in the built environment, and the city has a new milestone-setting project on the way as the first Passive House-certified apartment building is set to be completed in early September of 2018.
"This is the first large-scale project to meet Passive House, and there were a lot of challenges, one of which was that nobody really knew much about how to executive this on the design or engineering level; people didn't have much experience doing it," said Sloan Ritchie, owner of Cascade Built.
Cascade Built led the efforts around "Pax Futura," a 4-story, 35-unit apartment building located at 3700 S. Hudson St. in Seattle's Columbia City neighborhood. Designed by NK Architects, the apartment building will be one of the first projects of this size to target Passive House certification.
Passive House certification means that the project comprises a set of design principles to achieve a rigorous level of energy efficiency. The passive design strategy looks to monitor heat and cooling usage to keep the building at a comfortable and consistent indoor temperature. Passive House buildings also offer a wide variety of long-benefits to occupants including superior indoor air quality and more resilient building materials that offer the best path to Net Zero energy efficiency, meaning that the total amount of energy used by the building on an annual basis is roughly equal to the amount of renewable energy used on the site.
Pax Futura will include 32 studio and one-bedroom apartments and three live/work units, as well as an amenity room, courtyard and retail patio. The average unit size is 429 square feet, and the building will consume up to 90 percent less energy to heat and cool the units than standard buildings by employing pared-down mechanical systems, superior insulation (Rigid insulation core in Structural Insulated Panels) and natural bio-retention planters to manage stormwater on-site.
The overarching goal with Pax Futura, and other Passive House-certified buildings in general, is to minimize energy usage, according to Brittany Porter, project architect at NK Architects. "Passive House really focuses on minimizing energy use…with Passive House, you're building as you would normally, but all of these systems are optimized," Porter said. "It varies by the scale of the building, but [Passive House] increases performance quite a lot; in a single-family home, doing moves like that can improve performance up to 75 to 90 percent; that's where the real savings are. It's all about trying to get closer to Net-Zero energy consumption and trying to have a building that is less dependent on the grid and on fossil fuels."
One of the broader objectives with achieving Passive House with Pax Futura was to show that that this certification could be achieved with larger-scale projects, as well. Cascade Built and NK Architects also worked on the 2,710 square foot single-family Park Passive project in Seattle's Madison Valley neighborhood—east of Capitol Hill—which was believed to be the city's first certified passive house.
An achievement in its own right, the hope is the Pax Futura will help to set a template for how Passive House can be achieved on a broader scale, according to Ritchie. "We wanted to scale it up to show that [achieving Passive House certification] could be done; we wanted to achieve some economies of scale. By doing this with a larger project, it becomes much more efficient; there's a fair amount of energy modeling that goes into making it work," he said.
In terms of the Passive House certification gaining further momentum throughout the city of Seattle, Ritchie hopes that greater awareness around the benefits of the program will become more of the norm in the future. "Now that [Pax Futura] is almost complete, there are at least three other Passive House Apartment buildings in Seattle in the pipeline either in the drawing boards or already permitted," he said. "I wish that it were more than just the three that I'm aware of; I wish it were 20 or 30, but maybe it will be in the near future. I do see that people are now realizing that this can be done. I think people will start to be able to connect the dots and realize that this is something that's doable for a very small premium." And while strides continue to be made with the implementation of Passive House projects of different sizes and scales—with Pax Futura as the most recent example—more needs to be done when it comes to building upon other environmental sustainability programs like LEED in Seattle, according to Porter. "[Passive House] gets compared to LEED a lot because LEED has so much of a reputation already, but LEED is just a checklist of items where if you provide these items, you get points and different levels of certification," she said.
One of the benefits of Passive House certification in comparison to other sustainability programs is that the required energy modeling means that greater energy efficiency is guaranteed from the project's inception. "Passive House is performance-based; so they aren't necessarily concerned with how you build the project, but it needs to function at a certain level…you end up having to do a decent amount of energy modeling before the building is even built to prove that you're going to meet your targets before you can get certified," Porter said. "There's a certainty from the energy modeling—which is basically rooted on math and science out of Germany—because the performance of the building almost always matches what you modeled beforehand," she said. And while programs like LEED and the recently-announced Living Building Challenge Pilot program have helped to lay the groundwork for sustainable design in the city of Seattle, there is still further work to be done. "We definitely are grateful to LEED for sort of laying down the groundwork and making sustainable construction a household name…there are things like expedited certification for green buildings in the city like the Living Building Challenge Pilot, and I think that the city is trying to make progressive moves to be very aware of how their energy codes are impacting all of the new construction that is going on," Porter said. "But I do think there is a kind of a long way to go in terms of finding a solution that is scalable. The number one thing that we can easily change about how our society and our country uses energy is with buildings."
As awareness around passive house certification increases, Porter thinks that one of the primary challenges will be how to bring more members of the architecture, engineering and construction industry on board. "I do think we are seeing interest around it grow, there is of course still some reluctance; the building industry is still one of the slowest industries to move towards change," she said. "We're seeing interest more with smaller clients who kind of have the room to invest in something that they're going to hold onto. A lot of the bigger developers tend to sell projects pretty quickly after building them, which is the challenge."
Spreading this awareness around Passive House—and the fact that it can be implemented in buildings of any scale—will be one of the key factors moving forward, and Porter hopes that the necessary infrastructure is already there. "It is also about educating and inspiring the labor market and finding more builders who are interested in learning how to build with this methodology; it's just about optimizing things you are already doing," she said. "The beautiful thing about the Passive House ideology is that it can happen with any building of any scale."
- Case Study adapted from TheRegistry.com, August 22, 2018.
Find Your Local Rep
As the oldest manufacturer in the SIPs industry, Premier's SIP system is the proven prefabricated building envelope framing system for your next commercial or residential structure. Faster, stronger, and greener than outdated lumber framing methods, SIPs are the future of framing. Join the other thousands of structures built with SIPs, and contact the expert in your local region to get started.