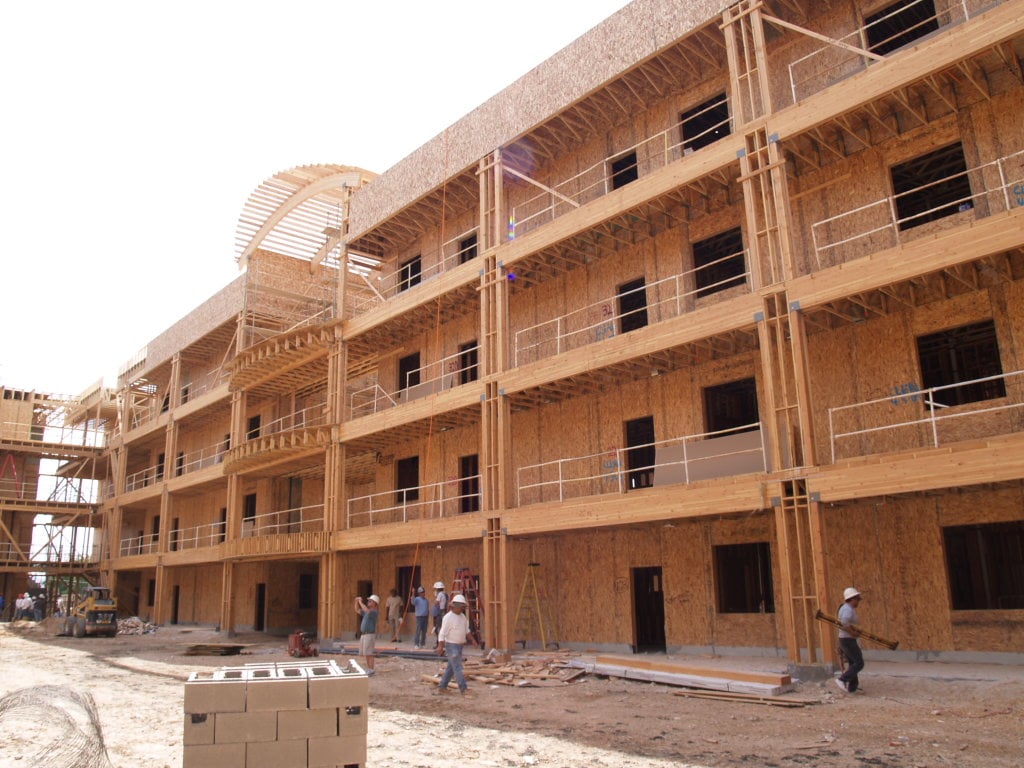 Sarann Knight Apartments Las Vegas, NV
Nevada
Project Type Commercial | Multi-Family
Year Completed 2010
SIPS Used 6" Walls
Contractor CDPCN Construction
Project Overview
This affordable housing complex in the heart of Las Vegas, NV is owned and operated by Community Development Programs Center of Nevada (CDPCN) is a nonprofit corporation/Developer who incorporates utilities into the cost of rent. Premier SIPS construction offers operational energy efficiency with about 60% savings. In the hot Nevada desert this is considerable when it comes to Air Conditioning needs in the summer months. Because operating/energy costs are extremely reduced with SIPs construction this owner/operator keeps tenants much longer by incorporating heating/cooling costs in the cost of rent, saving tenants exponentially each month as compared to other housing options.
The Sarann Knight Apartments Story
Only a few years after Benjamin "Bugsy" Siegel opened the famed Flamingo Hotel and Casino in Las Vegas, entrepreneur Sarann Knight Preddy became the first African-American person to receive a Nevada gaming license. From owning the Tonga Club to dealing cards in Jerry's Nugget to leading a range of community service projects, Preddy has been a pioneer in opening up opportunities for all Las Vegas residents. In 2010, a multifamily housing complex named for her incorporated structural insulated panels (SIPs) to provide energy-efficient, affordable housing for residents of Las Vegas' Westside neighborhood. The full complex includes three buildings, the first phase included this four story building with 82 units. Additional phases included multiple 3 story buildings with 39 units. All of which targeted senior living residents and include 6" Premier SIPS Walls on every level.
High-Performance Building Envelope
CDPCN is a nonprofit corporation that seeks to promote community and economic development and affordable housing in the state and has developed more than 2000 affordable single and multi-family housing units in the greater Las Vegas area since 1997. As the builder, developer, and owner of the Sarann Knight Apartment complex, they needed to use materials and methods that would reduce their building and operating costs in order to keep the units affordable. Critical to this goal is keeping energy costs low in the occupied units since CDPCN itself pays all utility bills.
"Reducing heating and cooling costs played a major role in our decision to use SIPs," says Sharon Bullock, CDPCN project manager. "They create a much-tighter building envelope than is possible using other construction methods. We estimate an annual energy cost savings of 20 to 25 percent with the Premier Building Systems SIPs compared to stick-framed construction." When in fact the savings have turned out to be significantly more - about 60% - since the building was opened in 2010.
The rigid foam core inside each SIP provides continuous insulation across the panels' width and length, avoiding the thermal bridging created by wall studs. Also, because they come prefabricated in large sizes (up to 8 by 24 feet), SIPs have significantly fewer joints that require sealing.
In blower door tests, the U.S. Department of Energy's (DOE) Oak Ridge National Laboratory found that rooms built with SIPs have 90 percent less air leakage than stick-framed spaces. The lab also evaluated the whole-wall R-values of SIPs versus stick framing, taking into account energy loss through the structural members, corners, joints, and around windows. They found that a 3.5-inch-thick core SIP had a whole-wall R-value of 14.09 compared to a 9.58 R-value for walls framed with 2 by 4 studs at 16 inches on center – 47 percent more-effective insulation from SIPs. The SIP wall also outperformed a wall framed with 2 by 6 studs at 24 inches on center, which had a whole-wall R-value of 13.69.
With SIPs construction ENERGY STAR does not require a blower door test for automatic certification; therefore, Sarann Knight project automatically surpassed the ENERGY STAR certification, and projects like his designed and built with SIPs can easily qualify for significant energy efficiency tax incentives.
Fast Installation
A second key to maintaining affordability of the Sarann Knight Apartments was to complete the construction quickly. While loan-carrying costs are critical to the financial feasibility of any project, for a nonprofit owner/developer it is especially important to begin leasing units as soon as possible.
The builders were able to dry-in the 82-unit complex's four floors in only 80 days, substantially faster than typically required for a comparable stick-built apartment. In that time, they installed approximately 100,000 square feet of SIP walls.
"Compared to stick framing, SIP walls go up much faster since they can be installed in large sections and eliminate the need for separate on-site framing and insulation work," Bullock says. "The finished walls are also beautifully straight, which saves time on drywall installation, painting and other finishing work."
Other ways SIPs help speed construction is that they come to the jobsite with pre-cut window and door openings, which saves on framing time, and depending on the dimensions, may not require installation of separate headers. They also have pre-cut electrical chases that eliminate the labor needed to drill through studs for wiring.
Long-Term Durability
CDPCN developed the Sarann Knight Apartments as a tax credit project. As such, Nevada state law requires them to maintain the units' affordability for 50 years. "We need to build our projects correctly from the start," Bullock says. "We can't afford to do major overhauls every decade, so we must have buildings that hold up for the long-term."
Because SIPs are comprised of full oriented strand board (OSB) panels, they provide a solid surface across each wall's entire face, unlike drywall over studs. SIPs stand up well to the bumps and damage that can occur when families with small children regularly come and go in multifamily housing. "SIPs are strong," Bullock says. "You can't damage them as easily as conventional framing." The Sarann Knight Apartments are one of several housing developments CDPCN has built with structural insulated panels. "SIPs are a win-win all around given the reduced construction time and costs as well as high energy efficiency," Bullock says. "Plus, we've witnessed an excessive amount of waste going out the door with stick-framed jobs. That's something that just doesn't happen with SIPs."
Find Your Local Rep
As the oldest manufacturer in the SIPs industry, Premier's SIP system is the proven prefabricated building envelope framing system for your next commercial or residential structure. Faster, stronger, and greener than outdated lumber framing methods, SIPs are the future of framing. Join the other thousands of structures built with SIPs, and contact the expert in your local region to get started.