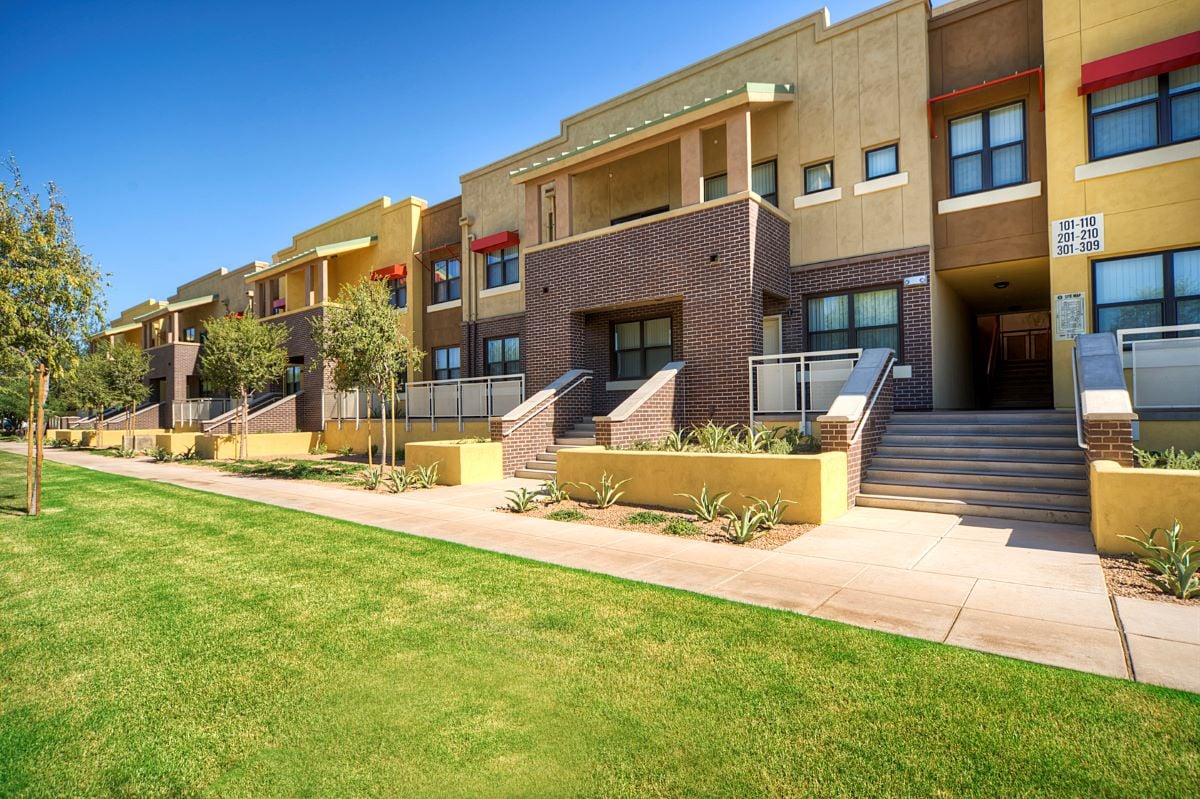 Lofts at McKinley, Phoenix, AZ
Arizona
Project Type Commercial | Multi-Family
Year Completed 2012
SIPS Used 6" SIP Walls
Architect Gorman & Co
Contractor Tofel Construction
Project Overview
The costs to rent or purchase housing remains increasingly less affordable to millions of Americans, both for those on fixed retirement incomes as well as those who have not yet reached retirement. For those who have only small pensions, social security and a few assets, their only hope for a safe, healthy and affordable housing is through communities built with the assistance of Low Income Tax Credit Programs or city HOME Investment Partnerships.
Arizona is working on preserving affordable housing for seniors, take a look at the two new communities located in Phoenix and Flagstaff aimed at providing affordable housing for low-income seniors.
Given multiple development issues including clearing asbestos from the building on site to zoning and design changes, time was saved by using SIPS instead of standard wood framing. Staying on deadline was critical to this project.
This urban infill redevelopment project started with removing a vacant office building and replacing it with a three-story apartment community for seniors and others physically disabled. Contractor Tofel Construction helped the project developer transform the neighborhood and provide fully accessible rental housing for low and moderate income working seniors.
The Lofts at McKinley was the first senior housing project in Arizona to seek LEED Platinum certification and the first new construction project ever permitted under Phoenix's newly adopted Downtown Urban Form Code. Sustainable features include: roof-top solar, dual flush toilets, SIP walls and reflective roofing for an efficient building envelope, smart water usage, low water usage plantings, low VOC materials, and ENERGY STAR appliances.
Lofts at McKinley was built on the site of a vacant 2-story office building which had become obsolete. The site of this project was within the boundaries of both the Roosevelt Historic District and an "Area of Potential Effect" for archaeologically significant assists. Designations for this project required compliance with 26 preservation stipulations as well as consulting with local Native American tribes.
Asbestos and zoning changes caused design rework. Due to these development hurdles, construction time saved by using Premier SIPS was critical to staying on deadline. SIPS provided large, pre-cut structural panels that allow the building envelope to be erected faster enabling the project to catch up on it project deadlines.
The project was funded through the Low Income Tax Credit Program, the city's HOME Investment Partnerships Program and AZ Department of Housing Trust Fund.
View & Download the Case Study
The Premier SIPS Solution:
Tight building envelope reduces heating and cooling costs by up to 60%, offering significant savings on operating costs as well as greatly reduced mechanical equipment needs.
Large, pre-cut structural panels allow the building envelope to be erected 50% faster enabling businesses to open sooner.
Superior indoor air quality with reduced infiltration of outside pollutants, which can benefit those with respiratory ailments.
Warmer in the winter, cooler in the summer, ideal controlled indoor environments for building tenants.
SIPS produce 30% less job-site waste than traditional construction.
Up to 39 valuable environmental design credits can be awarded for use of Premier SIPS in commercial, new construction or major renovation (as of 2012 LEED programs)
Find Your Local Rep
As the oldest manufacturer in the SIPs industry, Premier's SIP system is the proven prefabricated building envelope framing system for your next commercial or residential structure. Faster, stronger, and greener than outdated lumber framing methods, SIPs are the future of framing. Join the other thousands of structures built with SIPs, and contact the expert in your local region to get started.