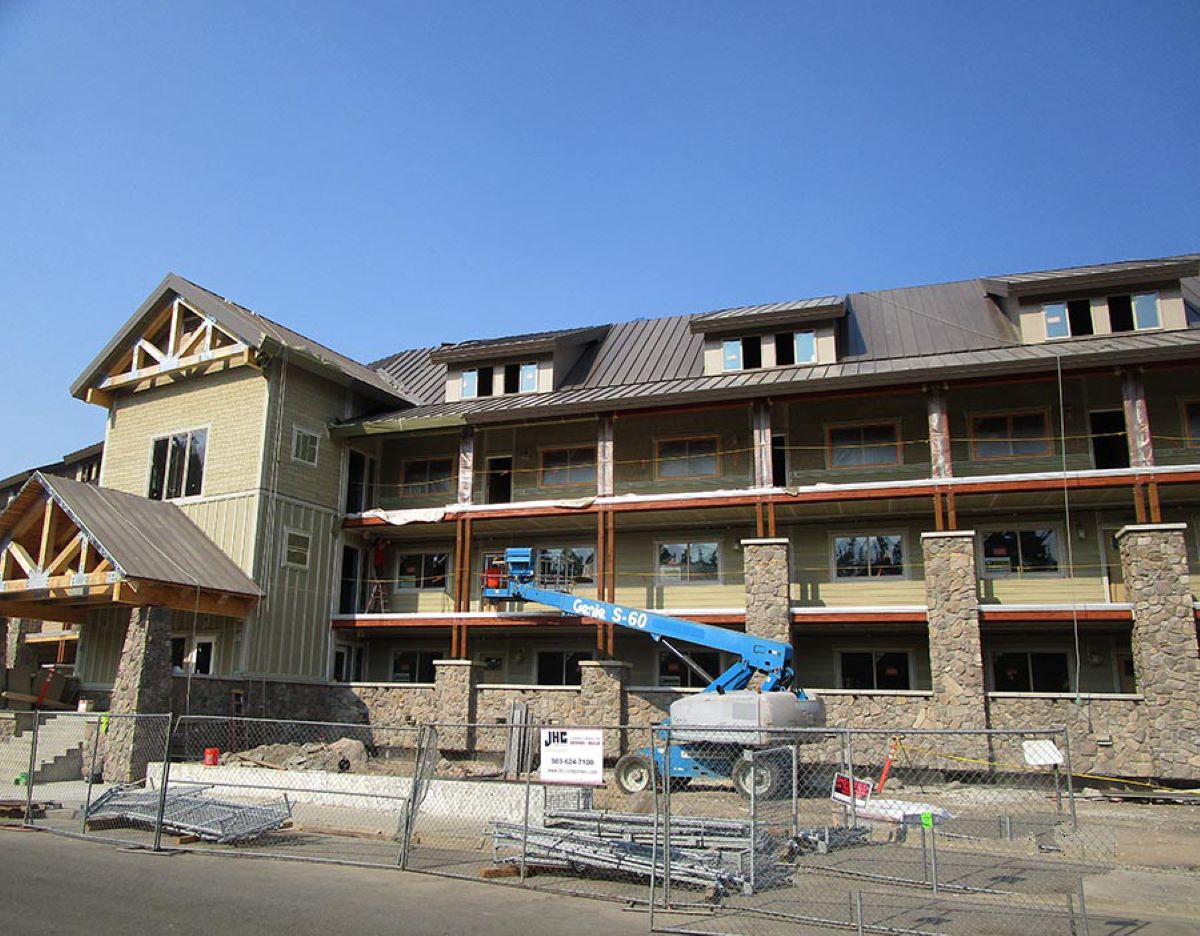 Golden Poles Condos Post Fire
Oregon
Project Type Commercial | Multi-Family
Year Completed 2018
Project Size 22500 sq ft
SIPS Used 12" EPS Roof
Sustainable Features Premier SIPS
Architect BLRB Architects
Contractor JHC - Joseph Hughes Construction
Project Overview
Golden Poles Condominiums
End Use: Multi-Family "condo chalet" in highly desirable Mount Hood, Oregon. Popular for skiing in winter and hiking in summer. As the first condo complex in Oregon, the landmark structure burned down in 2015 and was completely rebuilt and finished in 2018
Why SIPs?: Located just outside the gate to Ski Bowl at Mt Hood Oregon, this is one of the original condo structures in Oregon. After a catastrophic fire in 2015 (area wildfires) the entire 30-unit complex needed to be rebuilt. During the rebuilding of this Landmark Condominium the homeowner association upgraded to create a high-performance condo/chalet structure. Choosing SIPS for the roof system not only enabled this but also resulted in faster install times for residents eager to move back into their homes. Further, the design of the roof line in chalet style (to help with snow loads in winter) was simplified with the large loads and spans of SIP construction.
Benefits of SIPs: Energy efficiency, roof thermal requirements & speed of installation time, along with the elimination of extensive roof support systems, all contributed to the decision to move forward with Premier SIPS.
Innovative Design Elements: The HOA decided upon a Chalet-style roof line to support winter snow loads and was better suited to the natural mountain surroundings.
HVAC: High-efficiency electrical heat and propane gas fireplace with circulation fan in each condo unit
Energy-Efficient Materials/ Energy-Saving Products or Design Features:
Windows cold-climate-rated double-pane vinyl framed
Exterior walls have an R-21 rating and the roof is greater than R-50
See more construction pictures from the contractor JHC here.
Find Your Local Rep
As the oldest manufacturer in the SIPs industry, Premier's SIP system is the proven prefabricated building envelope framing system for your next commercial or residential structure. Faster, stronger, and greener than outdated lumber framing methods, SIPs are the future of framing. Join the other thousands of structures built with SIPs, and contact the expert in your local region to get started.