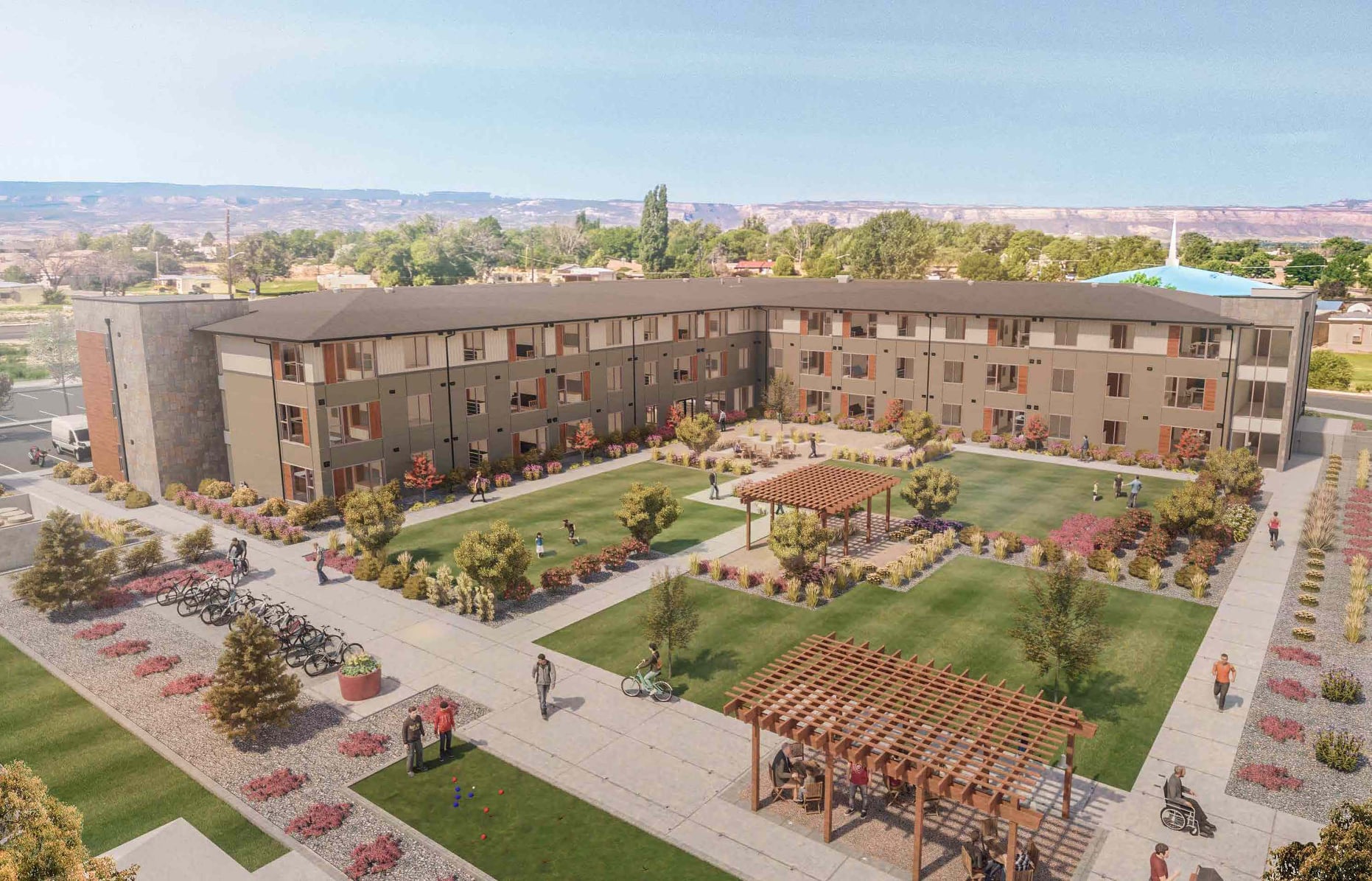 Patterson Apartments
Colorado
Project Type Commercial | Multi-Family Residential | Single Family > 3000 sf
Year Completed 2022
Project Size 61320 sq ft
SIPS Used 6" R-29
Sustainable Features Premier SIPS for walls, ndividually metered apartment units, Energy Star advanced lighting package, Energy Star rated appliance package, Integrated Piping System mechanical design utilizing high efficiency boilers/chiller, Ceiling fans in bedroom/living room locations, low flow water fixtures, resident recyling on each floor, upgraded low U-value glazing system, solar-powered attic ventilations system, untreated, low embodied energy - irrigation ditch water for landscaping, Passive Radon venting systems and regional material used.,
Environmental Certifications Energy Star Certified
Awards 2022 BEA Multifamily Classic
Architect Oz Architecture
Contractor Shaw Construction
Project Overview
Patterson Apartments
For the builder, they knew the use of SIPs would shorten construction time by two to three times. Premier SIPS would require less supervision on the building site. No specialized tools would be required. Estimating costs was a simple, more accurate process. SIPs were easy and quick to construct with nice conditioned space early on making for more comfortable working conditions. Cost reduction was obvious, especially with regard to waste. For our Architects, SIPs offered more creative freedom without the constraints of conventional building materials. It was easier to create full CAD drawings.
Using SIPs for the walls shaved at least two months off the construction timeline. Wall panels were delivered with pre-installed lumber wherever possible, and the entire three-story package was delivered and installed in 14 business days. The entire framing phase including non-SIP interior walls and roof framing was completed in 5 weeks. The delivery and installation process was finely tuned to minimize the size of the staging area by staggering the delivery sequence. The construction costs as well as the energy savings were massive.
Innovative Design Elements:
Structural engineering was key as every spline, opening, and ledger was specified with a maximum efficiency mindset. Both perforated shear wall theory and Force-Transfer-Around-Opening theory were used to eliminate all hold-down straps. The only custom detail was for a few steel headers on the top story where the header depth was limited to 7 inches.
Certifications:
Green Community Standards
Energy Star's advanced lighting package
Energy Star appliance package
"This SIP build was truly airtight and free of drafts and cold...something we have six months out of the year. The energy bills are expected to be 50 to 60 percent less and the homes are considerably quieter because the SIPs have proven to be an important element in soundproofing...which in apartment living is a BIG benefit."
Find Your Local Rep
As the oldest manufacturer in the SIPs industry, Premier's SIP system is the proven prefabricated building envelope framing system for your next commercial or residential structure. Faster, stronger, and greener than outdated lumber framing methods, SIPs are the future of framing. Join the other thousands of structures built with SIPs, and contact the expert in your local region to get started.