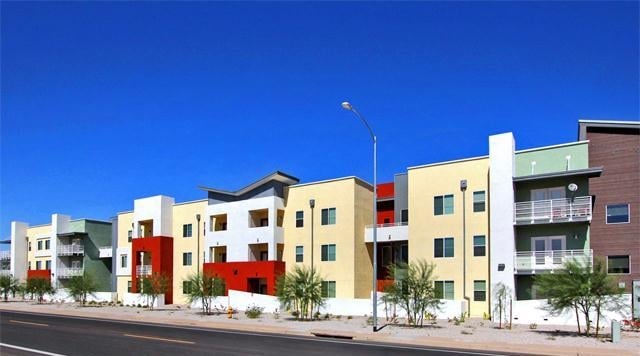 Grand Families Complex, Phoenix, AZ
Arizona
Project Type Commercial | Multi-Family
Year Completed 2011-2012
Project Size 23500 sq ft
SIPS Used 6" SIP Walls
Awards Exemplary Urban Multifamily Project (AZ Dept of Housing), Building Excellence Awards Multifamily Honorable Mention
Architect Whitneybell Perry, Inc
Contractor Tofel Construction, JVH Group SIP Installer
Project Overview
Have you ever heard the term, GrandFamily? It's the term we use in the United States that refers to a family where grandparents, great-grandparents, other relatives, or close family friends raise a child because the biological parents are unwilling to do so.
Did you know that there is an estimated 7.8 million GrandFamilies in the U.S? Did you know that an estimated 52,210 grandparents are second-time parents in Arizona alone and out of that 13,262 GrandFamilies are located in Phoenix?**
For Grandma and Grandpa, being second-time parents were not in their plans, taking on this additional responsibility of caring for children is hard on them. Many of these families are having trouble finding safe, affordable, and long-term housing.
Enter GrandFamilies Place of Phoenix. This multi-family housing community provides these non-traditional families affordable housing and a community where they can connect with families just like them. Grand families have special issues according to the Washington DC-based GrandFamilies State Law and Policy Resource Center.***
They frequently take on caregiving responsibilities with absolutely no warning

Many of these caregivers live on fixed incomes or in small apartments and houses that are not suitable for children

They may no longer be able to afford their apartments or houses after assuming the extra expenses of raising children

Many caregivers are physically unable to walk stairs with children and strollers

If they live in senior housing where children are often not allowed, they may be subject to eviction

The presence of additional children may violate their private lease agreements

If they do not have legal custody of the children, they are frequently unable to convince the housing authorities to recognize their need for larger apartments
GrandFamilies Place is a two building complex, 3-stories and housing 56 apartments: 44 2-bedrooms and 12 3-bedrooms. There is an on-site social services coordinator to help these senior caregivers.
Developers, Tanner Properties and Alliance Property Group brought new life into a run-down area when they built here. This complex includes Premier Structural Insulated Panels.
GrandFamilies Place is financed through a mix of Low-Income Tax Credits and non-profit money. We are very excited to be part of a project that helps allow families to afford long term housing. GrandFamilies Place is one of two types of multi-housing in the country.
Grandfamilies Place of Phoenix received the 'Exemplary Urban Multifamily Project' award from the Arizona Department of Housing. The award recognizes an outstanding multifamily rental project in urban Arizona that serves low to moderate income individuals, families or seniors, and has one more of the following elements: outstanding architectural design, transit oriented design, green building technology, mixed use, preservation/revitalization, serves as public benefit.
The project also received a Multifamily Honorable Mention in 2012 from SIPA in its annual Building Excellence Awards.
View & Download the Case Study
**Analysis of U.S. Census data by the American Association for Retired Persons.
Find Your Local Rep
As the oldest manufacturer in the SIPs industry, Premier's SIP system is the proven prefabricated building envelope framing system for your next commercial or residential structure. Faster, stronger, and greener than outdated lumber framing methods, SIPs are the future of framing. Join the other thousands of structures built with SIPs, and contact the expert in your local region to get started.