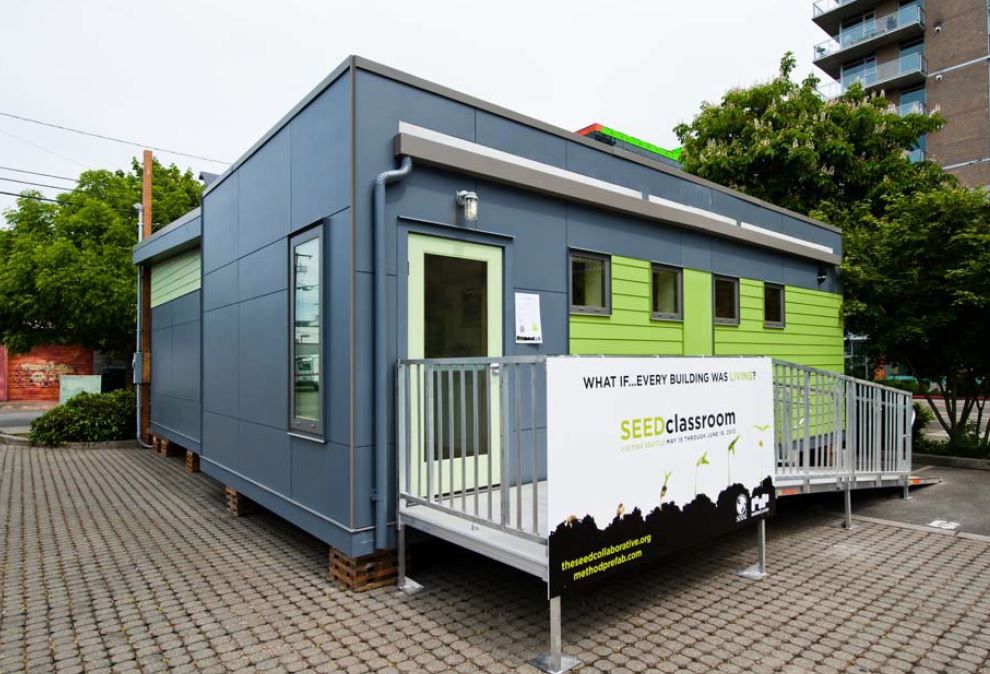 SEED Classroom Alberta Canada
Alberta, Canda
Project Type Commercial | Education/Schools
Year Completed 2013
Project Size 832 sq ft
SIPS Used 10" Floors & 10" Walls / 12" Roof
Sustainable Features Built to meet the 20 Imperatives of Living Building Challenge: Premier SIPS, LBC Materials, Redlist compliant, Rainwater Reuse and Treatment System, Greywater System, Composting Toilet, Reclaimed Materials, Integrated Curriculum and User Handbook for Students/Teachers
Architect Stacy Smedley Architect
Contractor Method Homes
Project Overview
This educational, portable classroom prototype was designed to provide an environmentally conscience alternative to traditional portable classroom structures. For future use, the prototype is able to transport easily on the roadway in two parts...or all over the world.
Why SIPS?:
This collaboration was looking for an ultra-green modular classroom prototype (part of the Living Building Challenge) and a 100% SIPS envelope (roof, walls & floors) helped fit the need perfectly.
Benefits of SIPS:
"The pre-fabricated SIPs install fast, which helped us meet a tight project time frame, and will allow for efficient construction of future SEED classrooms," said Method Prefab Project Manager Bec Chapin. "Additionally, the SIPs help create a super-insulated envelope for a building with a very low design temperature of -24° F (-31° C)."
The prototype will eventually be located in Jasper, Alberta, where the R-40 walls and floor and R-49 roof will help reduce heating energy requirements.

A healthy structure for students in learning environments is critical for the future, and the energy efficiency from SIPS enables school districts with 60% lower operations and maintenance costs throughout its 100-year life expectancy, compared to traditional portable classrooms (according to the SEED collaborative's analysis).
HERS Index: Not provided +30% above code
Blower Door: Not provided - exceptional requirements through Living Building Challenge, however.
HVAC: Energy recovery ventilator installed but specifics not provided - exceptional requirements through Living Building Challenge, however.
Other Energy Saving Materials:
Triple Glazed Windows
LBS materials Redlist compliant
Solar PV Array
Greywater System
Composting Toilet
Handpump operated sink
Premier SIPS, which are super insulated, enables placement of structure in climates with a design temperature of -24 degrees.
Final envelope efficiencies include R-40 walls and R-49 roof.
Client Comments:
"Built to meet the 20 imperatives of Living Building Challenge. Each SEED Classroom houses all of the systems the classroom needs to be self-sustaining. Materials and systems are left exposed to teach students how the building works. Each classroom comes with a curriculum package developed in partnership with the International Living Future Institute that allows the building to become a living laboratory for its students."
Find Your Local Rep
As the oldest manufacturer in the SIPs industry, Premier's SIP system is the proven prefabricated building envelope framing system for your next commercial or residential structure. Faster, stronger, and greener than outdated lumber framing methods, SIPs are the future of framing. Join the other thousands of structures built with SIPs, and contact the expert in your local region to get started.