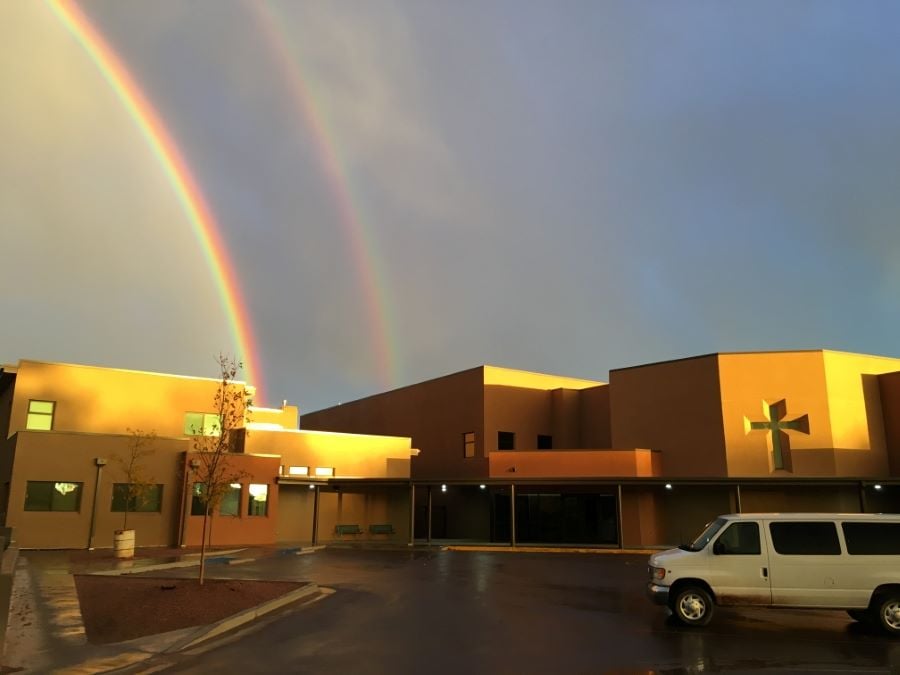 Award winner
Zuni Christian School
New Mexico
Project Type Commercial | Education/Schools
Year Completed 2011
Project Size 18000 sq ft
Sustainable Features Premier SIPS, solar water heating, interior LED lighting with natural sunlight, and rainwater collection from the roof.
Awards 2013 BEA Honorable Mention Commercial over 10K s/f
Architect RBA Architecture
Contractor Murphy Builders
Project Overview
Native American students in northwestern New Mexico are now able to attend the new, environmentally friendly, 18,000-sq-ft Zuni Christian Mission School at the Pueblo of Zuni. Designed by Hibbard Architecture & Planning, the two-story pueblo-style building uses structural insulated panels -- large-size, insulated wall and roof components used in place of conventional wood framing, concrete blocks, or concrete tilt-up walls -- manufactured by Premier Building Systems to reduce air leakage and heat loss. Other green features include solar water heating, interior lighting with natural sunlight, and rainwater collection from the roof.
General contractor Murphy Builders constructed this first of several buildings that will replace portable classrooms and other facilities hastily constructed after a fire destroyed the entire school and church buildings nearly forty years ago. With generous grants from foundations and long-time friends of the mission, as well as a hefty contribution from the Zuni Christian Reformed Church, Zuni Christian Mission School has joyfully replaced the "temporary" buildings used since a devastating fire of unknown origin destroyed the school in 1971.
What stands on the same ground, handsomely anew these days, is a dusky, two-story adobe-style building whose lines and color make it seem very much at home at the center of the village. The completion of the state-of-the-art elementary school building marks the conclusion of Phase I of a $10.8 million dollar capital campaign designed to give the mission a new face, even though its task hasn't changed.
The Zuni Mission has endured—often just barely--through world wars, economic depressions, personality clashes, and nearly immeasurable changes in the rhythm of life among the Zuni people.
Find Your Local Rep
As the oldest manufacturer in the SIPs industry, Premier's SIP system is the proven prefabricated building envelope framing system for your next commercial or residential structure. Faster, stronger, and greener than outdated lumber framing methods, SIPs are the future of framing. Join the other thousands of structures built with SIPs, and contact the expert in your local region to get started.