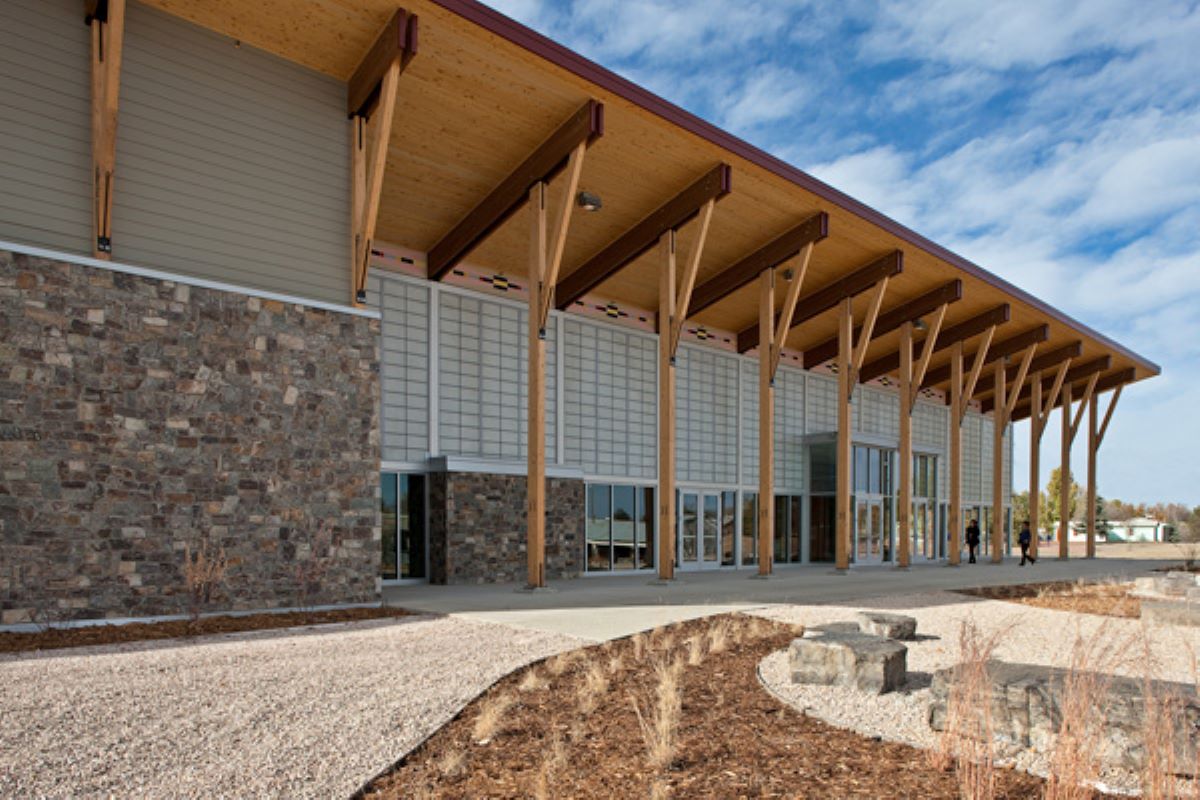 Little Big Horn College LBHC Health
Montana
Project Type Commercial | Education/Schools
Year Completed 2011
Project Size 35000 sq ft
SIPS Used 6" & 8" EPS Walls & 10" EPS Roof
Sustainable Features Premier SIPS, LEED Platinum, sun shading devices to reduce reliance on artificial lights, mechanical heating/cooling, rainwater collection, LED lighting and lighting sensors, low-flow faucets for water conservation, cultural expression, natural materials, smart site design and solar orientation
Environmental Certifications LEED/USGBC
Architect BNIM Architects
Contractor Fisher Construction
Project Overview
The Health & Wellness Center at the Little Big Horn College in Crow Agency, MT is a LEED Platinum multi-purpose community facility that is much more than a building on 4.5 acres of land.
This was a major addition to the Little Big Horn College campus and was designed to serve students and the surrounding community. The design includes an NCAA gymnasium seating approximately 1,300 people; spaces for aerobics/community gathering, weight lifting, and cardiovascular fitness; locker rooms; and support facilities. It mostly
represents hope to a community battling multiple challenges amidst widespread poverty and sends a message that the Apsáalooke (Crow) Indians of Montana are capable and worthy of having world-class facilities to inspire new generations of their people to dream and play big for the future.
​
This project was groundbreaking in many ways. It was the first documented use of an AIA Contract for Integrated Project Delivery that brought the A/E team, the Contractor team, and the Owner team onto a level playing field that allowed a rapid schedule to be met and minimized change orders. The project also creatively used multiple funding sources, including the creative implementation of New Market Tax Credits. Architect Scott Moore y Medina led the project management team and acted as a valuable connection to the Crow culture and teachings while at his former employer, BNIM. This allowed the A/E team to understand the values of the people as it translated into built form and included the art and traditions of the Crow in an atmosphere of trust, learning, and accountability.
One of the key ways the project team addressed the schedule and green building needs was to use SIPs for the exterior walls and roof.
"SIPs meet a number of needs with just one system," said Doug Morley, Principal Architect with Springer Group Architects. "They install fast, insulate well, and are strong. Other than in the large gymnasium, this reduced the need for a secondary support structure in the building and saved a bunch of time and money."
Echoing Morley's comments, owner of Kammerman Construction, Glen Kamerman
oversaw the crew installing Premier SIPS onsite and
said, "The SIPs were really accurately constructed and went together well. Using Premier SIPs probably saved about 15 – 20 percent or better on the installation time. It also eliminated the need to heat the walls during winter construction, as would have been necessary with concrete masonry units."
"SIPs really helped us meet the accelerated project schedule," added Matt Anderson, owner of Compass Consulting Engineers. "SIP shop drawings were done concurrently with design, so by the time we released the foundation package, the SIPs were being fabricated in the shop. The erection was extremely fast and in no time at all we were dried in. Plus, SIPs are strong and provide great design flexibility. They work well in long spans and have high shear and diaphragm values. This was especially crucial to help create the wide-open space in the project's gymnasium."
In addition to rapid construction and high strength, the SIPs play a key role in the building's high energy efficiency design. "Energy savings is a big part of getting to the LEED Platinum goal," said Ben Mitchell, project manager with Fisher Construction, general contractor. "It's hard to get a gym to meet any energy code, let alone LEED Platinum, but the SIPs provide a super energy-efficient envelope—much better than we could get from other products for the same labor and material costs."
SIPs can help school and hospital building professionals greatly reduce their heating and cooling energy use, while providing a host of other building benefits. These include reduced job site construction waste and the ability to use the panels in simple-to-build wall assemblies with high sound transmission class (STC) ratings for quieter classrooms and patient rooms. And, while the panels have been much the same for decades, a new type of insulation makes them even more energy efficient.
The insulating foam core in SIPs traditionally has been expanded polystyrene (EPS). A higher R-value class of rigid insulation – graphite polystyrene (GPS) that further enhances the panel's R-values.
Premier SIPS MAX – GPS SIPs are an EPS-based insulating material that integrates graphite throughout the EPS polymer matrix (insulation bead). The graphite enhances the insulation's R-value by reflecting heat energy. SIPs with GPS insulating cores offer over 20% higher R-values than traditional SIPs – making a high-performance building envelope product even more energy efficient.
Tears of joy were shed by College staff, employees as well as visitors at the grand opening of this facility. To those who had witnessed its design and construction, this was more than just a green building full of daylight and high-efficiency mechanical/ electrical systems. It was more than an example of the best practices in stormwater management and sustainable materials selection. This building represents a beautiful home for community events, feeds, games, powwows, and celebrations allowing the community to feel empowered, excited, and full of a sense of pride. This project shows the transformative power of collaboration that respects and honors culture.
Find Your Local Rep
As the oldest manufacturer in the SIPs industry, Premier's SIP system is the proven prefabricated building envelope framing system for your next commercial or residential structure. Faster, stronger, and greener than outdated lumber framing methods, SIPs are the future of framing. Join the other thousands of structures built with SIPs, and contact the expert in your local region to get started.