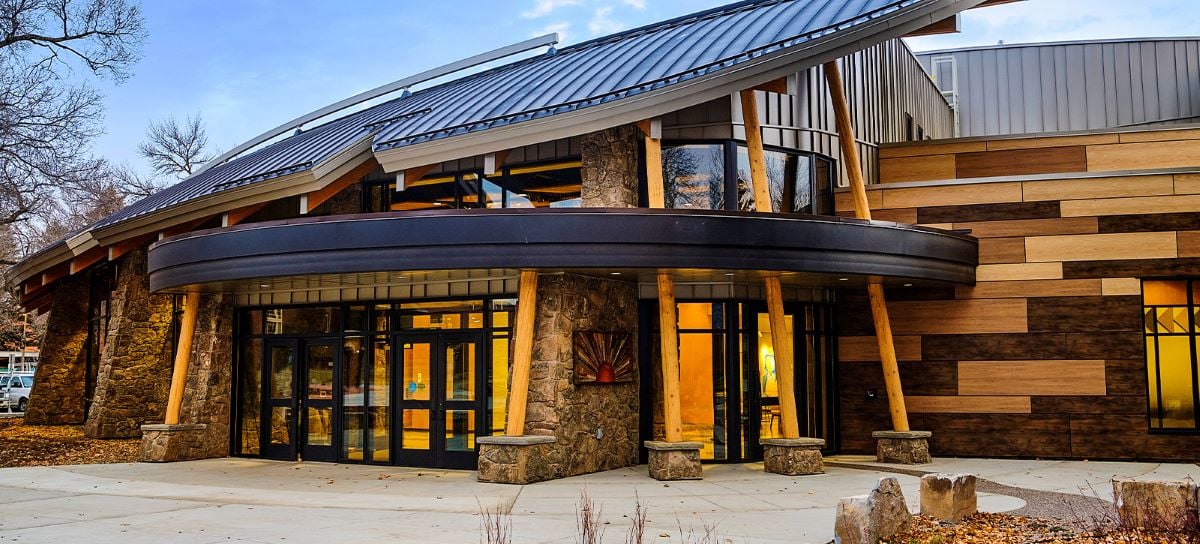 Award winner
American Indian Hall U of M, MT
Montana
Project Type Commercial | Education/Schools
Year Completed 2021
Project Size 31000 sq ft
SIPS Used 12" Roof & 8" Wall
Sustainable Features Extensive
Environmental Certifications LEED/USGBC
Awards 2022 BEA Best overall, Best Commercial
Architect Think One Architects
Structural Engineer Morrison Maierle
Contractor Swank Enterprises
Project Overview
Years in the making, and nearly 20 million dollars invested, the 31,317 s/f American Indian Hall has come to life at Montana State University. Designed by ThinkOne Architects and built by Swank Enterprises, it is a dynamic expression of Native American culture.
Built to honor the ancestral lands on which it rests, the Hall serves as a bridge between the American Indian and other cultures on campus. This structure is the home for both the American Indian/Alaska Native Student Success Services offices and Montana State's Department of Native American Studies.
By integrating elements reflecting shapes, colors, and visual creativity in design, the building's main symbolism of a single, rooftop feather can be seen just above the hall's main entry. Take a peak of an arial view courtesy of featured Feather Metal Manufacturer.
The design team chose curved custom SIPs as a stunning part of the roof structure. The structurally self-sufficient SIPs, provided top notch insulation and accommodated the unique roof design without any impact on the project's energy goals. SIPs were also chosen for the walls of the hall which was designed to appear to have a circular shape.
One of the key factors to receiving LEED Platinum Certification (one of the highest echelons of all sustainable certifications a commercial project can achieve), was having the panels manufactured offsite thus leaving significantly less material waste attributed to the building of the structure. ThinkOne also incorporated a geothermal building heat and cooling system, solar photovoltaic systems, high-performance glazing and recycled materials…thus solidifying the LEED status.
The American Native Hall has also received many accolades and awards. In early 2022, the American Indian Hall received several awards through the Structural Insulated Panels Association's Building Excellence Awards: Best Commercial Over 10K S/F, High-Performance Winner, and the Best Overall Non-Residential Winner. The criteria included overall design, design creativity, energy performance, and overall impact.
SIP construction was an integral component of a design that set out to achieve the highest level of energy efficiency without taking away from the beautiful Native American expression. SIP construction allowed the exterior walls and roof structure to express the desired forms while simultaneously providing a high-performance building envelope. Utilizing curved panels simplified construction of the complex building forms, particularly the sculptural feather roof element, a key cultural element included on the building. SIPs were selected to achieve the desired energy and environmental goals.
Other Notable Sustainable Building Features:
Exterior Walls – 8 1/4" SIPS
Exterior Roof – 12 ¼" SIPS
Our fellow Premier Building Systems brand R-Shield was used Below Grade and on the roof in a few key areas as tapered rigid insulation. See some construction pictures here.
FM @ 50pa =

11,980
Leakage Area (EqLA) [sq in] =

1635
Leakage Area (EfLA) [sq in] =

997.5
Air Changes per hour ACH50 = 1.42 per final testing
Energy modeling has projected energy use at 250,722.1 kWh site energy.
Modeled EUI would be 30.1 not factoring in the photovoltaic system energy.
Geo-thermal heating/cooling System
Solar Photo Voltaic Systems on roof 62 kw
High performance glazing used throughout the building
Various Recycled materials
Induction range in the kitchen

View the entire LEED submission in this, LEED 4.1 Documentation
In keeping with the "connection to the earth" design philosophy, the building design utilized materials with high recycled content throughout. Key elements would be the exterior finishes, the Stone Wood siding panels, and metal siding and roofing. Both had high percentage of recycled content. In the interior, carpet and vinyl flooring tiles were manufactured with high percentage of recycled material as well as low VOC materials. Trees removed from the site were salvaged and milled to provide finish material for wood wall finish, wall trim and handrails. Custom conference tables were fabricated from salvaged Ash trees removed from the site. Gravels were gathered from all eight recognized Native American tribal areas in Montana and used in the ground and polished concrete floor in the Drum Room.
As with any project that is planned with such integrated thought for sustainability, construction and heritage American Indian Hall has received significant attention and profiles by other sources:
Project Historicals:
Find Your Local Rep
As the oldest manufacturer in the SIPs industry, Premier's SIP system is the proven prefabricated building envelope framing system for your next commercial or residential structure. Faster, stronger, and greener than outdated lumber framing methods, SIPs are the future of framing. Join the other thousands of structures built with SIPs, and contact the expert in your local region to get started.