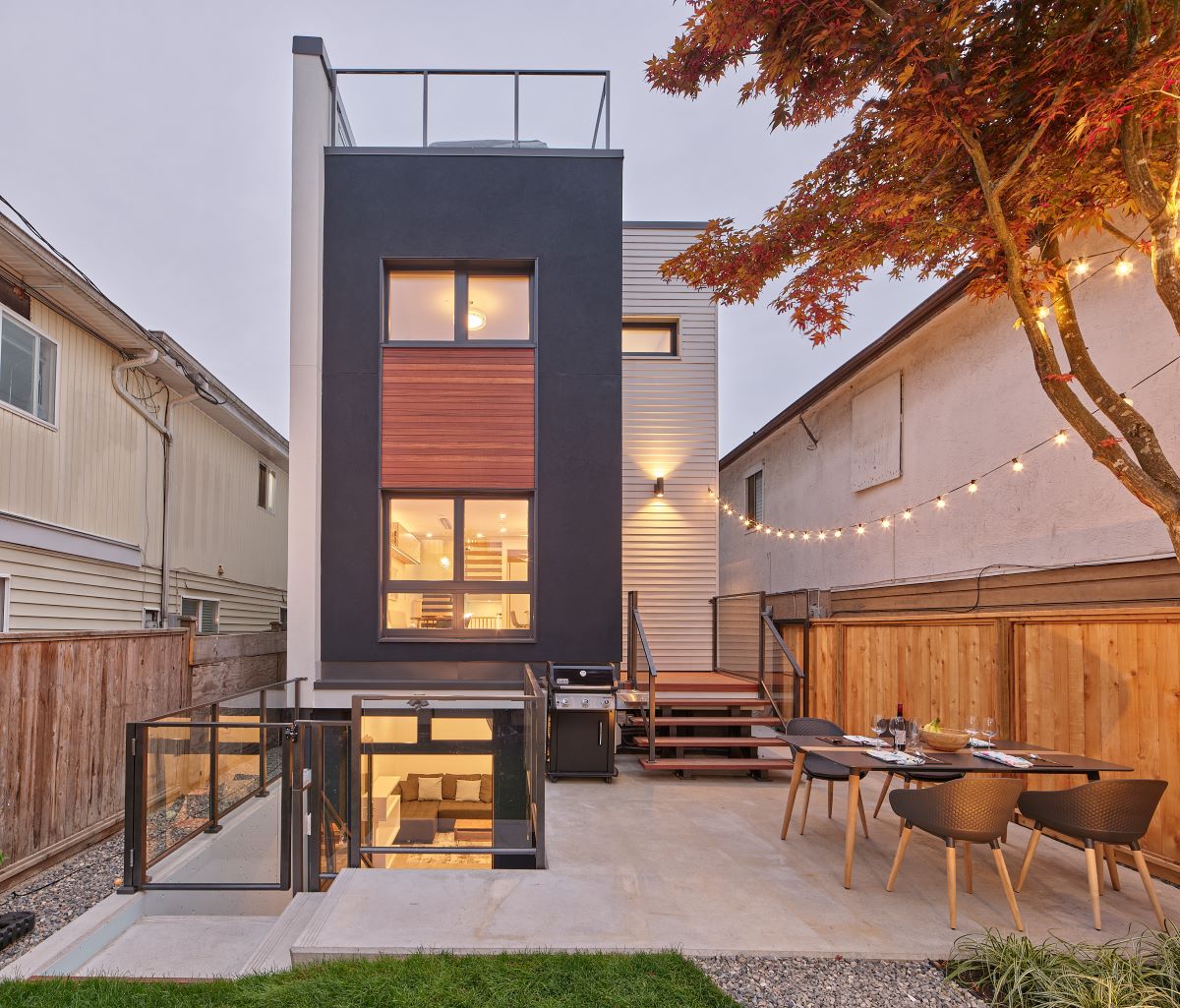 Award winner
East 18th Award Winner, Canada
British Columbia, Canada
Project Type Residential | Single Family < 3000 sf
Year Completed 2021
Project Size 2000 sq ft
SIPS Used 6" GPS Walls & 8" GPS Roof
Sustainable Features Passive Certified
Environmental Certifications Passive/PHIUS
Awards BEA, Canada Home Builder Association Best Detached 2022, Haven Awards Cnada Best High Performance Home
Architect Nick Bray Architecture
Contractor WestEco SIPS & JDL Homes Inc
Project Overview
This modern residence, with its soaring ceilings, massive windows and natural light is easy on the eyes and easy on the energy bills!

This project showcases a high-performance and innovative home that is exceptionally sustainable, a Certified Passive House, and is part of the joint City of Vancouver / Passive House Canada's Near Zero project that showcases the future of Vancouver BC's Architecture.
Professionals all throughout North American took notice as the project won a multitude of awards including:
Canada Home Builder's Association: 2022 Best Detached Custom Home

•

SIPA – BEA: Residential High Performance under 3K sf Winner

•

Havan

(Home Builders Association of Vancouver) Awards Canada for Housing Excellence: Best Custom Home, Best High-Performance Home, Excellence in Building Science Innovation

Green Initiative Georgie Awards: Best Custom Home, Best Environmental Initiative

NAHB Building Systems Council, Jerry

Rouleau Housing Innovation Award
Built by JDL Homes, in collaboration with Nick Bray Architecture, Project Mint Development and WestEco SIPS, the extremely sustainable 'home for the future', was designed to last forever by European standards (i.e. at least 100 years), while making an architectural statement on a narrow East Vancouver Canada lot that was considered by many to be unbuildable. The narrow 25′ wide lot, required a clever space efficient design with additional "fire spread" protection. Additionally, the narrow site was considered a "Peat Bog" (soft soil with a high water-table [with no ground water pumping]) area requiring a highly engineered shoring, piling, and structural system. The design/build team solved these site challenges with structural rigid insulation (our sister company R-Shield Insulation manufactures this) which also addressed thermal needs to keep energy from escaping through the foundation. See the prep of the slab, and explanation of how rigid foam provides thermal and structural stability, and view some of the foundation insulation installation - from JDL Homes foundation installation here.
Construction challenges aside, the house provides a commodious, durable, and thoroughly modern living space for a growing family, with a surprisingly airy garden suite below. It's designed to be flexible to handle everyone's growing needs: while currently configured as a 3-bedroom house over a 2-bed suite, it can also be set up as a 4-bed house over a 1-bed legal suite. The main floor has an open-plan kitchen/dining/flex space, and a south-facing living area with 12′ high ceilings. The upper floor has 3 spacious bedrooms and two bathrooms. On the lower-ground floor there is another living area, 2 bedrooms, and 2 bathrooms that can be part of the home, or be separated to become a secondary suite with a private entrance from a large light-well. This home includes a garage, back garden and a rooftop deck with spectacular views of the North-Shore Mountains.
The East 18th Street project's energy efficiency started from the ground up with below grade insulation, however SIP construction sealed the designer's needs for an air tight structure with reduced thermal bridging to ensure that unmanaged energy did not escape through through the walls, roofs, floor (building envelope) of the home.
The panelized Premier SIPS building system, was managed through our Canadian Distributor West Eco SIPS and was prefabricated in a factory for fast jobsite installation to address the tight jobs tie challenges. The light weight, pre-fabricated panels were installed on the pre-set columns shown in the JDL Foundation Video above. In this installation Timelapse video you can see the floor systems and SIP walls were fully installed in just one day.
Listen to architect Nick Bray talk about the benefits of health, comfort and environmental responsibility when building to passive standards, of which Premier SIPS is proud to be a key component in helping innovative designers create better homes and buildings for the future. .
Project Data & Sustainable Building Materials:
Blower door test results: 0.4 ACH50

High Efficiency HVAC: Zender HRV

Premier SIPS Roof, Walls, Floor

Passive House designed for solar gain through windows
Hot water heat pump chosen
Used the trees that were felled as the siding
Landscape is natural to the area.
RainScreen SA has zero VOCs, contains no Red List Chemicals, and does not require primer
Solar Ready
More Project Details:
Find Your Local Rep
As the oldest manufacturer in the SIPs industry, Premier's SIP system is the proven prefabricated building envelope framing system for your next commercial or residential structure. Faster, stronger, and greener than outdated lumber framing methods, SIPs are the future of framing. Join the other thousands of structures built with SIPs, and contact the expert in your local region to get started.