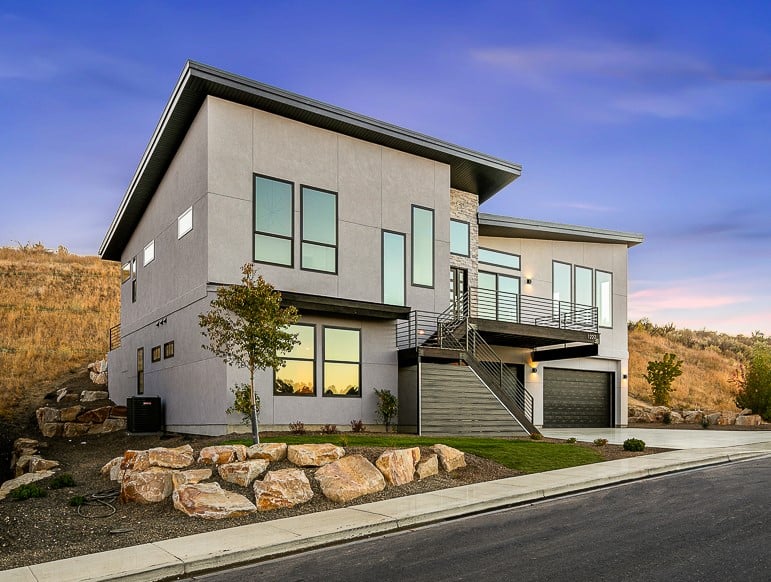 Project Type Residential | Single Family < 3000 sf
Year Completed 2020
Project Size 4450 sq ft
SIPS Used 6" Walls & 12" Roof
Sustainable Features Premier SIPS, Stone groundcover, water sparing plants, Low VOC paints, Upcycled structural lumber
Architect Zodiac Design
Contractor Clarity Dwellings
Project Overview
Highland Drive
Why SIPS?:
Premier SIPS were chosen because of the air tightness, quality of this building component, long-term cost savings in energy consumption, and overall cost savings.
Benefits of SIPS:
To ensure higher standards of product despite labor shortage of experienced framers.
Lower assembly time of the roof system.
Ensure high energy standards are met due to the air-tightness of the product.
Construction costs are still a factor. Despite the slightly higher costs of assembly in a COMPLEX build, my personal philosophy is that the longevity of this product as well as its energy efficiency in both cold and hot climates - produces a product that is head-and-shoulders above the 'standard' way of framing.
Innovative Design Elements:
There is a sloped roof plane, which upon inception was intended to balance the hottest part of the summer months with the coolest months of the winter. The pitch of the roof bisects the diagonal of the living and kitchen area. This concept effectively captures the morning and evening light from the southern exposure - when the sun is low on the horizon during the winter months and conversely protects the home during the hottest part of the day. This roof-line compliments the 'light and suspended' hillside effect of the cantilevered metal I beam that protrudes 12' over the drive to support a front entertainment area - which again, is shaded on the northern aspect to the sun during the hot summer months and overlooks the golf course and mountain ranges to the north.
HVAC: 5 Ton - dual zone, gas-forced air
Energy-Saving Materials/Energy-Efficient Products or Designs:
Windows - Anderson 100 series, black on black. Argon filled 0.27 u value.
On-demand water heater
LED Lights
Passive solar great room
Find Your Local Rep
As the oldest manufacturer in the SIPs industry, Premier's SIP system is the proven prefabricated building envelope framing system for your next commercial or residential structure. Faster, stronger, and greener than outdated lumber framing methods, SIPs are the future of framing. Join the other thousands of structures built with SIPs, and contact the expert in your local region to get started.