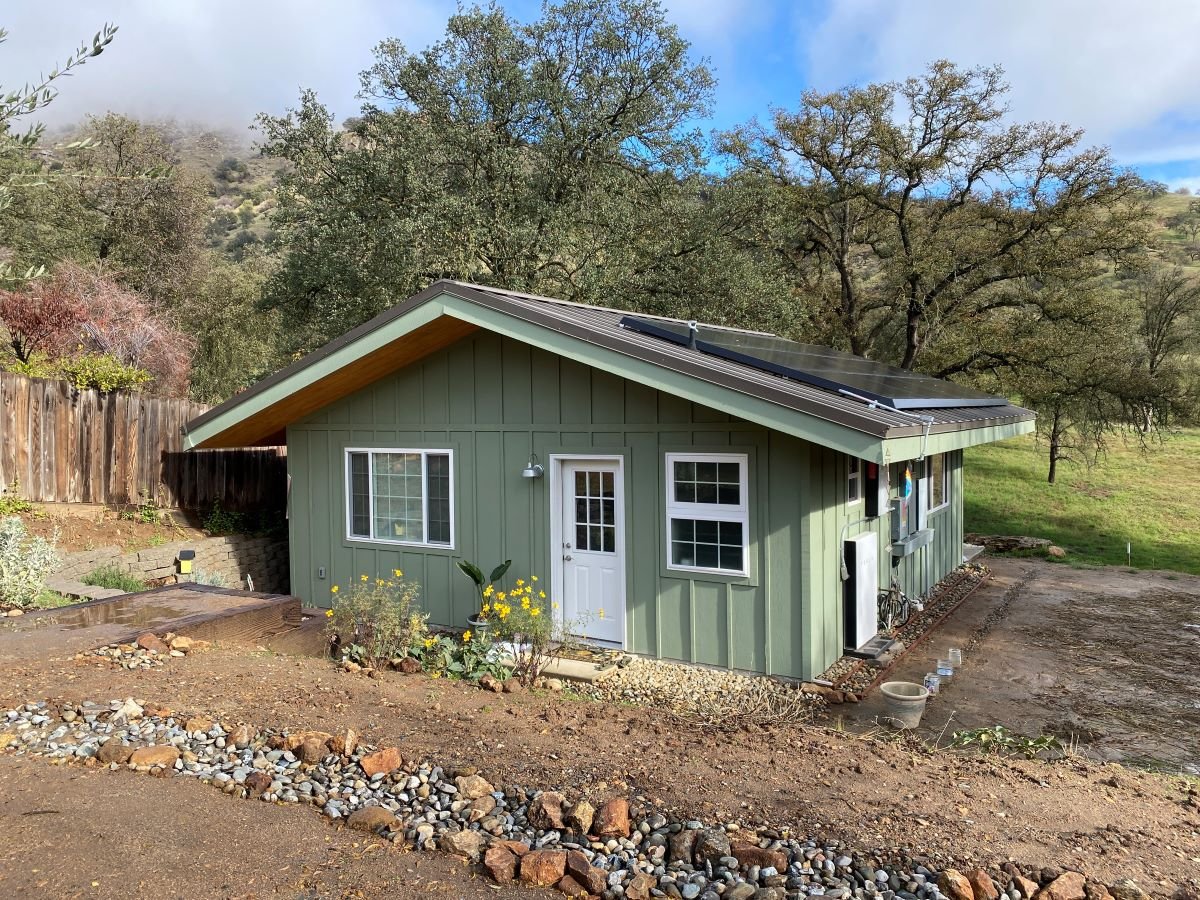 Three Rivers, CA
California
Project Type Residential | Single Family < 3000 sf
Project Overview
Three Rivers DADU
Build Type: DADU (One Bed/One Bath)
S/F: 550 - 24' x 24'
Panel Size: 6" EPS Walls / 10" EPS Roof
Builder: Christian Lewis, Robert Molloy, Jeremy (last name unknown)
Designers: Christian Lewis & Aaron Zerlang
Why SIPs?: "We wanted to build our home ourselves with a sustainability high energy efficiency level. SIPS allowed us to build this unit ourselves, at a quick pace and at a high level of construction. With higher R-Values than stick building, it also gave our building high and efficient insulation levels, reducing energy costs and increasing indoor air quality."
Benefits: "Given that we used SIP panels on all exterior walls and roof panels, it saved us time, labor, and construction costs, especially with the rising construction materials, and lastly also is saving us energy with a tightly sealed energy efficient building. It also allowed us to have a safer indoor environment with lower pollutants and higher air quality."
Certifications: Although no official certifications, this was a LEED Platinum-qualified build.
HERS Index: Not measured but should be under 20 HERS score as Tesla Solar Panels and Powerwall battery generates and stores more energy than can be consume on most days.
Blower Door Test: Not measured by definitely below 5
HVAC: 18,000 BTU Daikin Mini-Split
Energy Saving Materials:
U-Factor 0.3 Windows
Solar heat gain co-efficient of 0.21
Air leakage of less than 0.3.
LED Lighting
Tankless, electric water heater
Energy-Star rated appliances
Low flow faucets
All coverings FSC Certified Purebond plywood/wall coverings are 100% natural wood bonded with foor-grade soy-based adhesive (Low VOC)
Radiant flooring in the bathroom
4.08kW Telsa Solar Panel Systems with a Powerwall battery w a 13.5 kWh capacity
Sustainable Materials:
Concrete Floor sealed and finished w/Lithum Densifier NOT sealers
Low VOC paint and finishes
Stains were mineral stains w/no VOC
Landscaping designed to divert water from the base of the house while allowing it to seep into the land surrounding the project.
The home was also built with a pad that was dug 4ft into the ground for further energy efficiency and a lower profile in the neighborhood.
Find Your Local Rep
As the oldest manufacturer in the SIPs industry, Premier's SIP system is the proven prefabricated building envelope framing system for your next commercial or residential structure. Faster, stronger, and greener than outdated lumber framing methods, SIPs are the future of framing. Join the other thousands of structures built with SIPs, and contact the expert in your local region to get started.