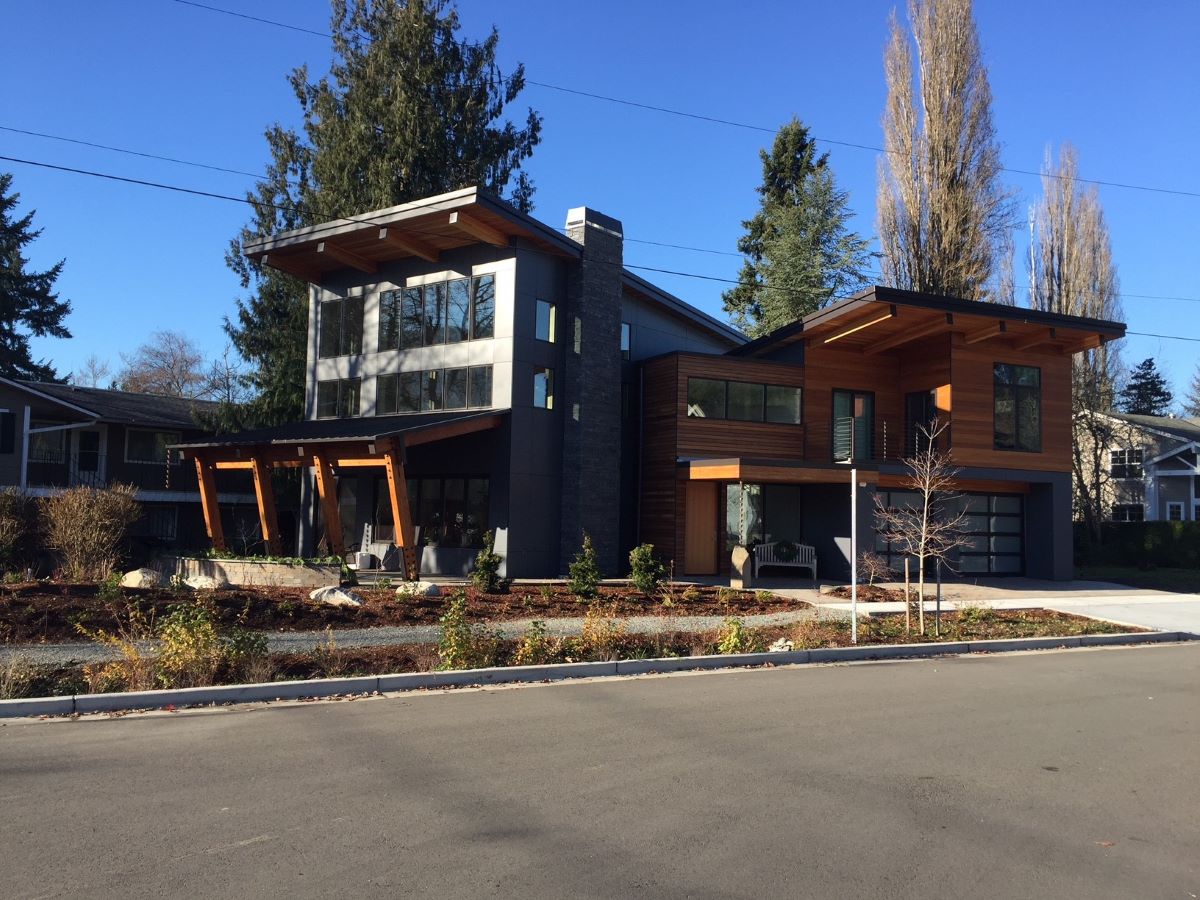 Issaquah 5 Star Green
Washington
Project Type Residential | Single Family < 3000 sf
Year Completed 2017
SIPS Used 6" Walls & 10" Roof
Sustainable Features Premier SIPS. The owner/builder personally controlled recycling of jobsite waste, to the extent that even concrete chips from stripping forms were put in separate recycle bins. Hand demolition of the previous house on the site included recycling metal, cabinets, trim, appliances, fixtures, and structural parts.
Environmental Certifications Energy Star Certified
Architect Magellan Architects
Project Overview
Issaquah 5-Star Green
A new home custom-built by the owners blazes the trail for advanced performance and Built Green 5-Star certification under the City of Issaquah's expedited permit incentive program. The home was designed to give the owners decades of great comfort and low energy costs.
Why SIPS?:
The key component to an energy-efficient building envelope
More sustainable than concrete ICFs
Lot was a challenging triangular shape.
Large prefabricated panels enabled a smooth installation rather than framing in the streets.
Benefits of SIPS:
This super-insulated home is constructed with Structural Insulated Panels eliminating most of the wood framing and with it the thermal bridges that reduce insulation value in standard construction. The builder did such careful air sealing that the home is the tightest the third-party verifier has tested in 14 years of practice! Premier SIPs are critical in this airtight process.
Innovative Design Elements:
The building system from top to bottom was designed for efficiency. SIPS were a critical component.
Certifications:
Washington 5-Star Green
HERS Index: 48
Blower Door Test: 0.19 ACH 50
HVAC:
The abundant fresh air is provided by the Zehnder HRV system that was carefully installed and commissioned. This system uses innovative 3" plastic flex ducts to provide a supply of fresh air and exhaust for every room. It operates continuously and quietly with very low energy use. This is an important companion to the incredibly airtight building envelope to ensure comfort and performance.
Energy-Saving Materials/Energy-Efficient Products or Design Features:
ENERGY STAR appliances
100% LED lighting
Efficient Zehnder HRV system for ventilation
The slab on grade foundation is double insulated
Windows are Eagle triple pane, with .16 to .21 U-value
The home emphasizes simple interior finishes with low toxicity and excellent distributed ventilation for fresh air.
There are no carpets, and the flooring is NAUF bamboo from Higuera Hardwoods.
Natural cedar ceilings and other highlights are finished with Safecoat Polyureseal.
All of the paints are <1 g/L VOC.
The kitchen and bathrooms contain custom cabinets by Superior Manufacturing made with special-order glues and finishes.
Indoor water use is reduced by the use of low-flow sinks and shower fixtures and WaterSense-labeled toilets.
Client Comments:
"In addition, recycled content metal roofing creates very long-lasting protection. The exterior is a mix of Swisspearl panels that were recovered from a commercial job site, composite timbers, and natural cedar siding for an appealing Northwest contemporary look. Swisspearl siding panels participate in the EPD (Environmental Product Declaration) system."

"The exterior siding is installed over a "rain screen" air space. The building moisture barrier is a Prosoco liquid applied coating along with interior tapes from SIGA on the SIPs panel joints. Detailing of weather seals at windows, doors, and other penetrations was carefully done by the owner/builder to ensure moisture will not enter the home."
Find Your Local Rep
As the oldest manufacturer in the SIPs industry, Premier's SIP system is the proven prefabricated building envelope framing system for your next commercial or residential structure. Faster, stronger, and greener than outdated lumber framing methods, SIPs are the future of framing. Join the other thousands of structures built with SIPs, and contact the expert in your local region to get started.