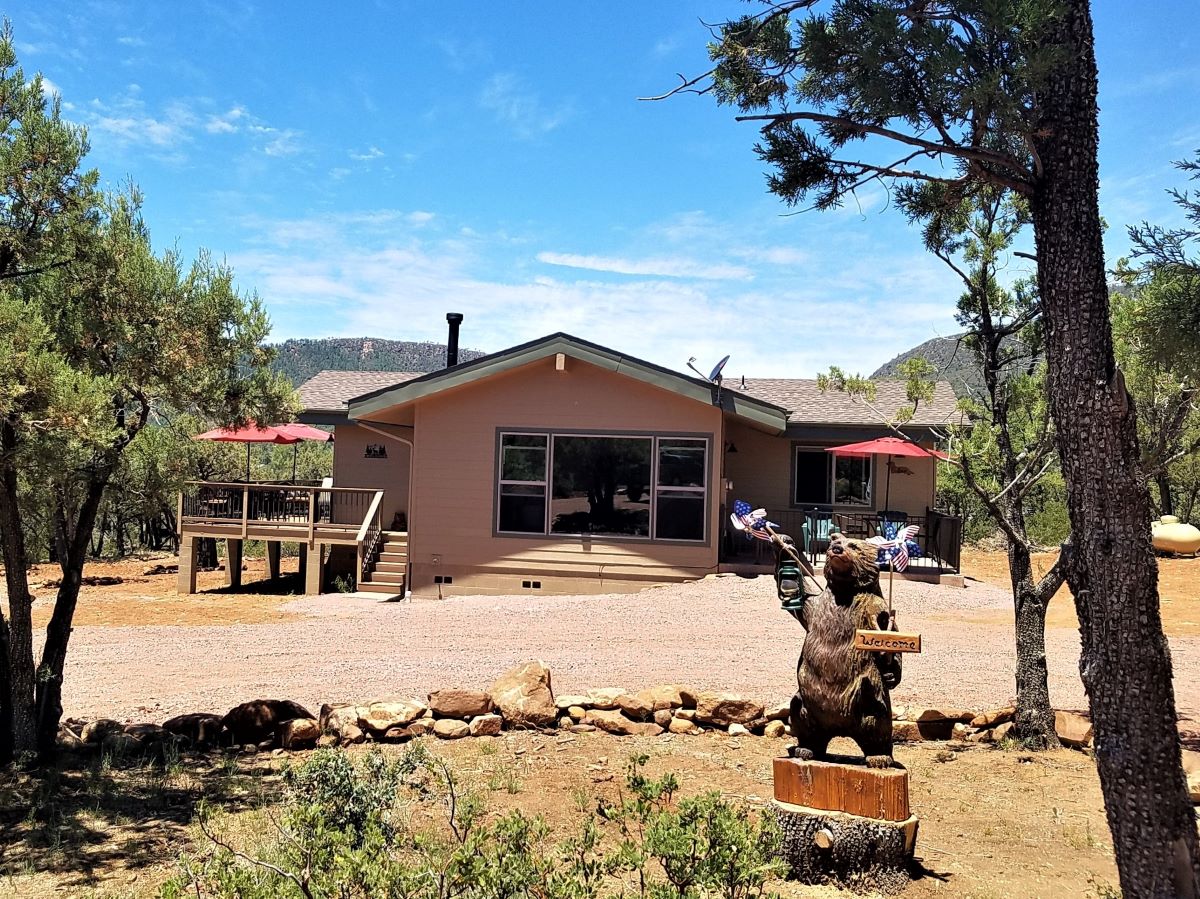 Desert Villa Pine, AZ
Arizona
Project Type Residential | Single Family < 3000 sf
Project Overview
Desert Villa Pine
Build Type: Residential
S/F: 1,293 Single Story
Panel Size: 6" EPS Walls / 8" EPS Floors / 10" EPS Roof
Builder: Blue Moon Contracting of Pine, AZ
Designer: Wright Engineers of Chandler, AZ
Why SIPS?: The owners were looking for an energy-efficient, comfortable, and quiet mountain cabin with enhanced flame retardancy and interior air quality for their upcoming retirement years, and one that could be built quickly in time for the prime summer season, and Premier SIPs were the perfect solution.
Benefits or SIPS?: The site of this home is located on a fairly level but very rocky 1.9-acre parcel surrounded by the Ponderosa Pine forest and mountains of north central Arizona, where forest fires are a concern in the summer, and where it gets quite cold and receives an annual average of 24" of snow in winter. Using SIPs enabled the contractor to complete the exterior envelope of the home (walls, roof, and floors) in less than 1 week in early November 2020, providing a warm, dry envelope in which construction could continue throughout the winter. This also saved time and labor costs for the contractor and allowed for completion of the build within 7 months just prior to the prime vacation season for the owners. Construction began with site prep on 9/8/2020 and C of O was issued 4/21/21.
Design Elements: The floor plan chosen by the owners is laid out somewhat like a cross, which proved to be a bit of a challenge for the structural engineer in designing the layout for the roof panels. The structural engineer decided to use exposed interior architectural glulam beams, which support the roof panels and enhance the mountain cabin aesthetic of the home. The contractor stained the glulam beams in the kitchen/dining area, living room, and owner's bedroom to match tones in the acacia-engineered wood floors and the fireplace mantle. The owners are extremely pleased with the results.
Energy Saving Materials Used:
Premier SIPS for floors, walls, and roof
Pella Encompass Series double paned windows w/ U-values ranging between 2.7 to 2.9
Range fueled with propane
All Energy-Star appliances
Energy-conserving honeycomb blinds
Low water usage toilets
Landscaping is natural desert - requiring little to no additional irrigation
Client comments:
"This project was the first time Blue Moon Contracting had ever built with SIPs. Blue Moon's owner and framing crew members were amazed at how well-engineered the panels were, and how easy and fast it was to complete the building envelope in less than 1 week. The owners are very please at how quiet and comfortable their new home is and are planning to add an attached SIPs garage in the near future."
Find Your Local Rep
As the oldest manufacturer in the SIPs industry, Premier's SIP system is the proven prefabricated building envelope framing system for your next commercial or residential structure. Faster, stronger, and greener than outdated lumber framing methods, SIPs are the future of framing. Join the other thousands of structures built with SIPs, and contact the expert in your local region to get started.