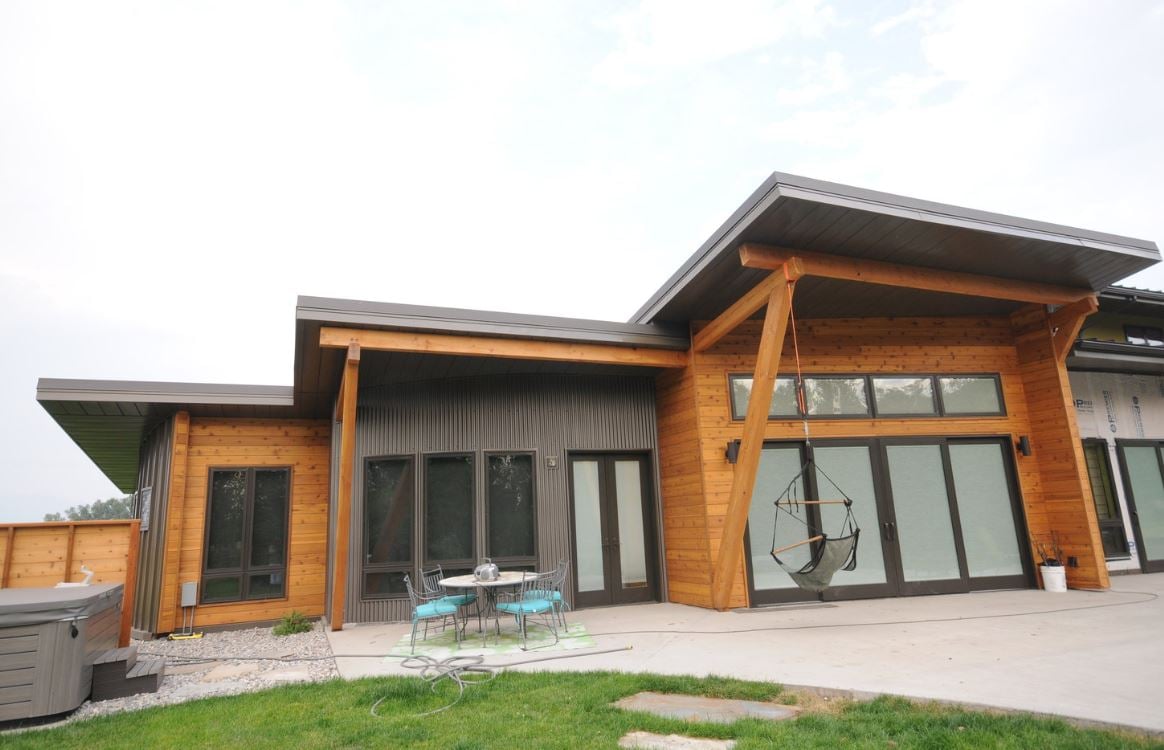 Project Type Residential | Single Family < 3000 sf
Year Completed 2016
Project Size 5000 sq ft
SIPS Used 6" Walls & 10" Roof
Sustainable Features Premier SIPS. Landscape is a major influence on the design of this project accenting the creek with groves of trees which protect it. The Architects created a strong connection between indoor living spaces of the home and natural landscape. The unique design of the home allows for a variety of spaces and simple approaches to construction.
Architect FORMation ARchitecture
Contractor Mari Enterprises
Project Overview
Circle F Custom
Photos Courtesy of Matt Sitton & FORMation ARchitecture
When one wants a strong connection between the comfort of indoor living and the beauty of the outside natural surroundings, what better part of this country to build in than Montana? That's just what this owner wanted. They choose to build along Hyalite Creek in Bozeman where landscape played a major role in the overall design of this custom home.
Why SIPS?: With the complexity of this design and the limited crew, the architect needed to use an efficient design and manner of building. SIPS were the perfect solution for time and labor constraints.
Benefits of SIPS:
Reduced job site waste: Almost no waste of panel material because of a factory-installed lumber package and custom-cut panels.
Versatility and flexibility for complex designs like curved walls and butterfly plane roofs.
Labor constraints: Because SIPS combine structural panels with insulation... they can reduce the time it takes to frame a house and minimize the number of steps needed to be completed on-site.
Innovative Design Elements:
Butterfly roof planes
Curved walls
Low slope roof
Angeld moment frame
Energy-Saving Materials/Energy-Efficient Products or Design:
High-density EPS under and around slab foundation
Radiant slabs used throughout
Efficient Lighting
Ground source heat pumps
Solar water heating
Solar PV
Highly insulated (Premier SIPS)
Building orientation to take advantage of daytime sun
Client Comments:
"The use of Premier Panels is an easy way to have an unlimited expression of creativity throughout the design process. Our clients and contractors love that the fact much of the build process takes place at the SIPs factory making onsite assembly and "close in" to be completed quickly. The incredible customer service that Premiere provides is what sets them apart in this industry. The sales and engineering crew at Premiere are important members of our team - helping us to provide unique design, quality, energy-efficient and cost-effective construction for our clients." - Craig Bergstedt, FORMation Architecture
Find Your Local Rep
As the oldest manufacturer in the SIPs industry, Premier's SIP system is the proven prefabricated building envelope framing system for your next commercial or residential structure. Faster, stronger, and greener than outdated lumber framing methods, SIPs are the future of framing. Join the other thousands of structures built with SIPs, and contact the expert in your local region to get started.