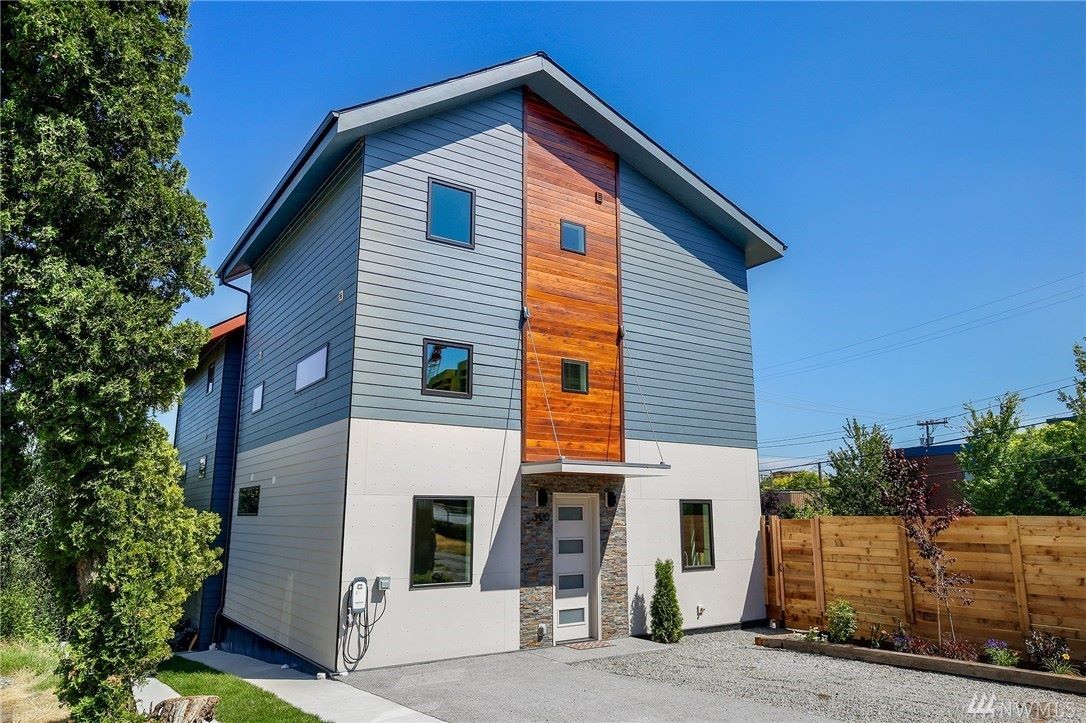 Award winner
New Century Columbia City
Washington
Project Type Residential | Single Family < 3000 sf
Year Completed 2017
Project Size 2250 sq ft
SIPS Used 6" GPS Walls ^ 10" GPS Roof
Sustainable Features Premier SIPS, 904 kW solar panels, Rain filtration system
Environmental Certifications Net Zero/Zero Energy Ready
Awards 2018 BEA First Place Winner S/F under 3K s/f
Architect TC Legend Homes
Contractor TC Legend Homes / New Century Seattle Homes
Project Overview
New Century - Columbia City Single Family
End Use: Spec home with ultra-green features
Why SIPs?: This "beyond net-zero" project is a Positive Energy home that generates enough power to operate all needs. SIPs were necessary to make this happen.
Benefits of SIPs: Install time was VERY FAST, labor costs were minimal compared to other advanced framing options, and oh, those energy savings!!!!
Innovative Design Elements:
Positive Energy Home powers all home energy and an electric car
Solar Panels
Hydronic radiant floors
Triple-pane windows
HEPA air filtration system
Premier SIPS
Reclaimed fir floors
Induction stove
Ultra-efficient a/c
Electric car charging station
No electric bills and added solar tax credits for this 5-bedroom home
Certifications:
Built Green 5-Star
Energy Star Certified Home
Indoor Air Plus Qualified
Department of Energy Net Zero Energy
HVAC: Ultra efficient AC (Chilltrix CX 30) heat pump, radiant hydronic in-floor & fan coil heaters. Balanced, always-on, whole-house HEPA-filtered air exchange coupled to on-demand cooking & humidity exhaust.
Energy-Savings Materials/Energy-Efficient Products or Design Features:
Rainwater infiltrated on-site
Build follows existing site slope to eliminate soil trucking
Energy shell designed with smaller east/west window to avoid overheating via solar gain
Passive solar harvesting on the south aspect using appropriately sized & shaded windows
Client Comments:
"Positive Energy homes use non-carbon-based sources of energy to produce 100% of the energy needed for appliances, heating, and lighting. Additionally, the home generates enough energy to power an electric car. Most importantly, a positive energy home does not produce carbon emissions, which are responsible for global warming."
Find Your Local Rep
As the oldest manufacturer in the SIPs industry, Premier's SIP system is the proven prefabricated building envelope framing system for your next commercial or residential structure. Faster, stronger, and greener than outdated lumber framing methods, SIPs are the future of framing. Join the other thousands of structures built with SIPs, and contact the expert in your local region to get started.