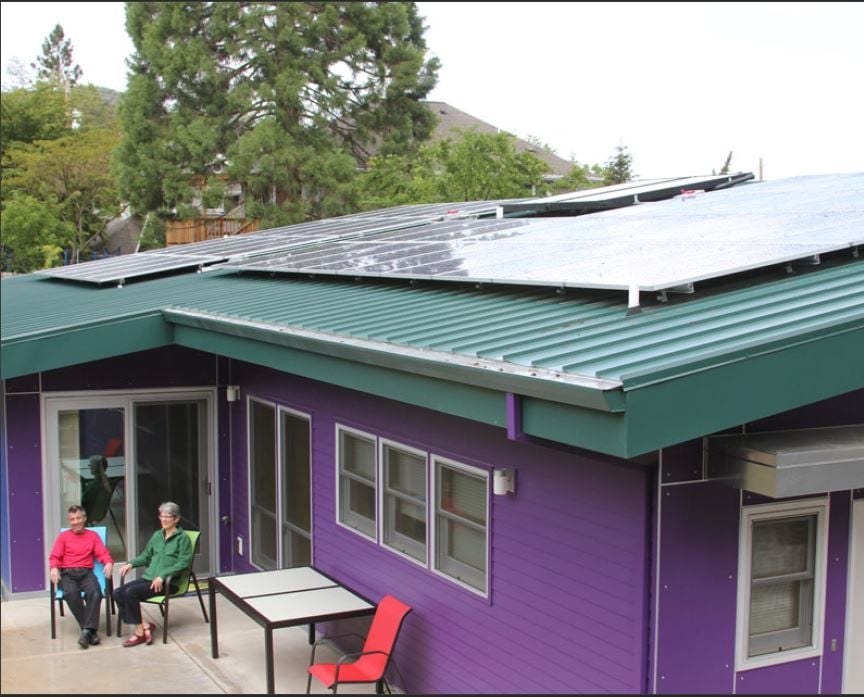 Award winner
Project Type Residential | Single Family > 3000 sf
Year Completed 2013
Project Size 1254 sq ft
SIPS Used 6" EPS Walls & 12" EPS Roof
Sustainable Features Premier SIPS, rainwater catchment system, to irrigate their garden, gray water system to water plants in yard
Environmental Certifications Net Zero/Zero Energy Ready
Awards 2014 BEA Honorable Mention Single Family Under 3K S/F
Architect Artisan
Contractor Dorris Construction
Project Overview
Ashland Net Zero
This Premier SIP-built single-family home is sited on an east/west axis to allow passive solar gain, as well as align the roof for both solar thermal and PV Systems. The client wanted to build the shell especially energy efficient so they could go Net Zero.
Why SIPS?:
SIPs were a great fit for this job not only for the energy efficiency but because it was a tight infill lot. The structure was installed very quickly with the walls going up in just six hours...including lunch. It took just six hours more to install the roof a day later.
Innovative Design Elements:
The floor is a full floating R-20 insulated slab. The walls are 6" SIPs with 2x4 nonbearing interior walls to break thermal bridging and allow more insulation. The total wall R-Value is R-45.
Certifications:
Energy Star
Earth Advantage
HERS Index: 22
Blower Door: 125
HVAC: Mini Split
Energy Savings Materials Used/Design Features:
Window U.30
Insulation in the inner wall is Denspack R-4 per inch
LED Lights
Energy-Star Appliances
Solar Panels 12 kw


Ashland, OR is unique in that they have their own electric utility and will buy back solar power you don't use. The system in this home gives 10-watts per square foot.
"The collaboration between the owners, builders, and designer is what made this such an outstanding project."
Find Your Local Rep
As the oldest manufacturer in the SIPs industry, Premier's SIP system is the proven prefabricated building envelope framing system for your next commercial or residential structure. Faster, stronger, and greener than outdated lumber framing methods, SIPs are the future of framing. Join the other thousands of structures built with SIPs, and contact the expert in your local region to get started.