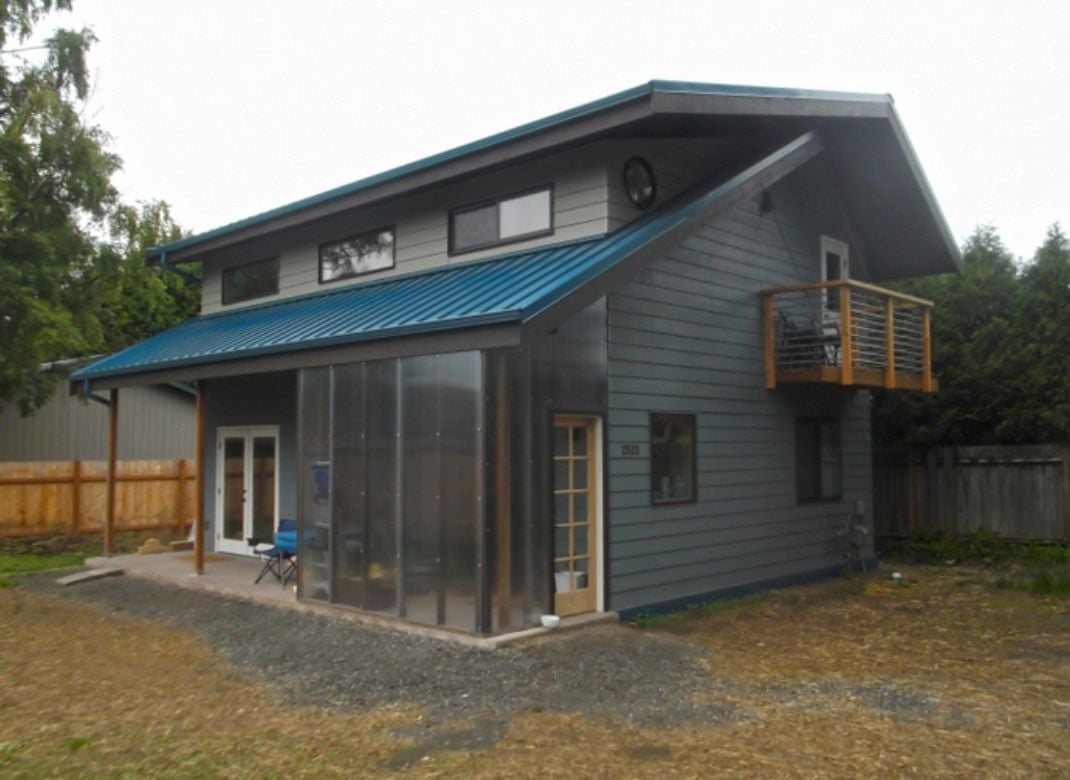 Award winner
TC Legend Homes Cedarwood Zero Energy
Washington
Project Type Residential | Single Family > 3000 sf
Year Completed 2014
Project Size 1055 sq ft
SIPS Used 6" Walls & 10" Roof
Sustainable Features Premier SIP walls/roof, low to no VOC glues/adhesives/paints, water-based sealer on concrete floors, triple-pane low U-value - high solar heat gain coefficient windows facing south, green house, home placement set to maximize passive solar heat gain and avoid sharing the PV system while retaining existing trees
Environmental Certifications Net Zero/Zero Energy Ready
Awards 2015 BEA Overall Winner / Winner Residential Under 3,000 S/F
Architect TC Legend Homes
Contractor TC Legend Homes
Project Overview
Cedarwood Zero Energy
Cedarwood is a Net Zero Energy residence in Bellingham, WA. The homeowners wanted to use materials that would be high-performing, use very low energy, but affordable. Using Premier SIPS helped achieve low operating costs which was a win-win for the homeowner.
Benefits of SIPS:
SIPs provided a highly insulated and air-tight envelope with required R-values. With proper air sealing, the home was able to achieve the desired environmental certifications.
Innovative Design Elements:
TC Legend Homes achieved a very airtight envelope that shows air leakage of only 0.67 air changes per hour at 50 Pascals pressure difference (ACH 50) when tested with a blower door.
Where the SIP panels connect to the ICF foundation wall, TC Legend Homes used sill seal plus two beads of SIP mastic under the SIP panel.
They caulked the seam where the SIP panel meets the floor along the inside perimeter of the home.
Before drywalling, the crew also foamed the rough openings and caulked around all windows
Foamed behind all electric boxes and caulked around them
Foamed around electric wires & plumbing pipes and taped and caulked all seams in SIP panels.
Certifications:
Energy Star Certified Version 3
Meets 2012 IECC Levels
Exceed EPA Indoor airPLUS and WaterSense
Meets EPA Renewable Energy Ready Home
2014 DOE Housing Innovation Award Winner
HERS Index: 43 when PV power production is not included/13 when PV is included
Blower Door: 0.67 per hour at ACH 50
HVAC: One ductless heat pump 12 HSPF, 21.5 SEER
Other Energy Saving Materials/Products:
ICF Foundations R-28
R-20 rigid high-density EPS foam board under slabs
Triple-paned vinyl-framed windows at U=0.20, SHGC=0.45
Instant tankless consensing gas-fired water heater 0.96 EF
100% LED light fixtures / 100% CFL for lamps
High-efficiency electric washer-dryer combo
Solar 3.2-kW PV
30 cfm, 2.7-watt continuous exhaust fan in the bathroom by earth tubes that bring in filtered, tempered outside air passively via 100', 6" pipe buried below the ground inside foundation footing
Spot ventilation fans in kitchen and utility closet
Find Your Local Rep
As the oldest manufacturer in the SIPs industry, Premier's SIP system is the proven prefabricated building envelope framing system for your next commercial or residential structure. Faster, stronger, and greener than outdated lumber framing methods, SIPs are the future of framing. Join the other thousands of structures built with SIPs, and contact the expert in your local region to get started.