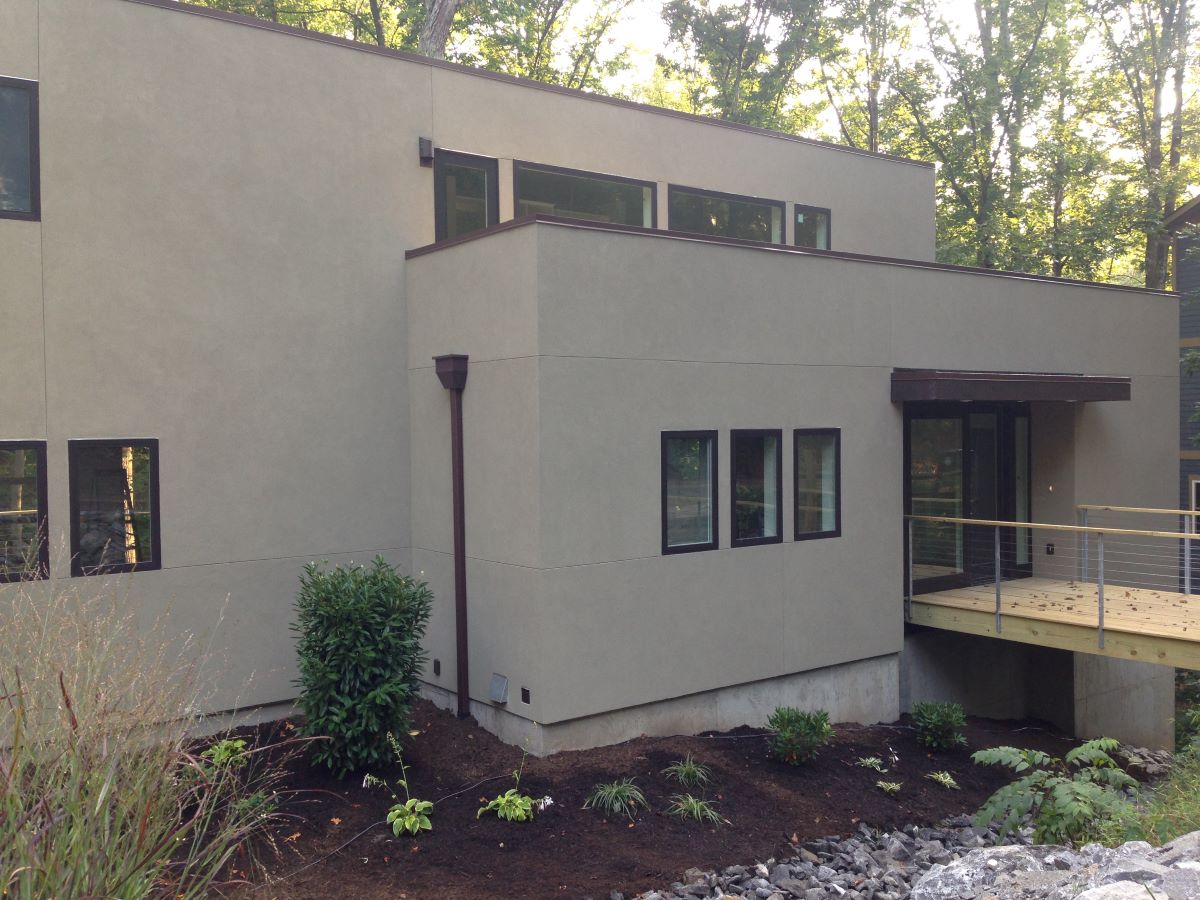 Project Type Residential | Single Family > 3000 sf
Year Completed 2015
Project Size 2721 sq ft
SIPS Used 8" Walls Main House/10" Roof Main House & 4" Walls Garage/6" Roof Garage
Sustainable Features White oak from the building site and a few neighborhood trees were milled and dried for the hardwood floors in the house. Ambrosia maple from the building site was milled and dried and became the wood countertops for built ins and door/drawer fronts for all the cabinets and built ins. All cabinets were built by the builders' in house company, Case Green Cabinetry, and were made from Columbia Forest Products NAUF PureBond maple plywood with an eco friendly UV clear finish.
Environmental Certifications Energy Star Certified
Architect Wilson Architects
Contractor BuiltSmart by Bob
Project Overview
Modern Asheville Residence
This modern mountain home chose Premier SIPS for energy efficiency and air sealing. The builder provided higher-than-building code levels of insulation and industry-leading levels of air sealing. The client wanted a modern-style home with low energy bills and high comfort. (first-time builder used SIPS).
Benefits of SIPS:
LABOR SAVINGS, the builder was able to save on building time especially when installing the roof.
DESIGN VERSATILITY: SIPS gave the architect design flexibility versus stick framing when it came to the vaulted spaces and roof spans without beams.
ENERGY SAVINGS: Very airtight home evidenced by the blower door test results of 0.56ACH 50, airtightness coupled with the great insulation levels that SIPS provides led to a HERS rating of 52, 48% better than the building code. The projected energy use of $460 per year for heating, cooling, and hot water
Innovation Elements:
FOUNDATION: Enclosed crawlspaces can be a magnet for moisture, mold, and rot. Slab on Grade with no crawlspace was incorporated into the design so that there was no hidden enclosed area below the house… where energy can be lost and mold can grow. In addition to SIPS, an XPS foam board (R15 at outer 4' and R10 in the center area) was added to the under slab and edge. The foundation and concrete slab were both insulated to make sure they were completely isolated from their surrounding surface to eliminate thermal bridging. The basement floor is stained and sealed concrete without adding flooring
ROOF: where no lumber splines were used on parts of the roof, an extra inch of polyiso for R44 total assembly, and parts that have some lumber in it got on average an extra R15 for an R53 total.
EXTERIOR WALLS: The exterior is a stucco application.
3RD FLOOR: rests on steel beams and is southern yellow pine 2x6 decking that acts as both the ceiling below and the floor above.
OPEN FLOW: The master suite lot is accessed by floating wood stairs on steel to keep the home open and flowing
Certifications: Energy Star
HERS Index: 52
Blower Door Test: 0.56 ACH 50
HVAC:
Samsung mini split heat pumps.
2 ducted units, one ceiling cassette, and one wall unit for 4 zones of very controllable comfort all working off one incredibly quiet compressor.
Venmar HRV for fresh air
Panasonic whisper Green bath fans to handle the humidity in bathrooms
Other Energy Saving Materials/Energy-efficient Products:
Outside of SIP Walls is a double-layer Tyvek weather barrier system. The first layer is conventional Tyvek air and moisture barrier while the second layer is a Tyvek drainage plane product called Tyvek StuccoWrap/DrainWrap. This provides a path out for moisture that gets between the stucco and the house, reducing any chance of mold in walls.
Double pane low e-argon filled.
Different levels of SHGC control based on sun exposure (evaluated for the direction they faced like E, W, or S and also whether or not there is an overhang to protect from the summer sun) so that the windows are letting in heat when homeowners need it and keeping heat out when they don't.
Low e-glass, better-sealed garage door: overhead door in the living space so although it looks like a garage door, it has low e-glass and better sealing features than a garage door.
GE GeoSpring heat pump hot water heater.
All EnergyStar appliances, including an induction cooktop (no natural gas in the house means no combustion means no possibility of carbon monoxide poisoning).
LED lighting with some CFL
No solar was used due to the wooded area in which the residence was built. With solar, the home would have only been 5% efficient. They chose instead to keep the surroundings in their natural state by keeping the trees
Projected energy use is $460 per hear for heating, cooling, and hot water.
Find Your Local Rep
As the oldest manufacturer in the SIPs industry, Premier's SIP system is the proven prefabricated building envelope framing system for your next commercial or residential structure. Faster, stronger, and greener than outdated lumber framing methods, SIPs are the future of framing. Join the other thousands of structures built with SIPs, and contact the expert in your local region to get started.