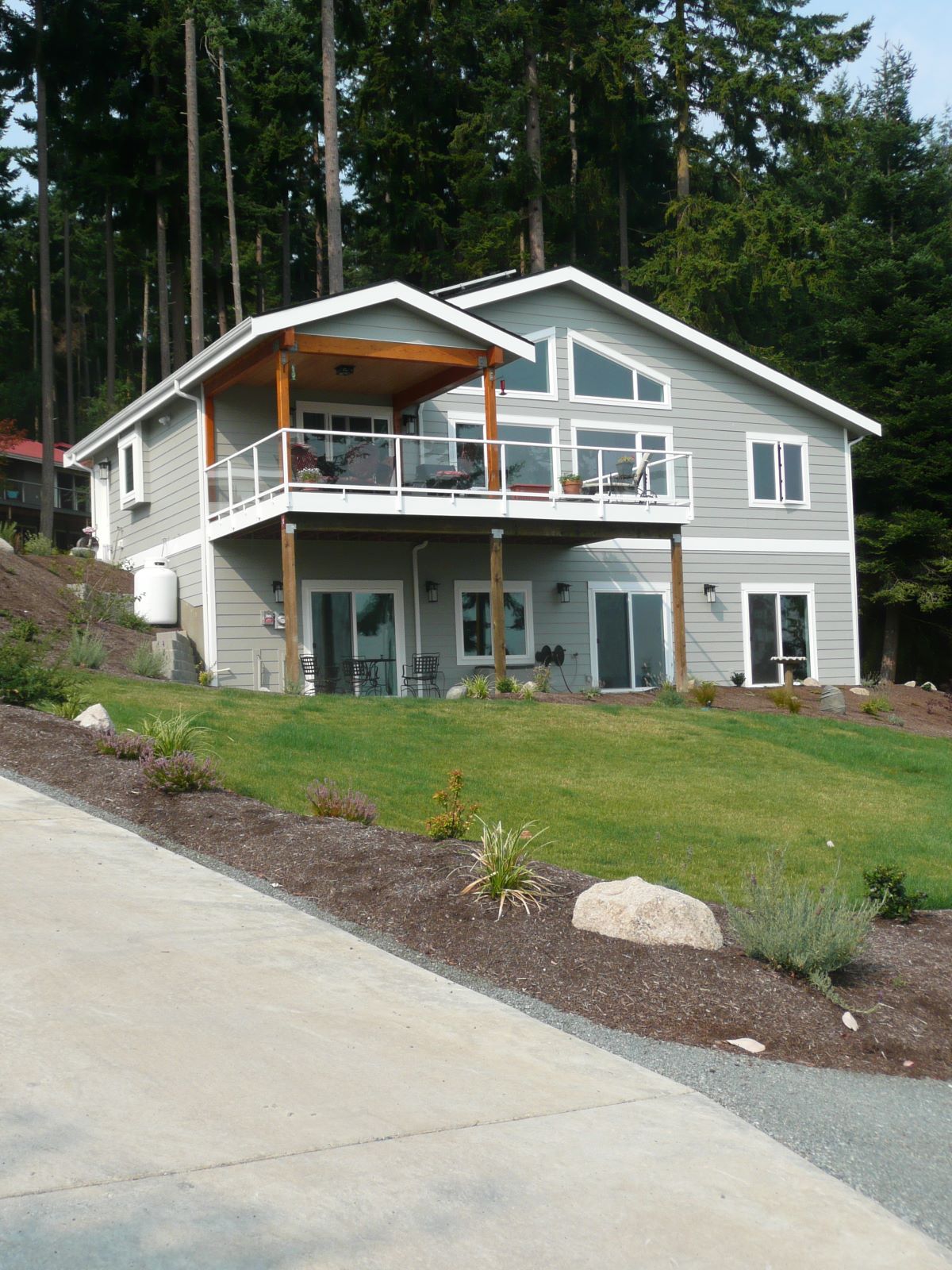 Clifton View Homes Whidbey Island Custom
Washington
Project Type Residential | Single Family > 3000 sf
Year Completed 2015
Project Size 2408 sq ft
SIPS Used 6" Walls & 10" Roof
Sustainable Features Premier SIPS, Water Conservation: All EPA WaterSense fixtures. Landscaping: yard is xeroscaped for zero irrigation. Interiors: no-VOC paints, low-VOC caulks and adhesives. Electric Car: electric-car charging circuit in garage. House is engineered to withstand an 8.0 magnitude earthquake.
Environmental Certifications Net Zero/Zero Energy Ready
Architect Zero-Energy Plans LLC
Contractor Clifton View Homes
Project Overview
Clifton View Homes Whidbey Island Custom
Why SIPS?:
SIPs provided airtight construction to give homeowners the comfort of constant even temperatures throughout the house as desired. Homeowners wanted to be able to build a net zero energy home within a desired budget, SIPS were able to get them there.
Benefits of SIPS:
The SIP construction provided an airtight structure for the home, which tested at 0.7ACH50, as well as helped the homeowner with projected energy cost savings (annual savings of $1,728).
Innovative Design Elements:
Walls: 6.5" SIPS (R-25) with corrugated house wrap and fiber cement siding.
Roof/Attic: 10.25 SIPS (R-40), two-part polysio spray foam to seal rim joists and attic floor joists, composite roofing shingles.
Foundation: Daylight basement with 11.75" ICFs (R-23) extending 12" below slab base; 4" (R-20) rigid foam under the entire floor slab.
Certifications:
-Certified to DOE's Zero Energy Ready Home Program,
Met requirements of ENERGY STAR Certified Homes Version 3.0
Met requirements of U.S. Environmental Protection Agency's Indoor airPLUS
Met requirements of the EPA's WaterSense program
Met requirements of the 2012 International Energy Conservation Code.
Built Green Washington,
Four Star
HERS Index: -12
Blower Door Test: 0.7 ACH 50
HVAC:
Air-to-water heat pump (COP 4.1) for radiant floor heat.
Ventilation cooling.
Air-to-water heat pump (COP 4.5, HSPF 15.5)
Energy-Saving Materials/Energy-Efficient Products/Designs:
Triple-pane windows - triple-low-e, argon fill, U=0.20 to 0.2; SHGC= 0.22
Lighting: 100% LED
Appliances: ENERGY STAR dishwasher, refrigerator, clothes washer (most energy-efficient models)
ENERGY STAR ceiling fans
Solar: .84-kW solar electric system, made in WA for incentives. 6-year payback due to the state production credits
Customer Comments:
"Aside from the absence of any meaningful energy bills, we enjoy the constant even temperature throughout the house. It simply doesn't fluctuate even when exterior doors are opened and closed." -Homeowner
Find Your Local Rep
As the oldest manufacturer in the SIPs industry, Premier's SIP system is the proven prefabricated building envelope framing system for your next commercial or residential structure. Faster, stronger, and greener than outdated lumber framing methods, SIPs are the future of framing. Join the other thousands of structures built with SIPs, and contact the expert in your local region to get started.