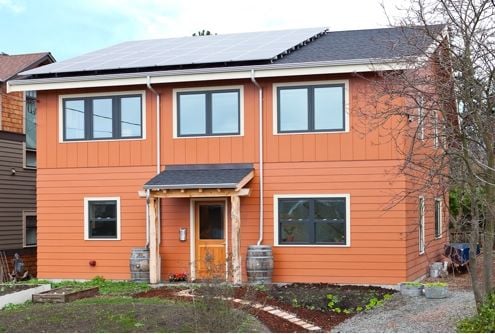 Ballard Net Zero - Ballard
Washington
Project Type Residential | Single Family > 3000 sf
Year Completed 2011
Project Size 1900 sq ft
SIPS Used 6" EPS Walls & 41" EPS Roof
Sustainable Features Premier SIP walls/roof, passive solar layout, air-to-water heat pump, triple panel vinyl windows, energy efficient appliances JEPA filtrations system
Environmental Certifications Net Zero/Zero Energy Ready
Architect Zero Energy Homes, LLC
Contractor TC Legend Homes
Project Overview
Ballard Net Zero
Why SIPS? SIPS helped complete construction one month ahead of schedule. SIPs also helped to build using Zero Energy standards
Design Features:
Reclaimed wide-plank fir floors
Reclaimed cast-iron tub & kitchen sink
Water-saving dual-flush toilets & sink top
Rain barrel system
Find Your Local Rep
As the oldest manufacturer in the SIPs industry, Premier's SIP system is the proven prefabricated building envelope framing system for your next commercial or residential structure. Faster, stronger, and greener than outdated lumber framing methods, SIPs are the future of framing. Join the other thousands of structures built with SIPs, and contact the expert in your local region to get started.