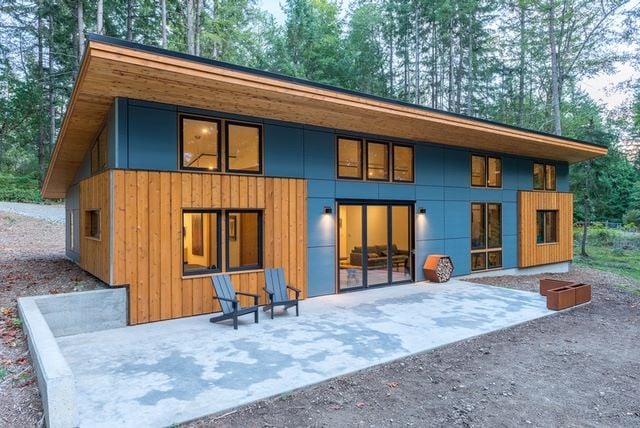 Soo-Hoo/McClulleyhoo
Washington
Project Type Residential | Single Family > 3000 sf
Year Completed 2019
Project Size 1440 sq ft
SIPS Used 6" EPS Walls & 10" EPS Roof
Sustainable Features Premier SIPS, Interior wood finished with no VOC Rubio Monocoat
Architect FabCab
Contractor FabCab
Project Overview
Soo Hoo McCulley
End Use: Private Residence
Why SIPs?: Premier SIPS were selected for their product's high-energy efficiency and because the project was time-bound, we needed a product that would go up quickly.
Benefits of SIPs:
SIPs provided a profound reduction in assembly time for the exterior shell of this house and the detached garage.
Assembly of both these structures took less than 2 weeks for 3 workers.
It is likely this assembly would have taken at least 6 weeks as a stick frame, exterior shear plywood, and batt insulation assembly.
A rough estimate would be $15,000 in savings on labor alone.
SIP materials costs are higher by comparison, but time is always an advantage. - The BIG savings come after the structure is completed through the high-energy efficiency and savings in monthly electric use.
Blower Door Test: ACH50 - 1.54
HVAC: Mitsubishi ductless mini-split heat pump and electric radiators
Other:
Windows: 0.2793
Heat Recovery Ventilator
LED lighting
Property is under a conservation easement and native species are used for all landscaping.
Energy Consultant & Contractor: Potential Energy
Find Your Local Rep
As the oldest manufacturer in the SIPs industry, Premier's SIP system is the proven prefabricated building envelope framing system for your next commercial or residential structure. Faster, stronger, and greener than outdated lumber framing methods, SIPs are the future of framing. Join the other thousands of structures built with SIPs, and contact the expert in your local region to get started.